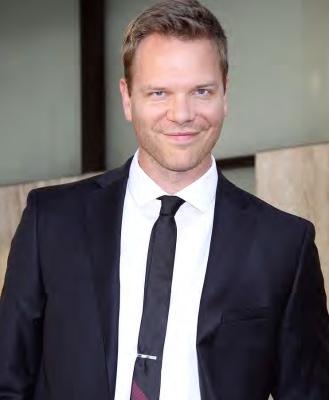 True Blood's Hoyt Fortenterry, Jim Parrack is in the cast of a new film, "Talk is Cheap," that has started a Kickstarter campaign today. The film focuses on the dire issue of global warming. For only $1.00 you can be a part of this film and get on screen credit and support the cause to save our world.
Read more below:
It's by Barrie M. Osborne, the Academy Award®-winning producer whose credits include some of the biggest blockbusters of all-time, among them The Lord of the Rings trilogy and The Matrix, has turned to Kickstarter to help fund Talk Is Cheap an important, environmental themed family drama for writer, director, producer Jim Jarrett.
The filmmakers, including Osborne, Jarrett and producer Jon Labrie, announced their independent film project and formally launched their Kickstarter campaign, asking only $1.00 per person to help finance the film's production costs. Those who contribute will be credited on screen and on the film's website as an Associate Producer.
Talk is Cheap is an unforgettable and powerful story about a father and daughter and how one teenager's viral vow of silence ignites a revolution that gives true voice to a generation demanding change.
"It's a rare and great privilege when you come across a project that you really like that has something very meaningful to say, while also being very entertaining. Talk is Cheap is one of those projects" said Osborne, who added "each generation comes out with a film that is groundbreaking, iconic, and says something very specific about what is going on with that generation. This film really illustrates the power of one voice to make a difference in the world. Through social media, with the right message at the right time, you actually can change the world one person at a time. That is the heart that drives our movie and it is the heart and soul of our Kickstarter campaign. "
If successfully funded, the film's on-screen credit crawl will include the individual names of at least 1.5 million Kickstarter contributors.
In addition to Osborne, backers for the project will be joining an accomplished group of Hollywood veterans including the writer, director, producer Jim Jarrett, who is one of the most respected acting teachers in the world specializing in The Meisner Technique. Additionally, he is joined by writer and producer Jon Labrie, who served as the Chief Technology Officer for Peter Jackson's Weta Digital. Jarrett has tapped Eamon Harrington & John Watkin to serve as directors of photography on the film. They have produced over 150 projects for television, and have collectively won 7 Emmy Awards.
Said Jarrett, "Talk Is Cheap is a family drama that focuses on the dire issue of global warming thru the eyes of a father and his teenage daughter, who disagree on how to make a difference on climate change. No matter what you believe about the science of the debate, our younger generation views the planet as sick and in need of help. They feel profoundly lost about what they can do to make a meaningful difference. This film really is about the power of one."
Talk is Cheap begins with Mina Scott, a documentary filmmaker, following popular talk radio host Damon Michaels for 48 hours. Hoping to catch a glimpse of what it's like to be one of the most powerful people in media today, she instead captures the story of a lifetime filtered through a fractured relationship between an opinionated father (Damon) and his alienated and equally opinionated daughter (Nikki). Nikki is fed up with her politically provocative dad, who talks about current issues but never makes a difference. While the documentary crew is rolling, she declares she can accomplish more by NOT talking, than her father ever could as a popular radio host.
At school the following day, instead of announcing her candidacy for student body President, Nikki announces that she won't speak until the U.S. makes dramatic changes to its policy on climate change – and she encourages other young people to follow her example.
Over the next few days, smart phone videos of Nikki's emotional and compelling speech go viral. What starts innocently as a simple act of defiance grows into a world-wide phenomenon – fueled by young people, one by one, finding their voice through silence and the extraordinary power of community that is shared and connected by social media.
With both sides of the climate change issue raging in debate and growing more extreme and dangerous by the day, a father and daughter must find a way to come together to lead the millions of people who demand a difference and agree that action must be taken because Talk is Cheap.
Go to:
"TALK IS CHEAP" KICKSTARTER PAGE
 
 And, further information cam be found about the film at talkischeapmovie.com or JOIN them on Facebook at facebook.com/talkischeapmovie and on Twitter @talkscheapmovie.