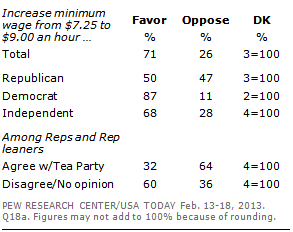 Last Monday (2-18-13) I posted about President Obama's proposal to raise the minimum wage from $7.25 an hour to $9.00 an hour (and ties future increases to the inflation rate). As I said before, this would boost the economy, create new jobs, increase business sales, and lift some families out of poverty. In short, it would be good for the country as a whole.
But the Republicans oppose it. They do so because their corporate masters cannot see past their stock prices for today, and have little interest in the long-term health of either their corporations or the country. And they do this at their own peril, since the American public supports the raise by a large margin (and in fact, would even support a larger wage increase than the president has proposed -- to $10 an hour). That was verified by a survey from Lake Research.
Now a new survey has been released, and its by a very respected bipartisan polling organization -- the Pew Research Center (conducted between February 13th and 18th of a national sample of 1,504 adults -- with a margin of error of 2.9 points). It verifies what the previous poll said. About 71% of all Americans support the president's proposal, including 87% of Democrats and 68% of Independents.
The real surprise comes though in the Republicans polled. About 50% of the Republicans support raising the minimum wage to $9.00 an hour (while 47% oppose that). And among moderate Republicans, the support rises to 60%. It is only with that minority of Americans known as teabaggers that a majority oppose the president's proposal (and that is probably just because the president proposed it, since they oppose everything he does).
The president and Democrats are on solid ground with raising the minimum wage. The people support it. Meanwhile, the Republicans are playing with fire again -- and this is one more thing that could burn them in the next election. How many times can they get away with bowing down to Wall Street and ignoring the will of the American people.