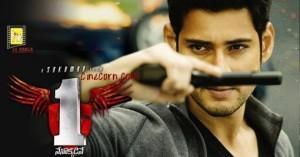 BUY NOW! Atharintiki Daredi Official Merchandise

@CelebOutfit
Enjoy reading cinecorn.com on your Smartphones. Download the FREE App right now.

Android App

/

iOS App
After a long wait of one year finally Superstar Mahesh Babu returned to the silver screen again. This time he joined hands with Sukumar as director for 1 Nenokkadine. So how is the film faring at the box office, well here is an early indicator.
The film opened poorly in the smaller centres across the state universally. At the same time it had great opening among all the A centres with Hyderabad city being the best. Reports for the film are negative and add to it being in the pre festive days, the effect on the opening was telling as the day progressed and the word of mouth spread. 1 Nenokkadine is likely to come close to the previous day 1 records in Nizam and Krishna but it's not likely to do so in other territories. In other words it looks almost impossible for the film to beat the previous Day 1 record overall, despite releasing in more number of theaters.
Stay tuned to this page as we keep updating the exact details with numbers soon.