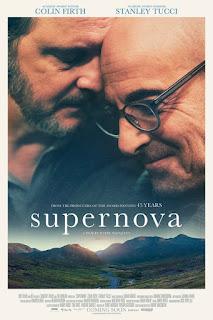 US release 29 January 2021.
Director Harry McQueen offers Supernova (2020), a quiet film with a heavy topic: how couples respond to a diagnosis of early onset dementia. 
Colin Firth plays Sam opposite Stanley Tucci playing Tusker. The latter is the one with early onset dementia, but clearly such a diagnosis affects Sam as well. 
These two have been a couple for two decades, and now they are taking a road trip through the Lake District of England in a camper van. They are en route to a piano concert featuring Sam. Tusker writes novels, and he has brought some notebooks with him so that he can make progress on his last novel before his memory corrupts any further. 
The film has three sections: establishing their dynamic, conversations with members of Sam's family, and more intense conversations between Sam and Tusker. 
For the first third, the film has long stretches of silence and a lot of bickering typical of a couple who are comfortable with each other's foibles but trusting that the relationship is solid enough to withstand these barbs. It's only towards the end of this section that a salient of symptom of dementia becomes a plot point. 
The middle of the film takes place at the home of Sam's sister. This allows Sam and Tusker a chance to express their thoughts and feelings through conversations with other characters. Their relationship becomes more layered in both positive and negative ways. 
Finally, the two book a cottage and start to address their expectations for how Tucker's disease will progress and how Sam will offer support. These are difficult conversations that range in complexity and change directions several times. 
While some of the suggested courses of action seem dramatic, they still offer the viewer insight into the range of emotions and behaviors that couples face when one of them is moving through the various stages of dementia. 
I found the film to be difficult in challenging in style and content, but the acting was very good. Also, the film affording me more opportunity to think about how people might respond to dementia or other terminal illnesses. 
Related: