Fellow winos, a few of my go-to selections…
You can stand there for a good 20 minutes, scanning shelf after shelf, not really sure what you're looking for, maybe something that's on sale, or has a neat label, or sounds exotic and different. But alas…you end up with the one you always get because you don't want to spend $15 and potentially ruin your entire night (yes, it's that dramatic for me). Well, because I do believe the old saying "Life is too short to drink bad wine," I thought I'd throw out some suggestions for wines that you can find at your local supermarket, that won't break the bank, and that you won't end up throwing out (I hope).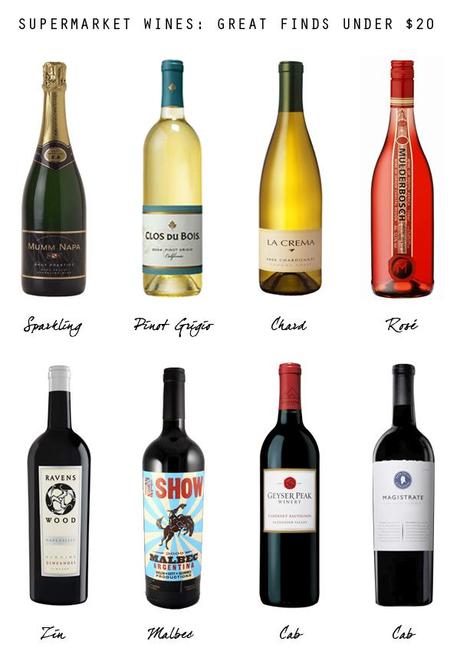 Mumm Brut Prestige - $19.99
Great buy. And if you ever have the chance to go to Napa, I highly recommend you visit this sparkling wine house over the more popular Domaine Chandon — the panoramic views from the tasting patio across the valley floor are well worth it.
Clos du Bois Pinot Grigio - $15
A light, crisp white that's not too sour apple or grassy. A safe white wine choice when you're not sure.
La Crema Chardonnay -$19.99
Chardonnays are always tricky for me – they can tend to be too buttery or too oakey. I think the La Crema strikes a nice balance between the two.
Mulderbosch Rosé - $12
I love a good rosé in the summer, and I found this gem just recently. Pretty bottle too if you're having guests over or bringing a hostess gift. Rosés are actually really quite versatile, as they can pair well with food that you would normally reserve for white OR red.
Ravenswood Old Vine Zinfandel - $16
You'll often see this one on a restaurant wine list, as well. It's a nice spicy Zin that isn't overpowering.
The Show Malbec- $12
I found this one recently at Target! I picked it up because Malbecs are my current fave, and I loved the label. Did not disappoint.
Geyser Peak Cabernet Sauvignon – $16
Just a good hearty cab that's not overly fruitty. (I should mention I am not a fan of fruit-forward wines — I prefer the earthier European types.)
Magistrate Cabernet Sauvignon - $19
If you prefer earthy European wines (like me), you'll like this one. It's different, and a steal! 
My last recommendation: drink out of a Riedel glass whenever possible! It really honestly does make a difference. I don't understand the science of it all so I couldn't exactly tell you why, but who cares, it works.
What are some of your go-to's that you just know you can count on? Share with us, so we don't waste another minute (and dollar) of our lives drinking bad wine — and by "bad" wine, I do strongly believe it's all about personal preference, so please take my suggestions with that in mind! But hey, I figure one recommendation is better than none. ;o)