This post may contain affiliate links. Please read my disclosure.
This Superfood Salad is going to be your new favorite dish! It's filled with broccoli, blueberries, sweet Fuji apples, cabbage, spinach, dried cherries, pine nuts, and a healthy, homemade ranch dressing. Ready in just 15 minutes, it's the perfect healthy lunch or light dinner!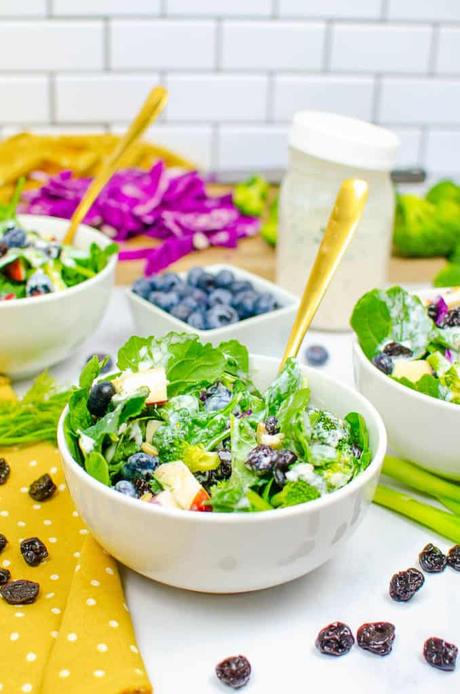 I know there are people out there thinking, they don't want a boring salad again. Guess what! This salad is anything but boring. It's filled with naturally sweet foods, savory ingredients, and the best healthy ranch dressing you will ever taste.
I love salads that are a mix of a ton of different flavors and textures - it keeps every bite interesting and satisfying! This healthy superfood salad is a perfect low calorie main meal, light lunch or side salad. It's made with over 10 different superfoods, but you could easily bump this up to 15+ superfoods - by using superfood guides like this.
This recipe is easy to customize, kid-friendly, and packed full of delicious and nutritious ingredients!
Tools and Equipment You'll Need
Recipe Ingredients and Notes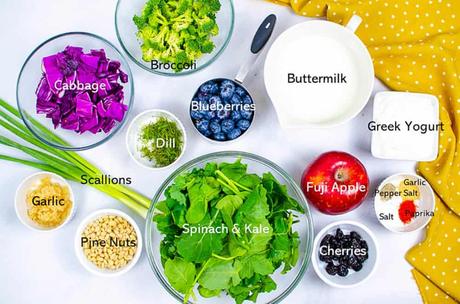 It's no surprise that this recipe is packed with superfoods! But what are superfoods? They're mostly plant-based foods that are nutritionally dense - which means they're high in vitamins, minerals, and antioxidants.
The superfoods we included in this recipe are: spinach, kale, nuts, garlic, cabbage, blueberries, broccoli, apples, cherries, and Greek Yogurt! But you can substitute any leafy green, any cruciferous veggie, and any berry or stone fruit for the ingredients in this recipe!
Step by Step Instructions
Step 1: Toss all of the salad ingredients (broccoli through pine nuts) in a bowl.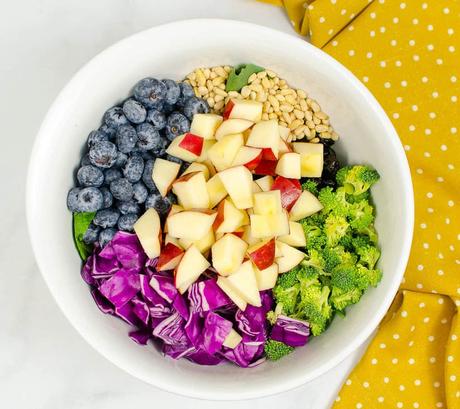 Step 2: For the dressing: In a small jar with a tight-fitting lid, combine buttermilk and greek yogurt. Using a small whisk, beat until fully incorporated. Add the rest of the ingredients (scallions through paprika).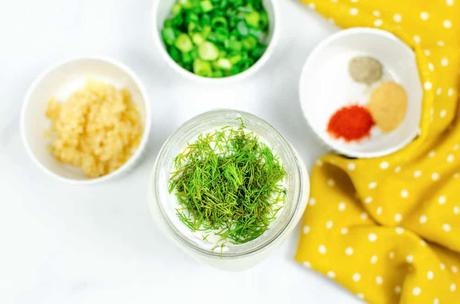 Step 3: Place lid on the jar and shake until all seasonings are mixed in.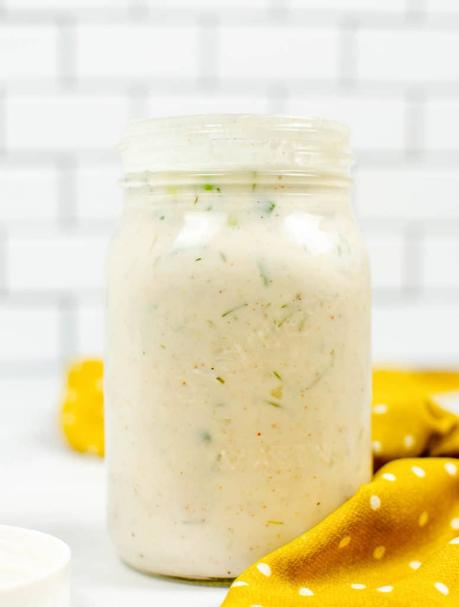 Step 4: Toss ½ the dressing with the salad, and right before serving, drizzle some (or the rest) of the dressing on top. Taste and add more salt & pepper if needed.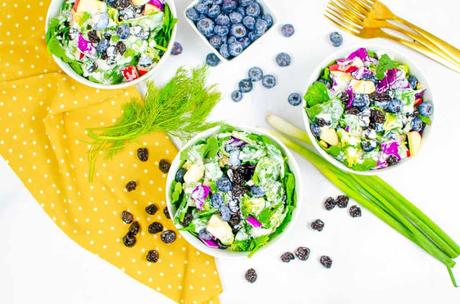 What Makes This Salad Healthy?
Naturally, it's a salad, so it's healthy! However, some salads are filled with too much extra stuff (croutons, too much cheese, too much dressing) that isn't good for you. This isn't one of those salads, and it also happens to taste great too. Here are a few reasons to feel extra good about eating this superfood salad:
Protein & Fiber: Each helping of salad has 4.5 grams of fiber and 10.2 grams of protein.
Vitamin C: One of the biggest benefits of this homemade salad is the Vitamin C. It's so good for you and will boost your immunity too. This salad is also high in Vitamin K, potassium and folic acid.
Antioxidants: You will get more than an abundance of antioxidants in this salad, thanks to the blueberries, apples, red cabbage, kale and spinach . It's called a superfood salad because it's filled with so many good and healthy ingredients! are just a few of the ingredients that are a great way to eat antioxidants.
Will Kids Enjoy This Superfood Salad?
If your child normally likes salads, then he or she will love this salad. Because it's filled with blueberries, cherries, and fuji apples, kids will enjoy the sweetness it offers.
For younger kids, I recommend cutting up all of the ingredients super small - like a chopped salad - to make it easier to chew. If your child is super picky about raw veggies, give them a "fairy portion" of the salad and encourage them to try it, with the dressing on the side for dipping.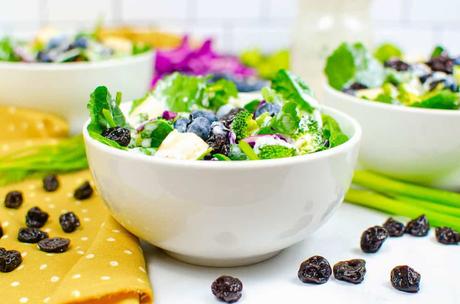 Recipe FAQs
Can I Meal Prep This Salad?
Yes! This superfood salad is amazing as a meal prep recipe. There are three main tips I can give you when it comes to meal prepping this salad:
1) To prevent the apples from oxidizing (turning brown), I recommend either dicing them right before you are ready to eat the salad, or you need to make sure they are buried in the other ingredients, so they don't get exposed to air when you store the salad. Some people will soak the apples in citrus or a clear soda, but that's totally up to you.
2) Make sure you prep and store the dressing in a separate container, so that it doesn't make the salad soggy.
3) Store your salad in glass instead of plastic, which will keep this salad fresher and be crispier. Plastic will allow air to seep into the salad and will keep it from being fresh and crispy.
How Long Does This Salad Last?
As long as you don't mix the dressing with the salad before storing, it will last 3-4 days when kept in an airtight container in the fridge.
Recipe Variations
Add in some chopped cauliflower to add some extra crunch to the salad.
Mix in a few chopped red or green grapes to this superfood salad.
Sprinkle some almonds, pecans, walnuts, sunflower seeds and/or pumpkin seeds on top of the salad for a fun crunch.
Swap the spinach for another green leaf lettuce or dark leafy greens.
Add in some lentils, beans or quinoa for even more protein.
Top Tips For Making Superfood Salad
Cut all of the ingredients into small, equal, bite-sized pieces. It makes eating the salad so easy to eat!
Add in additional fruits and veggies as you see fit to enhance or adjust the flavors to your liking.
Drizzle the salad dressing on top right before serving the salad, so it doesn't get mushy.
For the dried fruit, make sure you choose a variety with no added sugar!
Make sure to adjust the salt and pepper for your tastes - I like adding a bit more salt to my salad since the veggies are raw and don't have any other seasoning!
Buy organic if you can, especially for the dirty dozen, to avoid pesticides.
If you want to save some of the salad for leftovers later, put some aside and store it in a separate container than the salad dressing. Toss with the dressing right before you serve!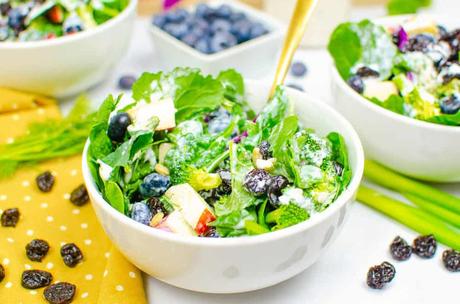 If you have tried this Superfood Salad or any other recipe on my blog, then please rate it and let me know how it turned out in the comments below! You can also FOLLOW ME on
FACEBOOK
,
TWITTER
, INSTAGRAM, and
PINTEREST
to see more delicious, healthy, family friendly food!
Check Out These Incredible Salad Recipes!
Superfood Salad with Healthy Ranch Dressing