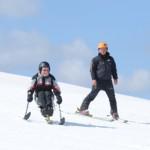 photo : Freizeit-PSO
The Austrian province of Styria is renowned for its many gold standard ski and outdoor sports resorts. But the one to watch this winter is Schladming-Rohrmoos in the Dachstein area, where skiing and sports for people with disabilities takes Styria straight to the top of the leader-board for world class service.
And not forgetting the FIS Alpine Ski World Championships!
Schladming-Rohrmoos
For over 100 years, Schladming-Rhormoos was renowned as a health resort, but in more recent times it has gained international acclaim as a ski metropolis. It is and has been, the venue for world class ski events, including the annual 'Herren-Wetcup-Nachtslalom' – or 'Special Olympics' world winter games.
Formerly a small mining town, it is now a popular all-season holiday destination where good old 'Gemütlichkeit' prevails (perhaps better thought of as kindness and caring). How apt then, that it is also in poll position for providing para-special outdoor sports!
Freizeit – PSO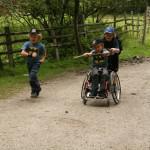 photo : Freizeit-PSO
Freizeit Para-Special Outdoorsports, is a non-profit organisation that provides opportunities for people of all ages with a wide range of physical or cognitive difficulties and disabilities, to enjoy sporting activities. But best of all, they have a strong commitment to ensuring that family members aren't separated unnecessarily during their holidays by bureaucracy or lack of resources.
Freizeit-PSO ensures that holidays for all are fully accessible, using specialist equipment where necessary to help every member of the family participate in an impressive array of events, including:
photo : Freizeit – PSO

hiking

climbing
skiing
climbing
diving
rafting and riding
In 2005, Sabine Zach (CEO of the organisation) established a ski school for people with disabilities. Freizeit-PSO has developed from those early roots into an impressive organisation supported by the Styrian Administration and other charitable bodies. If gold medals for 'Gemütlichkeit' could be given, Sabine, the staff of skillful and experienced mountaineers, guides and super Styrians, would surely win them all!
For more information about this wonderful organisation and the holidays they provide, please see their website.
Oh! Nearly forgot -
FIS Alpine Ski World Championships
 Schladming-Rohrmoos is also the venue for the 2013 FIS Alpine Ski World Championships (04.02.13 – 17.02.13). The Championships were last held on the slopes of this excellent Austrian activity centre in 1982.
If you're hoping to holiday in the area this winter, best get booking soon – accommodation availability will be limited. Please don't hesitate to contact me if you're looking for a holiday hideaway with easy access to the Championships – they're only a scenic drive away from this traditional styled all-season holiday chalet in Stadl.
And a quick word from Sabine:
Thank you for your interest in our charity. Your article about Freizeit-PSO is great….

Also I have attached a couple of pictures. Thanks for your help!

Please do not hesitate to contact us, if you need further information.

With kind regards

Bw. Sabine Zach