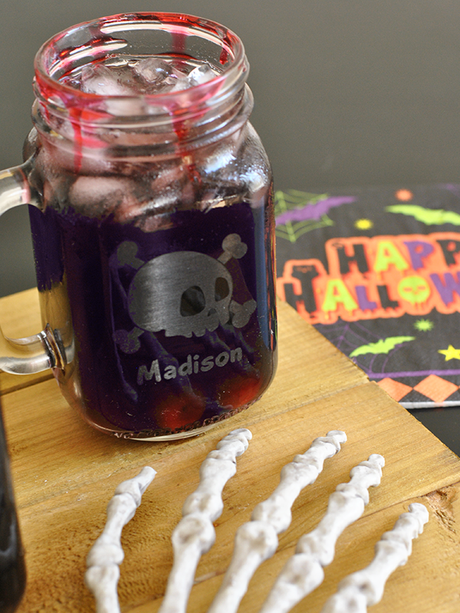 Halloween is in the air! All my neighbors have their houses decked out for Halloween, including a skeleton man sitting in a chair that my dogs think is real and bark at trying to protect me. Little cuties! I also saw a Sasquatch silhouette across the street and I will admit it scared me the first time I saw it (shut up.) I've never done a lot of decorating for Halloween (I'm more of a Christmas gal) but I have a few things that I like to bust out for the season. Especially now that we actually live somewhere for trick-or-treaters!
So in getting ready for the season, I saw that my friends at Gifts For You Now had these really cute Halloween Mason Jars that I thought would be so fun for kids. I have a friend that goes all out for Halloween each year and I thought her kids might really enjoy these! They have a few different styles tons of other personalized Halloween gifts, but their mom thought they'd like the Cat Mason Jar and the Skull Mason Jar.
Now, I normally make adult drinks because I love me some booze, but this punch is totally kid friendly. I've put the recipe together for one drink, but you could easily make this by the pitcher by just adding equal parts of all the juices into a big bowl with some ice.
Kid Friendly Halloween Punch Recipe
*makes one 16 oz. glass
6 oz. grape juice – I used Welch's Concord Grape for the deeper color
6 oz. V8 Splash Blue Raspberry
4 oz. lemon-lime pop, ginger ale, or sparkling juice
Crushed Ice
Maraschino cherries – optional
For the "Blood"
1 Tablespoon light corn syrup
5-6 drops red food coloring
I start by getting everything in a glass. And popping a few cherries on top.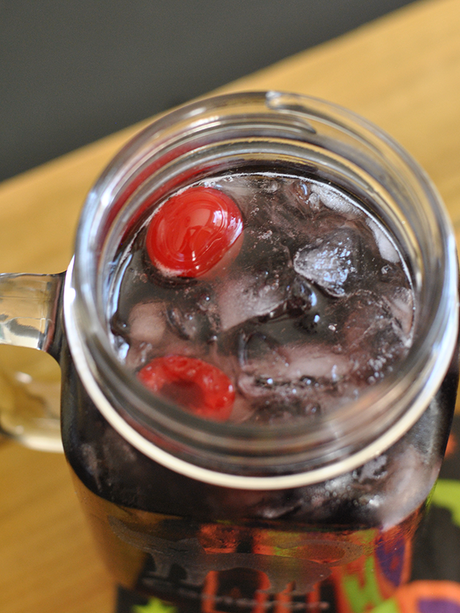 Next you'll want to make your fake blood. Just mix the corn syrup and food coloring together in a small bowl.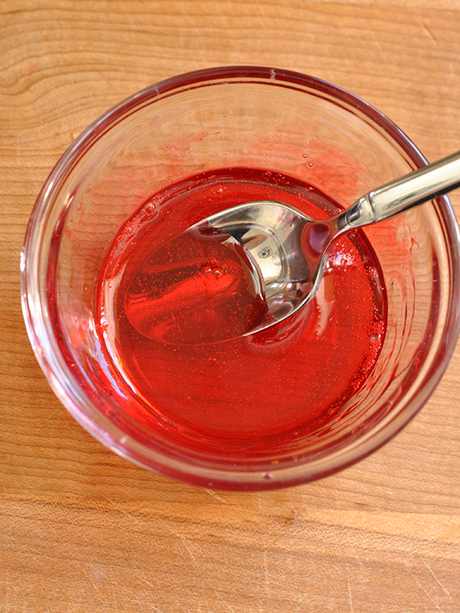 Use a spoon to drizzle it over the rim of the glass, just enough for it to drip a little.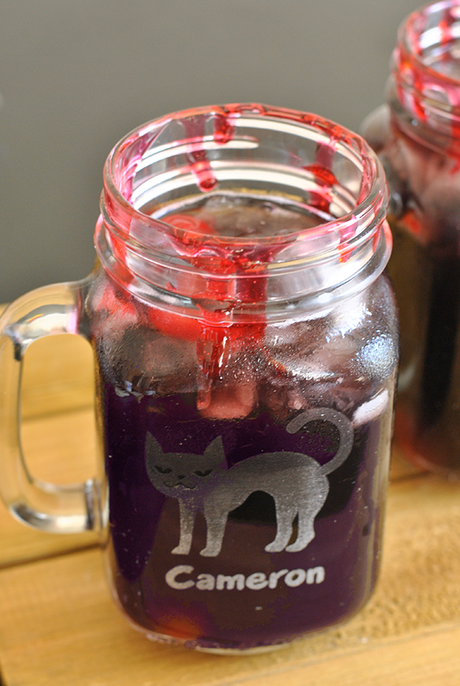 Happy early Halloween, y'all!