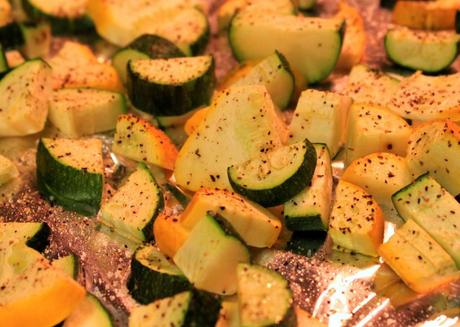 I almost went for the alliteration in that title with "Super Simple Summer Squash"

But then it would have left out the most important fact – that we are roasting squash today! I love roasted vegetables – they're especially satisfying in the winter but you can do lots of roasting in the summer too. Roasted veggies are quick and easy to make, and are really healthy side dishes that pack lots of flavor. I actually ate the roasted squash above on it's own as I was cooking our actual dinner for the night – it was like a pre-dinner snack.
This recipe can basically be considered a base for any roasting you want to do with any vegetables you like. All you need is:
Olive oil cooking spray or 1-3 tsp of extra virgin olive oil (you don't need more than 3 tsp/1 tbsp of oil for roasting)
Sea salt
Freshly ground black pepper
Vegetables of your choice
Any additional spices (e.g. you can add cumin seeds or rosemary for potatoes, Oregano/basil for peppers, onions, squash, chili powder for corn, cinnamon/nutmeg for sweet potatoes, etc.)
I chose summer squash that I found at my local farmer's market – aren't they cute?
a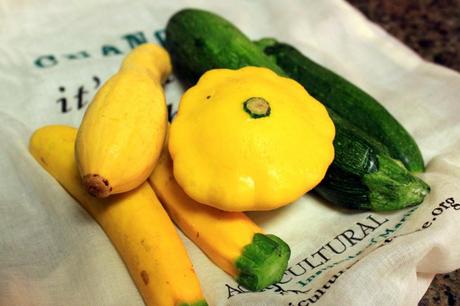 a
Once you have chopped your veggies and tossed them with the olive oil, salt & pepper and any other spices you like, spread the cut veggies on a baking sheet and roast at 425-450 degrees for 20-30 min until the veggies are tender & slightly browned. Enjoy!
a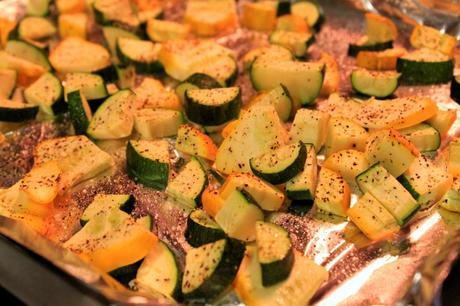 a
What's your favorite vegetable to roast? And what spices do you like to like to use to "dress it up?"
Leave your comments below!