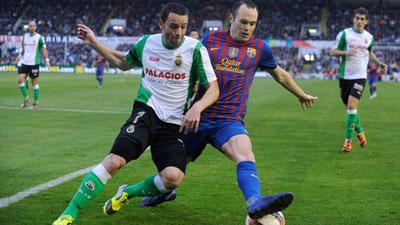 Leo Messi, the little Argentine wizard has netted 50 goals this season with another brace of goals last night against Racing Santander.
The game started in typical Barca fashion and Racing were up against the ropes early in the game and Messi looked like he was enjoying himself after scoring five goals against Bayer Leverkusen in mid week.
This is good news for Barca as this win means that the Blaugrana's have notched up four consecutive league wins now and Guardiola reckons that his star studded team is bouncing back.
Guardiola said after the game:
"We have been playing well for a while, but we have had to suffer from a lot of injuries and while players have come in and done well, it still puts a greater strain on the team".
"It was a good game from us and we managed well to pass the ball around but it is never easy against a side who have nine at the back. We also had to be wary of Racing on the counter-attack which we were able to do.
"As we were 13 points behind Real we just had to go out at 100 percent and give our best. Racing are among a group of teams that will fight to the end to avoid relegation and I hope they have a good end to the season."
As per usual the visitors dominated from the start and poor Racing showed why they haven't won a game in eight showings. Messi scored in the first half after a low cross from ex Arsenal star Fabregás and then later in the second half on 56 minutes after Fabregás was adjudged to have been pulled down in the penalty area by Santander's Domingo Cisma. Cesc went down far too softly for my liking and a couple of Racing players picked up yellow cards for protesting at the Catalans penalty box theatrics.
Needless to say, Messi was on hand to slide the ball home after sending the Santander goalie the completely wrong way and getting his second.
Next Barca match is against Seville on Saturday 17th March at the Nou Camp. Kick off is at 20:00.