Podcast: Play in new window | Download
I'm always on the lookout for easy, no-fail strategies that will help me win my next tennis doubles match. And I'll bet you are too. In this episode of Tennis Quick Tips, I discuss a strategy we all know - picking on the weak link. But I'm going to give you a few extra tips to make sure you put this super easy doubles strategy to best use every time you use it. You can listen to this episode by clicking on the media player above or by listening in with your favorite podcast app. You can also subscribe in iTunes by clicking on this link: tennisfixation.com/itunes.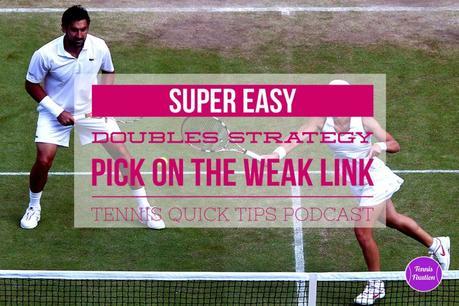 SHOW NOTES
You know there are a lot of simple doubles strategies that you can put into play to help you win your match. In fact, I did a podcast quite some time ago, called No-Fail Strategies for Tennis Doubles - Tennis Quick Tips Podcast Episode 6 and that gave a list of six really easy, no-fail strategies that you can put into play most any time, at any point, in your doubles match.
Probably the easiest one, the one that we're most familiar with, and the one that consistently works, is to pick on the weak link. To figure out which of your two opponents is worse and hit to that opponent again and again and again. And, while this strategy alone may not win the match for you, it can be a really big part of your doubles success in any particular match.
The time to start looking for this weak link if, of course, during your warm-up. You should be looking for things like: do they have a weaker backhand? Do they not play too well up at the net? Are they lobbing a lot, during the warm-up even? Do they have a weak serve? Do they seem like they don't handle volleys very well? There are lots of little things that you can be picking up during the warm-up and talking to your partner about.
So, let me tell you how this strategy somewhat worked for me recently, thanks to my partner. I played a match not too long ago, where my partner and I both warmed up, and then we talked about who we thought was the weaker of our two opponents. And we decided that, actually, both women were pretty consistent and we couldn't necessarily pick on one of them. There did not seem to be between the two of them, a weak link.
But as the match wore on, I found myself getting into rallies up at the net with one of the two women. Over and over, we were having these reaction volley shots. And it was the woman who was taller, played the net more aggressively, and got almost everything back. Between the two, she was the least likely to make an unforced error.
Finally, thank goodness, my partner said to me, "Why are you hitting to her? The other partner is a lot weaker. Hit to that one!"
Oh yeah! I forgot! Pick on the weak link! I'd not only forgotten that strategy, I was actually engaging in a one-on-one battle with the stronger partner.
So the lesson here is, and the lesson I learned and try to remember now is, just because you don't see the weak link early in your match, doesn't mean there isn't one. The warm-up is not going to tell you everything. Lots of players are great at going through the motions of the warm-up. But then, when it's actually time to play the match, they refuse to come up to the net during the match. Or they get worn out and they suddenly aren't so great. Or they reveal weaknesses in match play that didn't seem apparent when they were just casually warming up.
So constantly be talking to your partner and searching for that weak link. And if your partner keeps hitting to the stronger player, as I was doing, by all means, tell your partner to stop doing that and to pick on the weak link.
Let me know your own super easy doubles strategies by leaving a comment below. I'd love to hear from you!
RESOURCES AND LINKS FROM THIS EPISODE
Check out this previous episode of Tennis Quick Tips:
SHARE, SUBSCRIBE AND REVIEW
Thanks so much for being a listener and friend of the Tennis Quick Tips podcast. And I hope you'll consider sharing this podcast with your friends and leaving a review of the show as it really helps it to be found by other like-minded tennis players. You can listen in, subscribe or leave a review by going to: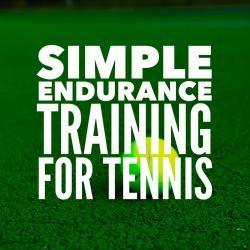 GET A BETTER SERVE FAST!
And if you're interested in getting a better serve - fast! - get my free ebook, 10 Quick Fixes to Improve Your Serve: No Lessons Required.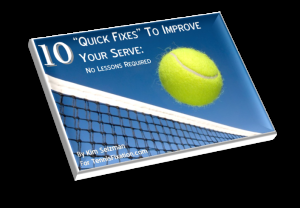 By applying the 10 simple tips to your serve that I give in this ebook, your serve can become a tool that you can use to gain control of points. It can become more powerful, more accurate, and something you're actually proud of. Just enter your email below and you'll get instant access to this free ebook as well as weekly updates with all of my best tennis tips!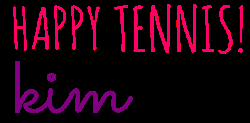 © Kim Selzman 2016 All Rights Reserved