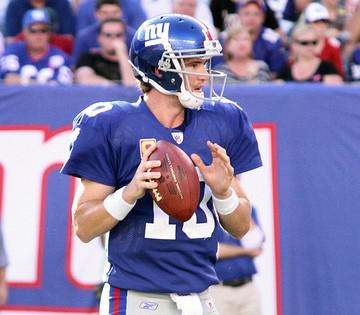 Eli Manning led the New York Giants to Super Bowl glory. Photo credit: Mike L Photo's
The New York Giants beat the New England Patriots by a scoreline of 21-17 in the Super Bowl. The thrilling finale went down to the National Football League season went down to the very last play with Patriots' quarterback Tom Brady hurling a desperate hail mary to the endzone as time expired, deflecting off a few players, and landing just inches away from a Patriots receiver. In the US alone, over 100 million people tuned in to watch the televised spectacle which has become as much about the associated razzmatazz as about the actual game.
The halftime show saw Madonna perform a few of her classic tracks including Vogue and Like A Prayer aswell as her new single Give Me All Your Luvin. As various points, Cee Lo Green, M.I.A. and Nicki Minaj joined Madonna onstage to help hype the crowd. Here are the commentariat's selection of the best TV advertisements that kept even fairweather American Football fans glued to News Corp's Fox network throughout. Super Bowl advertisements run around $3.5 million for a 30 second spot.
Watch all the ads here.
Volkswagen's second straight Super Bowl triumph. "For the second year in a row, Volkswagen had one of the buzziest ads of the Super Bowl," insisted Michael Krumboltz at Yahoo Sports' Shutdown Corner blog. The ad featured an overweight dog that can't fit through the doggy door. The dog exercises until it can fit through the door and give chase to its favorite car, the VW Bug. At the end of the ad, in a call back to last year's hit ad from VW, the commercial switched to the famous cantina from the original Star Wars film where a certain Dark Lord of the Sith makes an appearance.
Krumboltz identified car manufacturer Chrysler's ad as "certainly the best heartfelt ad of the bunch." In the spot, a Dirty Harry-like Clint Eastwood talks about how it's "halftime in America" and car city Detroit is making a comeback. The world will hear the roar of our engines, Eastwood says. "Our second half is about to begin."
Krumboltz said that Pepsi won the award for "most bizarre use of celebrity spokespeople." For the ad, Pepsi cast Elton John as a Lewis Carroll-inspired king. In the pitch, King Elton cruelly denied his subjects Pepsi until Melanie Amaro (winner of the X Factor USA) sang her heart out, and cast John to a dungeon where he has to spend the rest of his life with ex-Public Enemy rapper Flavor Flav.
Many ads generated buzz well before the game began as advertisers posted them online days ago to try to build early excitement. Millions of people had viewed pitches from Volkswagen, Honda and others ahead of the contest.
Chevy picks up high praise. "Chevy, Chrysler ads win at Super Bowl," declared Lisa Richwine at Reuters, who said that General Motors "scored" with an Armageddon-proof Chevy truck while a Clint Eastwood pep talk for America "won notice for rival Chrysler during the high-stakes brand battle … " The GM ad showed a Chevy Silverado truck surviving a 2012 Mayan end-of-the-world scenario. In the ad, the truck's driver looked for his friend, "Dave," but learns Dave, who drives a Ford, didn't make it. Unsurprisingly, pickup rival Ford were unimpressed by the ad and tried to have it stopped from going out. However, it won praise from marketing experts, noted Richwine.
 "The Eastwood ad generated online buzz for its emotional appeal and comments that it looked like an Obama re-election commercial from Chrysler, recipient of a taxpayer funded-bailout," reported Richwine, who noted that White House communications director Dan Pfeiffer gave it his thumbs up on Twitter. "Saving the America Auto Industry: Something Eminem and Clint Eastwood can agree on," he tweeted.
The average price of Super Bowl ads have risen more than 50 percent in the last 10 years, defying economic downturns and secular industry issues, reported Reuters.  NBC sold out all 70 spots around this year's game shortly after Thanksgiving weekend in November and reached a new high with one slot selling for around $4 million.
Matthew Broderick wins the Super Bowl. Lori Rackl of The Chicago Sun Times insisted that, "Matthew Broderick and Little Darth scored, but Clint Eastwood just bored." Broderick spoofed his role as an adventurous teenager in cult classic Ferris Bueller's Day Off in a well-received ad for Japanese carmaker Honda. "The struggling Japanese carmaker is bound to get some bounce off this expertly executed … spoof," said Rackl, who also rated the VW spot: "All in all, a nice sequel to last year's top dog of Super Bowl commercials." Swimming against the tide of opinion, Rackl said the Chysler ad was a "fumble." "Last year, Chrysler and Eminem gave us a soul-stirring homage to Detroit. This year, Chrysler and Clint Eastwood gave us the advertising equivalent of Ambien with a heavy-handed snoozer that felt twice as long as its two minutes," sniped the reporter.