There's an art to frying eggs, especially sunnyside eggs. And, there's even more technique needed to make what I'm calling 'sunnyside lace eggs'! Now growing up in the Appalachian Mountains of Southern West Virginia, we saved bacon drippings. I mean bacon drippings were 'liquid gold'. And, when it came to frying an egg in a hot cast iron skillet, you always used bacon drippings.
If you Google 'lace eggs', you'll get mostly something vastly different from what I'm talking about here with frying sunnyside lace eggs. So, in order to help with understanding the technique in frying, I made a quick little video. Nothing fancy about it. Just me talking as I'm making these lace eggs one morning for breakfast.
Extra Tips for Excellency
Some things to remember about frying eggs from the Incredible Egg:
Fresh eggs produce the perfect, best-looking fried-eggs - a compact oval with a thick white and a high centered yolk.
For neater shape, break eggs into custard cup first, rather than directly into the pan. Hold cup close to surface of pan and slip egg from cup into pan.
Heat matters. If heat is too high, eggs will become tough and rubbery. Gentle heat preserves nutrients and allows for even cooking.
A Few More Words
Now what makes these eggs lace eggs is the heat. You're gonna start with a higher heat when you put the eggs in the hot skillet. And, for best results, have a well-seasoned cast iron skillet and a large skillet at that. These skillets just make the best lace eggs. You're gonna wanna hear the eggs cooking, the crackling, sparkling, popping and frying, especially around the edges of the whites that ooze around the skillet. Then you just regulate your heat, a little up and a little down, in finishing out the cooking. What you want to achieve is an egg where the yolks are somewhat sunnyside and the bottoms of the eggs have a crispy golden brown bottom.
Good luck. May the force be with you. And, if at first you don't succeed, try try again! xoxo ~ally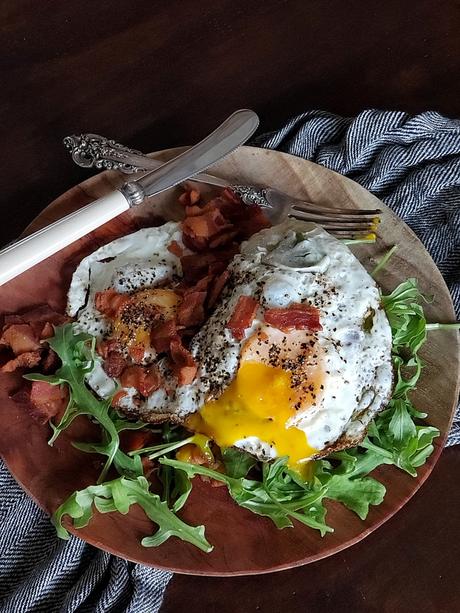 2 pasture raised eggs
2 Tbl. bacon drippings
Sea Salt & Pepper to Taste
Ingredients
Instructions