Hi, Gulliver here. Pam and Jamie are still sleeping it off, so I'm here to report in on Day One in Vegas, the city that never sleeps. They arrived at midnight from Hawaii, and checked in around 1am Sunday morning, and it's true: the joint was still jumping like crazy at that hour.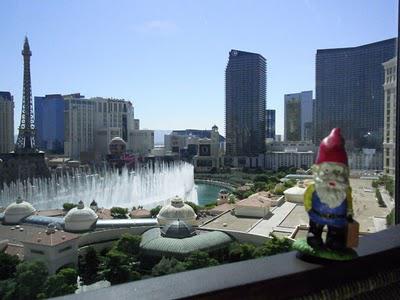 This is the view from Pam and Jamie's room in the Augustus Tower of Caesar's Palace. What are those fountain things in the background? They belong to the Bellagio Hotel, which is across the road. These fountains start going off at 11 in the morning, then put on a show for five minutes every half hour, all through the day.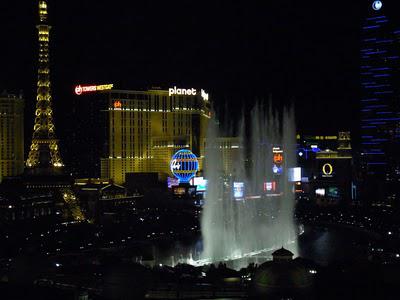 At night the shows' frequency steps up to once every 15 minutes, and the finale of each show, with sky-high plumes of water, is pretty spectacular. You can't pump out that amount of water without making a fair bit of noise, and if you are in your hotel room across the road, with the curtains drawn, the fountains sound like distant artillery gunfire. Presumably when the battle is won, the victorious soldiers will all stream into town, then spend all their money on gambling and loose women...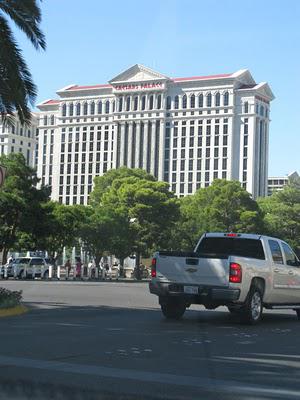 Caesar's Palace, photographed by Pammy in the car as they cruised up and down Las Vegas Boulevarde, like a pair of hick tourists. It's the sort of thing people do in country towns when there's nothing better to do: just drive up and down the main street; except in Vegas the main street is very long and full of strange people and outrageous buildings. One very odd little thing Pam and Jamie have noticed is that virtually no-one here wears a hat out in the 95°F blazing sun. Bare heads everywhere. It's sunburn city!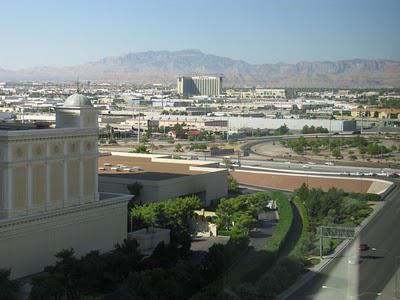 Looking out the hotel room to the right you can see the bare, majestic mountains, and that's where Jamie and Pam are headed this morning, once they get their act together. There's Red Rock Canyon over there, and on the other side of the city is Lake Mead and the Hoover Dam. Should be fun. Weather forecast is sunny, hot and 95°F. Sunscreen? Check. Hat? Check. They love their snazzy Mazda 6 car that will be their ride for the next five weeks, and so today's run out to the nearby hills will be a good, short test drive.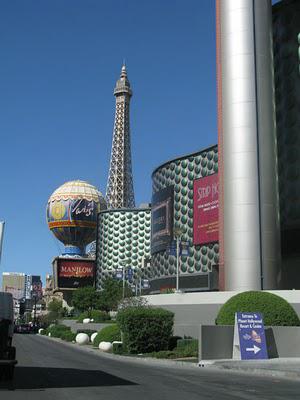 Apart from the lack of hats on the citizens, the other thing we've noticed is that you really could call Las Vegas "Mini Me", although I don't think a name like that would have them coming here in droves like the name Las Vegas does. Take the Eiffel Tower here. Half size.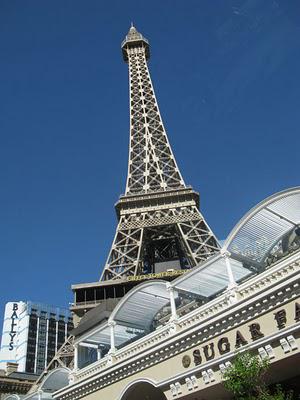 Pam's shot of it taken from the car is a valiant effort to make it look bigger, but it's a lot smaller than the original. Same with the replica of Michelangelo's David here at Caesar's Palace. It's only 10 feet tall, half the size of the original in Florence. New York New York's Chrysler building replica must be, gee... let me think... wow, at least 15 stories high, maybe even 20. Everywhere you go you see mini this, mini that. At Luxor the pyramid is about half size, but at least they've had a good go at the Sphinx. It looks pretty impressive, and it's much nicer looking here without its nose falling off and other decay. A nice new Sphinx. Sydney needs a Sphinx somewhere, come to think of it.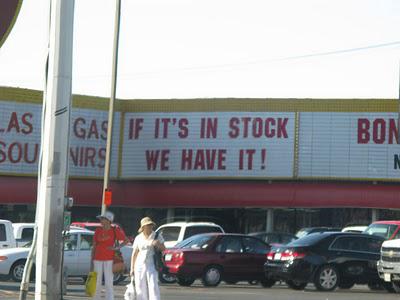 And the shopping here! I love this sign. I presume if it's not in stock, they don't have it!
Las Vegas is a lot of fun, but Pam and Jamie think that staying here just three nights is about as much as they can stand. At one stage, trying to get out of the Caesar's Palace parking area, a huge building in itself, they once again got hopelessly lost and found themselves inside one of Caesar's casinos. Not sure which one. So they have been to the casino, but all they gambled on was betting on which direction was the way out and back to their comfy room. And speaking of comfy rooms, let us finish with yet another of Jamie's terrible pan shots with commentary, a quick lap of their quite lovely room.