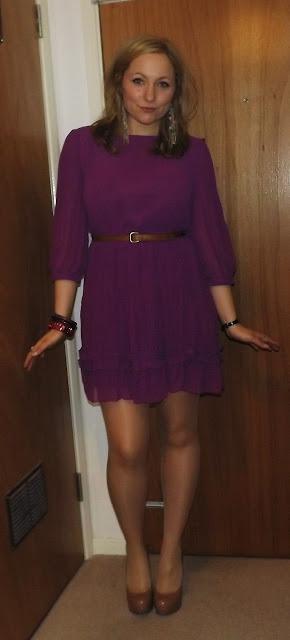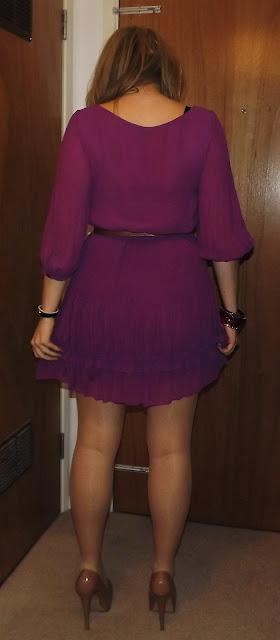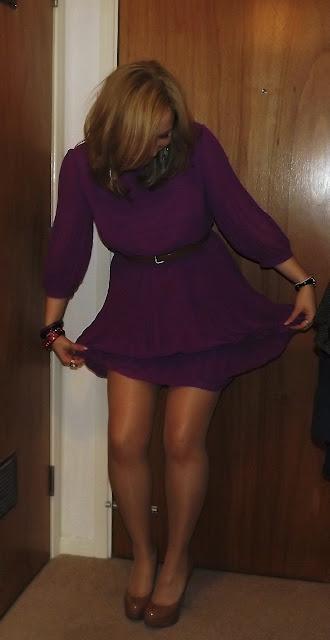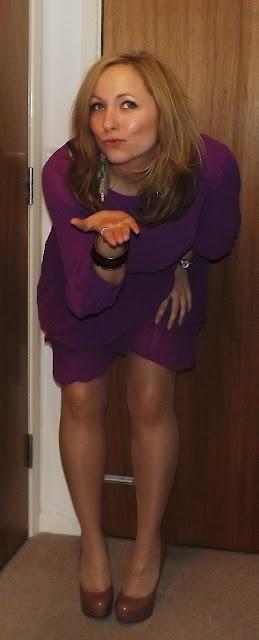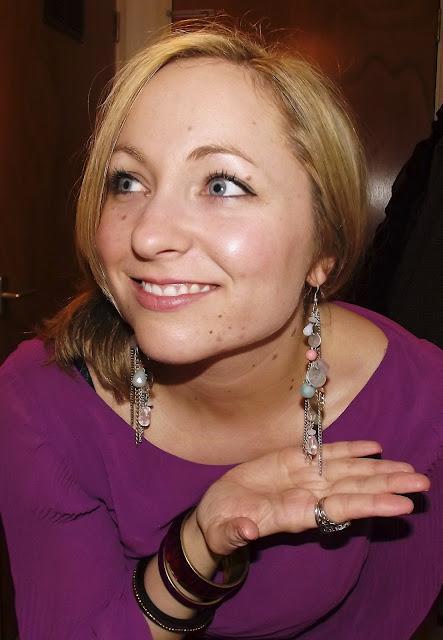 What I'm wearing: Dress - Topshop, Heels - Topshop, Earings - All Saints, Bangles - Next, Waist Belt - Primark, Purple Handbag - Topshop
I love this dress from Topshop but I just haven't had a chance to wear it un til now.  I do hate when that happens because often you'll find it's gone into the sale by the time you do end up wearing it. It was £50.00 originally but I do belive it's now as low as £15.00 if you can find it in the sale! I love my earings from All Saints, bit on the pricy side but work well wth loads of outfts, due to their colours.
Anyway that aside, I was out for a friends birthday and as much as I wanted to be confident and wear a bodycon dress... I just couldn't do it.  So out came my lovely Topshop purple floaty dress, teamed with the browns and warm tones works really well for the chilly January. 
Now some of you may know I actually had my hair coloured yesterday and went blonder, with this I decided to ditch my normal pale, washed out skin tone and attempt some fake tan! If anyone knows me will know, I don't tend to fake it. This time I thought I'd make an exception.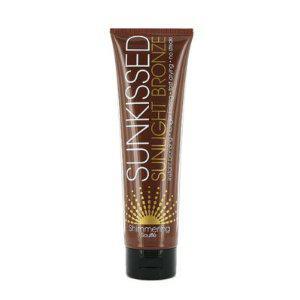 I hate it when girls go over the top with tanning, in my eyes I think less is more.  Start subtle and build up from there. The mouse is the main product to give you he all over SUNkissed look, it's really easy to apply and comes out very even.  It's instant tan but if you're anything like me I try to leave it just to be on the safe side, so do what I did and clean, or get your outfit ready for the night out. The Shimmer was a great way to top off my tan and especially gave my legs that extra fab look. 
I honestly couldn't fault these products and the prices are superb from around £2.99.  If you fancy having a browse at the products available head on over to SUNkissed Bronzing
I'm going to sleep well after this weekend, ran 10k in the morning on Saturday, followed by hairdressers, lunch with the girls then birthday celebrations for my friend.  Today I got up munched on my organic oats and forced myself to do body combat.  Check me out!
I might head to my PJ's right now and stay in them until tomorrow morning!  Sound like a plan or what?!

   xoxo