The right pair of sunglasses can go a long way to enhance your style quotient. Whether you're out on a tropical vacation or headed for a client meeting, sunglasses play a crucial role in making you appear confident and fashionable.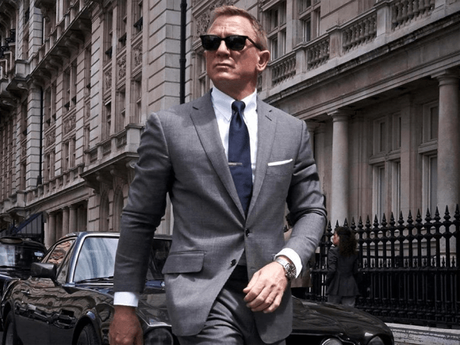 But it's essential to choose the right style of shades depending on your face shape, skin color, and other parameters. With so many options for popular glasses available in the market, it's easy to feel overwhelmed.
That's why we decided to bring you some inspiration from one of the most prominent style icons - James Bond. Over several decades and 27 memorable movies, the MI6 agent has become a symbol of the epitome of gentlemen's style.
Portrayed by Sean Connery, Roger Moore, Pierce Brosnan, Daniel Craig, and other renowned actors, 007 is known to have a penchant for fashion, women, cars and vodka martinis. While his impressive fleet of cars and suits steal most of the limelight, James Bond's sunglasses have also played a key role in turning him into a fashion icon.
With the British special agent returning to the big screen in No Time to Die, we'll explore some of the most popular glasses and eyewear brands flaunted by 007 throughout the movie franchise. Let's get started.
1. Oliver Goldsmith
Oliver Goldsmith - known for their vintage sunglasses - was one of the first eyewear brands to make it to the James Bond multiverse.
The super-spy, portrayed by Sean Connery, is seen wearing a pair of the dazzling Oliver Goldsmith "Consul" inside Istanbul's Hagia Sophia in the film From Russia With Love. It was likely the first time James Bond wore sunglasses on screen.
2. Persol
Whenever you think about popular glasses sported by 007, Persol is likely the first brand that'll come to your mind. Sunglasses from the Italian eyewear brand have made multiple appearances in the Bond movie franchise, including:
The British super-spy used a pair of customized Persol sunglasses equipped with X-ray vision to look through tinted windows in A View to Kill. In GoldenEye, Pierce Brosnan's Bond rocks a pair of Persol 2611-S during his trip to Cuba.
Also, you'll find 007 rocking a pair of custom-made Persol 2672 in the color Havana in Die Another Day. The famous glasses from this film are an embodiment of Bond's sophisticated elegance and charisma.
Flash forward to the Daniel Craig era of Bond films, and you'll see the super-spy two different Persol shades in Casino Royale. The Persol 2720, featuring a sleek tortoiseshell frame, has gone on to become one of the most popular glasses from Bond films.
3. Tom Ford
The luxury fashion brand has become a wardrobe staple in Daniel Craig's rendition of 007. The first time Bond sported a pair of Tom Ford sunglasses was in Quantum of Solace.
The FT108, which was tailor-made by the designer, even stirred controversy among Bond fans. Many fans believe that the popular glasses from Quantum of Solace have too close of a close resemblance to the now discontinued Airman model by Oliver Peoples.
Despite the controversy, Tom Ford's sunglasses made their way into the subsequent installments of the Bond franchise, Skyfall and Spectre. In Skyfall, 007 was seen flaunting a pair of Tom Ford Marko (FT0144) sunglasses in numerous scenes. The aviator-style sunglasses feature a prominent brow bar to accentuate the glam factor.
Similarly, in Spectre, 007 rocks a pair of Tom Ford Snowdon in the color 52N Havana. The modified wayfarer shape has become one of the most popular glasses from Bond films in recent times. The James Bond - Tom Ford collaboration continues with the designer taking charge of 007's wardrobe in No Time to Die.
4. Barton Perreira
A list of popular glasses from the Bond movie franchise would be incomplete without mentioning the latest addition, Barton Perreira. The chic Los Angeles-based eyewear brand has three pairs of sunglasses for the super agent's wardrobe in No Time to Die.
The three models are:
The Norton sunglasses particularly stand out with a round tortoiseshell frame and bottle green lenses. The Courtier sunglasses put a spin on the classic aviator design with a distinct titanium brow bar.
5. Vuarnet
The Barton Perreira shades aren't the only popular glasses you'll find in the latest Bond film. 007 is also seen sporting a couple of different shades from Vuarnet.
The French vintage eyewear brand also made a brief appearance in Spectre with their PX5000 Glacier Glasses. In No Time to Die, Bond wears the brand's Legend 06 and Edge 1613 sunglasses.
If you're looking to add an instant touch of glamour to your appearance, whether you're after an edgy, contemporary look or a timeless one, you can take a cue from one of these popular glasses flaunted by 007. Choose one that's the right fit for your face shape and outfit, and you're sure to to make an impact like Bond.
Fraquoh and Franchomme
Further reading:
4 Tips on How to Dress Like James Bond at a Casino and Exude Confidence
Style Inspiration from James Bond's Iconic Looks
Choosing the Right Sunglasses for Every Occasion
P.S. We want to hear from you! Do you like James Bond? Which actor represented him best? Which sunglasses do you like? Share your feedback, questions or thoughts in the comments below! For more articles on style, fashion tips and cultural insights, you can subscribe to Attire Club via e-mail or follow us on Facebook, Twitter or Instagram!