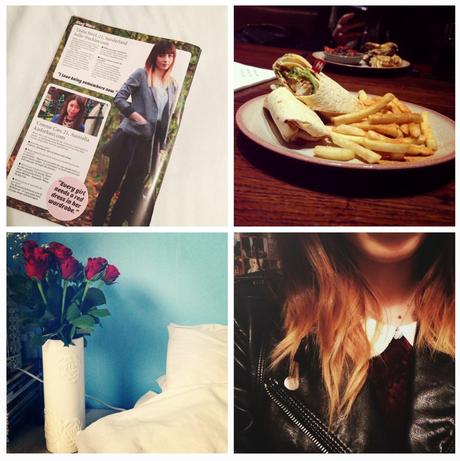 I can't believe it's the middle of February already, how quick is this year going?! I also can't believe what happened at the end of Dexter Season 4, but that's another story...
This week the new issue of Spark Magazine came out and I'm featured in it three times! It's crazy! Nice to see a little mention (and a half page photo of me!) for Hello Freckles in there along with the column piece I'm now writing for the magazine and my You Me At Six interview. 
It was nice to spend a little more time with my sister this week too, I treated her to Nando's after a job interview she had last week. Love those peri peri chips and hot sauce, mmm.
Over on YouTube, I put up my second video; the TMI tag that's been going around. It's a great way to get to know a little bit more about someone and I thought it'd be a good way to introduce myself. Take a look here and let me know what video you would like to see next.
Andrew surprised me with roses for Valentine's Day which was really sweet. He's the first guy to buy me flowers and I really wasn't expecting it! We went out for a meal last night as a late Valentine's celebration and it was really good. For some crazy reason I didn't take any photos of the food, but I'm sure we'll be going back again sometime. If you're reading this Andy, that's a hint! I've popped up a post here talking about the makeup I wore for our little meal since it's been so long since I last did a FOTD type post. 

What've you been up to this week?




You can follow me on 

Bloglovin

 | 

Twitter

 |

 Facebook

 |

 Instagram | 

YouTube