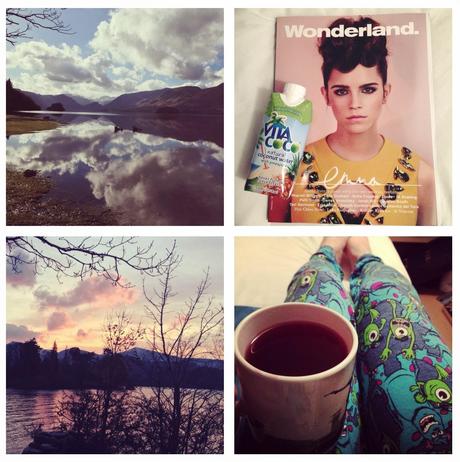 Bit of a late one this week and it's so nice to be home and relax with a cuppa!
We started shooting our dissertation film this week, taking a trip to the Lake District on Monday then returning for the weekend. It's been busy and it hasn't been the smoothest of starts but we've got some good footage so far. This week is going to be even busier, spending three nights filming interiors then back to the lakes again for the weekend to do another shoot in the woods and a day for exteriors. I think we all just hope the weather is okay! 
Since I was up at 4am on Monday, I didn't have a chance to watch The Oscars (if I had, I wouldn't have had any sleep) but obviously I know about that selfie, the pizza and Leo still didn't win an Oscar; which I am quite disappointed about.
Although, I did finally see Dallas Buyers Club this week and I can completely see why Matthew McConaughey and Jared Leto won Oscars for their performances, they were both brilliant. Funnily enough though, every time McConaughey hummed or hit his chest all I could think of was that scene in The Wolf Of Wall Street. Maybe it was just me...
I picked up Wonderland magazine this week after Megan mentioned it to me, finally tried vita coco (It's safe to say I'm a pretty big fan but I'm yet to try any of the other flavours) and spent (quite) a while grumbling about how I couldn't make it to Chvrches Newcastle gig on Friday due our shooting schedule and I can't make it to another date on the tour either. I've entered Trek America's competition and I'm keeping my fingers tightly crossed! You can see my entry for stage one here. Just writing it gave me itchy feet!
What've you been up to this week?
You can follow me on 
Bloglovin
 | 
Twitter
 |
 Facebook
 |
 Instagram | YouTube