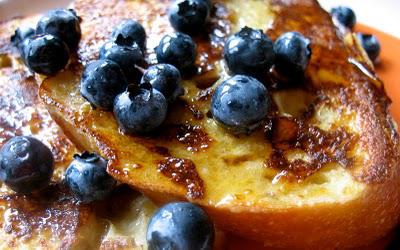 To me, this is the perfect sunday breakfast. Sometimes you just have to enjoy and indulge, and what better way to do that than with this yummy french toast with blueberries? Ok, the best way would be to have your boyfriend prepare it for you and serve in your bed, but they're really easy to make and don't take long at all so doing it yourself should be great too. So here's my recipe for french toast for two (which some of you might know as 'wentelteefjes'). Enjoy!
4 slices of bread (it's best to use old bread)1 egg150 ml milk1/2 teaspoon cinnamon1 pack of vanilla sugarsome butterblueberries (as many as you like)
Put the  egg, milk and cinnamon into a bowl and beat it slightly until mixed.Melt some butter into a pan. Dip the bread shortly into the egg/milk mixture, each side.Put the bread into the pan and bake it (make sure your temperature isn't too high) for a few minutes until golden brown. Turn them and bake the other side.And that's how easy it is to make french toast!Put them onto a plate, serve it with a little bit of vanilla sugar and blueberries.Do you really want to make it a dream-breakfast? Add some whipped cream!