I'm especially grateful when I stumble across wonderful posts that interest me and brighten my day.  Plus, I'm drawn toward memes right now because I'm missing the interaction with bloggers (*sniffle *sniffle)  I decided to be proactive (I hate that word) and participate in The Sunday Best, hosted by Tanya at Girlxoxo.com.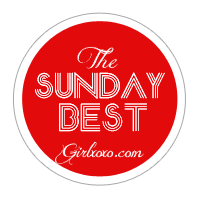 On Sundays, we share the best post on our blogs from the week and link them up. Join us in showing off your Sunday Best and leave a comment or two.
My Favorite Blog Post of this Week: Giveaway Hop: Splash Into Summer
Favorites From Other Book Blogs: At Home with Edith Wharton by Five Alarm Book Reviews
Review: Teenie by My Little Pocketbooks
Large Publishing Company Files for Bankruptcy by Five Alarm Book Reviews
What did you think of the links I posted?  What were your favorite posts of the week, leave a link in the comments so I can visit them!