Recently, I came across a fantastic time lapse video with sequences of the Sun's atmosphere observed by the Solar Dynamics Observatory spacecraft between 2011 and 2015. The music "Una" by Murcof (from the Album Utopía, 2004) fits very well with the scenes of solar eruptions.
From viewpoint of the Wisdom Teachings, the essence of the Sun and of ourselves is but one and the same. We are no different from our Sun.
There is a beautiful prayer in the Isavasya Upanishad. Here, the disciple who can withdraw at will from the activity of externalisation through the senses is compared to the Sun that withdraws his rays. When the rays of the Sun are withdrawn the Sun globe is visible. Likewise, when the externalisation from the senses is withdrawn, the Soul is visible. Sun is the Soul. The Sun globe appears like a golden disc when the rays are withdrawn. Likewise, the disciple also experiences his golden form when he suspends the activity of senses. This golden form is the subtle body which is immortal and divine. (from Agni. The Symbolism and the Ritual of Fire, by Dr. K. Parvathi Kumar; see also his book on "Sun – That I Am")
PÛSHAN EKARSHYE
YAMASÛRYA PRÂJÂPATYA VYÛHA RASMÎN
SAMÛHA TEJAHA.
YATTE RÛPAM KALYÂNATAMAM.
TATTE PASYÂMI YO
SAVASOW PURUSHAHA.
SOHAM ASMI.
Meaning:
"Oh! Solar God,
You are the son of Prajapathi.
You are lone ranger of the sky.
You are all nourishing and all regulating.
Please withdraw your rays and brilliance.
By your grace I would then be able to see
Your beautiful golden disc."
Isavasya Upanishad, 16th Mantram
Here you can listen to the prayer or download the text.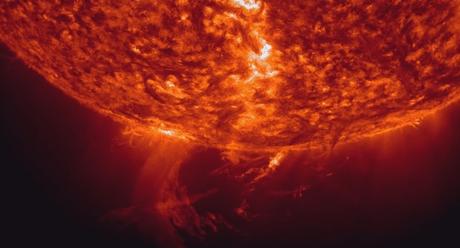 Image from the video, courtesy of: NASA's Goddard Space Flight Center, Scientific Visualization Studio