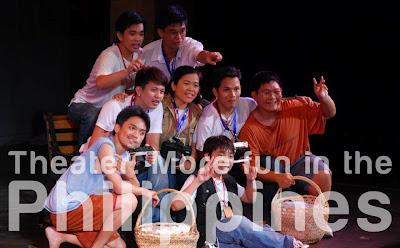 Tony S. Espejo, artistic director of Gantimpala Theater, announces the opening of its 35th Summer Workshop-Musical Theater for Teen and Young Adults, which begins April 9, 2012. Registration/enrollment starts on March 13.
Within 22 sessions plus a culminating recital on May 18, 2012, participants will learn acting for musical theater. Actor, singer and director Roeder Camañag will facilitate the workshop. Participants will gain knowledge in creative drama, music, voice and dance exercises, and scriptwriting, all these will assist them to perform in a musical production.
Gantimpala Theater was one of the original artistic companies of the Cultural Center of the Philippines. During its more than two-decade residency at the CCP, it produced scores of "untried and untested" plays that were winners of the CCP Playwriting Contest.
These plays delighted the public, were the talk of town, earned considerably at the box-office, received critical acclaim and became the benchmark of excellent Filipino theater. Producing these plays made a significant contribution to the development and enrichment of Philippine dramaturgy.
After the EDSA Revolution, the theater company embarked on a more ambitious undertaking, producing and bringing literary pieces to life on the legitimate stage, specifically the Four Classics--"Kanser (Noli Me Tangere)" and "El Filibusterismo", "Ibong Adarna" (which originated from a "corrido") and "Florante at Laura", Francisco Balagtas' masterpiece presented as a "komedya", a Filipino theater form.
Aside from these, Gantimpala produces plays written by National Artists for Theater and Literature and original Filipino musical for children. The 35-year-old theater company, led by Tony Espejo, Philstage Natatanging Gawad Buhay Awardee for Theater, has made the most number of plays based on the works and life of National Hero Dr. Jose Rizal.
Tuition fee for the summer workshop is P5,000. Those interested must bring a 2x2 photo.
Gantimpala Theater is located at the 2nd Floor, Open Air Auditorium Building, located inside the Rizal Park. For more information, call 5280603, 5365860 or 0921-5286308. Or visit www.gantimpalatheater.multiply.com or www.facebook.com/gantimpala.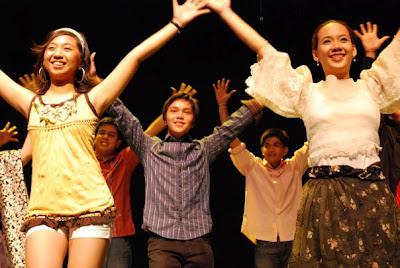 Since its inauguration six years ago, the PETA Theater Center, the Philippine Educational Theater Association's home, has been the venue of not only PETA's performances and events, but also its annual summer workshops during the months of April and May.
These theater arts classes are a mix of acting classes with voice and speech, movement, dance, writing, and improvisation modules. The workshop encourages participants to use their imagination, explore the world of live performance and expand their creative potential.
In PETA, workshop techniques are taught from a student-centered point of view. Without competition or pressure, the emphasis is on the process of the work and the importance of the collaboration.
The workshop programs are tailored to every age group. The Children's Theater courses (Children's Theater 1 & 2) expose children from 6-12 to short-story writing, poetry, movement and dance, visual arts, music and drama improvisation.
The courses for teens (Teen Theater & Teen Theater Production) are more challenging and exciting, to cover the more enthusiastic temperament of those in this age. Teens not only learn a good mix of creative writing, creative body movements and dance, visual arts, creative drama, creative sounds and music, new media and improvisational theater during the workshops but are also given a greater sense of self-confidence and accomplishment as they mount an original recital piece to express their personal and social concerns.
Through the Theater Arts course, young adults 17 and above are given the chance to learn the basics in theater history, theater appreciation, aesthetics and criticism and improvisational theater production.
Advanced courses for young adults 17 and above are also being offered such as the Basic Acting, which involves dialogues with respected theater artists and acting exercises the will enhance one's natural skills. Aside from this, Creative Musical Theater offers lessons on composition, voice, performance and a variety of music explorations while Creative Dance Theater delves deeper into body movement as a medium of artistic expression and story-telling.
Explore your creativity this summer! To register, contact PETA Marketing and Public Relations Office at 7256244, 4100821 or 0906-2115003. Email [email protected]