It's Weekend again! Well, I'm still here in the office but in a few hours, I will be off to another roadtrip to spend great time with the family. We'll be celebrating my favorite aunt's birthday and it will be the first time in a while that we will go on a summer trip with the whole gang.
I'm too excited to go but there's just one more stressor I need to deal with - packing all our stuff! Do you realize how much work it takes to pack for a toddler? I think I already have the science of it (I'll share my list soon) but it's still not an easy task. I try to limit our stuff to the basic. But if you ask my husband, he'll say I am the worse packer because Well, I have a lot of basics to bring. *wink*
So don't look at me and instead take your cue from Anne Curtis, Brand Ambassador of American Tourister Philippines, whose busy lifestyle, wanderlust and love for the season has narrowed it down to the most useful travel must-haves for the season. Between jetting off to Australia to spend time with family, wanting to explore Hamilton Island or the Northern Territory or even checking off Nepal this year on her summer go-to list, here are some of her summer travel essentials.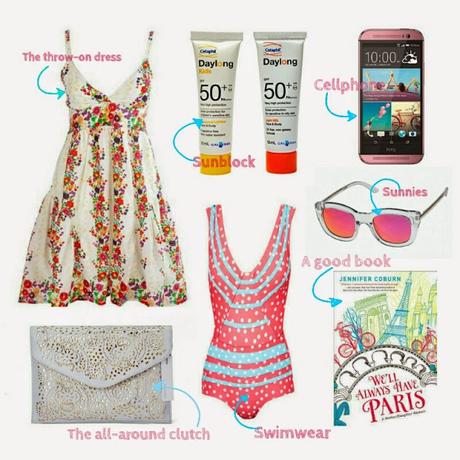 Sunnies
What would summer be without a nice pair of sunglasses? Whether you're sunbathing on a sunny coast or touring exotic new locales, nothing says relaxed sophistication than a sun-drenched photo of yourself sporting your favorite pair.
Sunblock
It's summer after all—so expect the rays to beat down. Be sure to slap on a lot of sunblock to protect yourself as you lounge by the shore or walk the streets of a new a city.
The throw-on dress
Pack one of the most versatile pieces you can possibly bring on any trip—a simple, airy shift dress can be work with comfortable flip-flops or sandals for a leisurely stroll, over swimwear as a cover-up or if accessorized right, becomes a simple, night-out look.
The all-around clutch
Pack your daily essentials into a roomy clutch that can carry your passport, tickets, wallet, cellphone and all your other must-have travel essentials that you want easy access to. Not only will you know where to find everything as you rummage through your carry-all, it can double as a handy little clutch for nights out.
Your cellphone
It has a camera, first of all—so you can easily take memorable snaps from your trip for posterity and doubles as an entertainment source for all your favorite films and music. On a more practical note, it helps to have your phone with you (even when on vacation) just to make sure that you can communicate in the event of an emergency.
A good book
It's a great way to pass the time while waiting for flights and it's an absolute essential as you try to soak in the seaside rays.
Your favorite swimwear
The great thing about this season is the sheer variety of swimwear options that you have at your fingertips. A bikini, a one-piece, a tankini, rashguards, board shorts, you name it. They're pretty lightweight so you can easily pack as many as you want.
Your dependable luggage
Speaking of packing, you'll need a trusty, dependable yet fashionable suitcase that's sturdy enough to withstand even the longest of flights and keep your precious travel essentials tucked neatly (and safely) away until they're ready for use. Choose one in a lively, bright hue, like the limited edition HS MV+ Landmark Prints line from American Tourister, which is available in fun, candy colors, to make it easily recognizable as it emerges from the baggage carousel. And when it comes to the most convenient soft case options, Gelato goes easily on the overhead compartments or as conveniently checked-in while the Buzz backpack line and Jiffy Duffle line comes in stylish, understated hues perfect for sightseeing.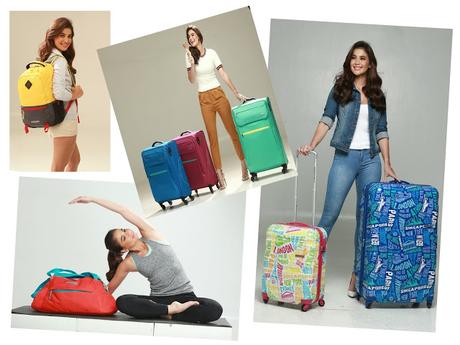 For Anne, American Tourister has always been her go-to pick for all her travel needs—a brand that has been trusted through the years by travellers for its dependability and exceptional style and allows her to check off one less thing on her travel to-do list. 
As for Anne's perfect summer day?
"Lying down on a beautiful beach, getting a tan and reading an awesome book and just eating ice cream," she shares.
And if you keep her summer travel essentials in mind as you pack for your perfect summer day, all you have to worry about now is choosing your ice cream flavor and finding that perfect Instagram filter to capture the moment.
Available in American Tourister Retail Stores and in leading Landmark, Robinsons, Rustan's, Metro Gaisano and SM Department Stores nationwide. Follow us on Facebook: AmericanTouristerPh | Instagram: @americantouristerph | Twitter: @amertouristerph