While I am guilty with holding onto certain items in my wardrobe(things I'd probably never wear but still keep), there is always the flip side that comes with spring cleaning- replacing the "gaping hole" in your closet, which is really only a few pieces. After a recent closet clean-out proceeded by a "shop Isabelle's closet" sesh with my friends, I took a trip to Topshop, Made-well, and Urban Outfitters. Usually all dangerous places for my wallet, I actually didn't do too too much damage…this time. I just picked up a few random things, which I suppose will be a regular thing to prevent total destruction.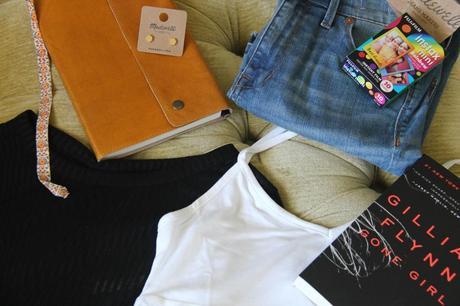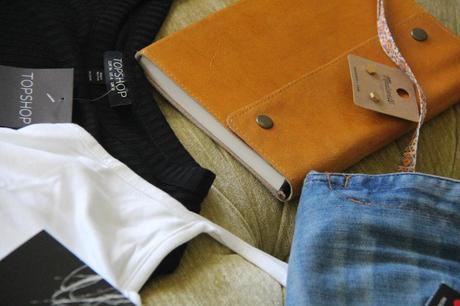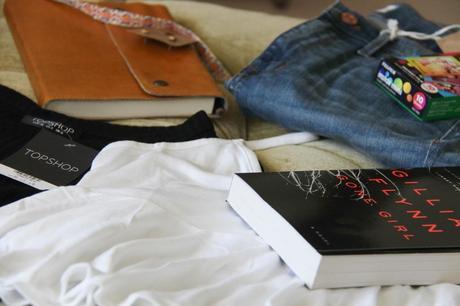 Clockwise from the bottom; 
First, I picked up a flouncy white crop top from Topshop, which is a nice switch from the array of American Apparel style versions I have. Despite having a casual cotton appearance, I imagine this top going quite well with bold midi skirts and nude pumps, finished off with a sophisticated hair style of sorts and the usual red lips. If you do plan on purchasing this top, I'd suggest you size up a bunch, as Topshop is a wildcard in that regard. For reference, I purchased a US 6/UK 10. 
I know I just mentioned straying away from the American Apparel style crop tops, but this one is black + sheer, so I think it is justifiable. Beside being pretty stretchy, I think this take on the conventional crop top blends winter a winter color with a summer concept (sheer things), which is pretty unique. They also have a bunch of colors if black isn't your thing. 
Next, I picked up a small leather bound notebook from Urban Outfitters. I sometimes wish I were a journal writer, but I can't quite commit to writing everyday. Although, I do plan on bringing this baby to Prague in order to take photography notes and maybe jot down things about landmarks and what I like about them for future reference. I've also been in the market for some dainty gold earrings, and this Made-well hardware screw type pair does the job. Although they aren't the best to sleep with on, they do serve their purpose when out and about. 
Featured in my last post, my new pair of high waisted jeans are quite the hit. I usually have trouble finding jeans that don't a) bag out, b) end up faded at the knees, or c) fit huge at the waist. After countless hours spent scouring the racks of Nordstrom and Bloomingdales, I have finally found the perfect jean! Not saying they will move mountains, but they come pretty close (close enough that I bought them in black as well). 
The last two things I picked up are both sorta random to include in a haul type post, but I thought "hey, why not?" Even though polaroid film is the price of a down payment on a house, I caved…especially with this rainbow pack. How could I pass up rainbow instant-film?! Lastly, I picked up Gillian Flynn's "Gone Girl" as suggested by insistent mom and sister. Apparently I will be very annoyed by the ending/confused that it is over, which is always frustrating yet riveting. 
I hope you guys enjoyed this post and are doing well! I'm probably prancing around with my camera somewhere in Prague. I'll be back with a new post very soon! xoxo 
{FACEBOOK}
{TWITTER}{INSTAGRAM}
{BLOGLOVIN'}
{TUMBLR}