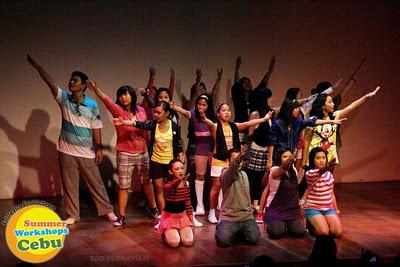 Now on its sixth consecutive year, Little Boy Productions brings back its popular Summer Theater Workshops, now on its sixth consecutive year, from May 2-20 at 3/F, Manros Plaza Building, across Fooda, on Mango Avenue, Cebu City.
There will be three classes. "Theater for Kids," for participants 4-6 years old, will be held from 9 to 10:15 a.m. "Children's Theater," for 7-10 years old, will be held from 10:30 to 12 nn. "Musical Theater for Teens," for participants 11 years old and above, will be held in the afternoon from 1 to 3:30 p.m.
The classes are designed to teach voice, dance and acting skills, give participants the experience of performing in a real theater, give them a sense of accomplishment, build their discipline, and, most of all, let them have fun this summer.
The classes will be taught by a group of professional actors and teachers from Manila's leading theater companies. They include Jill Pena, a BFA Theater Arts graduate from Ateneo de Manila University, who also played the lead in Disney's "Cinderella" for Repertory Philippines.
She is joined by Reb Atadero, who played one of the leads in "Altar Boyz," also for Repertory Philippines, and Acey Aguilar, who played Zelim in the critically-acclaimed musical "Orosman at Zafira".
Classes are from Monday to Friday, for a total of 15 sessions. Participants will be exposed to theater training and creative games, which will culminate in a musical showcase for friends and family at the Theater of the Marcelo Fernan Press Center in Lahug on May 21.
The workshop fee is P4,800, with group and early bird discounts available. Registration is ongoing at 3/F, Manros Plaza Building, across Fooda, on Mango Avenue. Please call 2549320 or 4158058 or add Little Boy Productions on Facebook for more information.