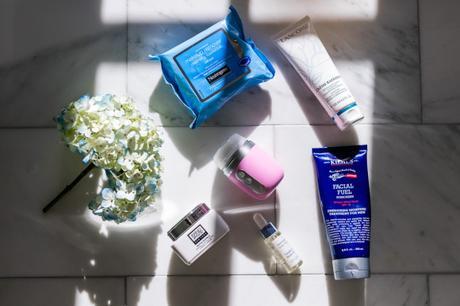 A regular skin care routine is something that has taken me so long to figure out and changes from season to season. To me, skin care is so important and while I have no where near perfect skin (thanks for the brown spots sun), I really do try hard to keep my skin in the best possible condition that I can. From getting regular facials, to lengthly discussions with my dermatologist, to drinking water, wearing hats, daily sunscreen; I try so hard to keep my skin looking the best that it can!
While I am not saying I am an expert in ANY way, I wanted to share with you all my summer skin favorites right now and explain why I have liked using them. Please comment below if you all have any products that you LOVE, I would love to know about them.
Neutrogena Make-Up Remover Towelettes: These face wipes are literally my favorite things ever. I use them morning and night to try and get as much dirt/makeup off of my face as possible. They are gentle on the skin and the wipes even remove water proof mascara. If you add anything to your beauty drawer, these Neutrogena face wipes need to be in there!

Lancome Creme Radiance Clarifying Cleanser:

 This gentle creme to foam cleanser feels so great on your face. It really cleanses your face without over drying (if that makes sense). You can put this directly on your hands and wash your face but I personally like to use this Lancome cleanser with my 'Mia Fit' Clarisonic.
Mia Fit Clarisonic: If you don't own a Clarisonic, this is something that you HAVE to invest in. Honestly, it is the best way to get the deepest at home cleanse. Yes, they are expensive but I promise the cost is worth it. I have had a Clarisonic in my beauty drawer for almost 7 years. The Mia Fit Clarisonic is the newest product that Clarisonic has launched and I really do love mine. It has two settings (daily cleanse and deep cleanse) and is smaller than the other Clarisonic's so it is perfect for the girl on the go (think travel, workout bag/etc). If you are not ready to pull the trigger and invest in this product, I would recommend going to Nordstrom and you can actually try the product in store!

Kiehl's Facial Fuel:

 My husband and I have used Kiehl's Facial Fuel for years. Yes, the product is technically for men but I love it. I use this lightweight moisturizer that has sunscreen after I wash my face in the morning. This vitamin enriched, energizing, non oily moisturizer is so great. I also love that I only have to buy one large bottle and both my husband and I can use it daily (p.s. the bottle lasts at least 3 months).

Meaningful Beauty Vitality Oil:

 We all know that Cindy Crawford has the BEST skin, so when her beauty line, Meaningful Beauty launches the Vitality Oil, of course I had to try it out. Carried at Ulta, the Meaningful Beauty Vitality Oil is a serum that I recently started using and I actually really like. I apply 2 little drops after I cleanse my face at night. The Vitality Oil is designed to hydrate and nourish skin. In my short time of using it (a month), I can honestly say that I really do feel like my skin 'wakes up' more moisturized.

Erno Laszlo:

 The Erno Laszlo White Marble Translucence Cream is one of the best facial creams I have ever used. This cream is a little on the thicker side, so I only use it at night but I can honestly say that I have never loved a cream more. This White Marble Translucence Cream works to hydrate and boost the skins glow. Working above and below the skins surface, the Erno Laszlo White Marble Translucence Cream also helps reduce dark spots and make your skin the best that it can be. Oh and I should probably mention that Dr. Erno Laszlo's most famous clients were Jackie O, Audrey Hepburn and Marilyn Monroe…Audrey was even famously quoted saying that she 'owe[d] 50% of my beauty to my mother and the other 50% to Erno Laszlo'. Yes, the Erno Laszlo products are a bit of an investment but they are worth it!
Get My Summer Skin Favorites

Turn on your JavaScript to view content
image by sukilynn