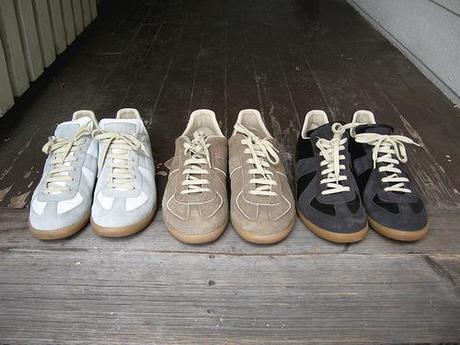 The New York Times had an article a few weeks ago about the return of sneakers, and how some men (mostly New Yorkers) have been trading in their wingtips for gym shoes. It wasn't a terribly interesting piece, to be honest, as sneakers have never not been popular, and men have been mixing them with tailored clothes for at least a couple of years. For anyone who would even be interested in reading such an article, this is all old news. Instead, I thought the author missed what's a much more broader and interesting development: the rapid growth of designer sneakers in the last twenty years, which has culminated into the crazy market we have today. 
The idea of designer sneakers is as tricky as the idea of designer clothes. It's never clear what people mean by "designer" — whether it's about the name behind the label, the intent of the design, or the "theatrics," of the clothes themselves, as Eugene Rabkin once put it. Either way, we kind of know what people mean when they refer to it, and in this way, the rapid growth of designer sneakers is interesting in the same way designer jeans have been interesting. It's a deliberate de-democratization of something that used to be incredibly democratic. Sneakers are unique in that everyone from Bill Gates to homeless people wear them, but in the emergence of designer sneakers, there's a new stratification where there used to be none. Designs from Giuseppe Zanotti and Alexander McQueen, for example, retail close to a $1,000 nowadays, which makes the $100 Jordans we all used to covet as kids seem like a joke. 
I admit, I've been paying more for sneakers than I ever thought I would, but you'll never catch me dropping close to a grand. I do wear sneakers a lot in the summer, however, particularly with beat-up denim and casual outerwear. Some expensive, some not, and some not even really considered designer at all.
At the top of the list are the Margiela German Army Trainers. I picked them up in three colorways, and for a while wore the brown and black pairs almost exclusively. Lately, however, I've come around to accepting that the white versions are the most useful, even if they're the least interesting, as they simply don't take that much thought to coordinate. More affordably, real German Army Trainers can be had for about $80 if you go through a proxy on StyleForum. The biggest difference between them is that the originals won't have that gray stripe that (I think) help balances out the toe box. They are priced attractively, however, and being the originals has merit.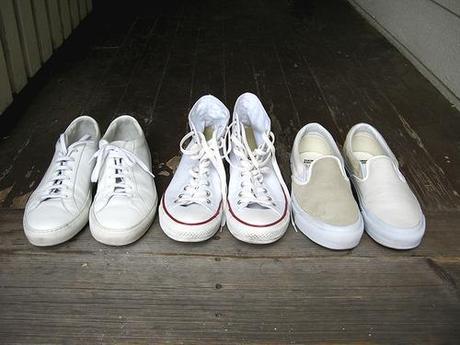 Just as useful are these Common Projects low top Achilles, for a clean, white, minimalistic look that I find goes with almost anything. These, the Chuck Taylor high-tops next to them, and the white GATs above, easily cover about 90% of my sneaker usage. The Chuck Taylors are especially nice in that you can find them for about $40 if you're patient, but even at full retail, they're pretty affordable (albeit, admittedly not as comfortable as my other shoes). I also recently picked up these white Engineered Garments x Vans slip-ons. I've only worn them once, and while I like them, I feel like they scream "I spend a lot of time on the internet." When I had them on, I got the ominous sense that someone with a bucket hat and six game pockets was going to come up to me at any moment and try to engage me in a conversation about floral print shirts. Luckily, that didn't happen.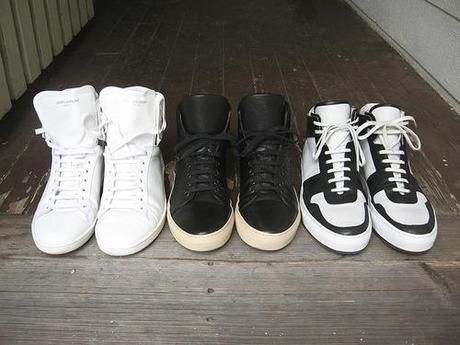 For high tops, I recently bought a pair of Saint Laurents from this season's collection, which I admit to finding terribly disappointing in terms of quality. The leather feels cheap, and while I get the lack of padding gives them a slimmer profile, they feel overly light and airy as well. Plus, if you're not wearing the super skinny jeans that Hedi Slimane has designed these for, they essentially look the same as the Achilles low tops I mentioned earlier. Nonetheless, I decided to keep them just for those occasions when high-tops feel better, even if they don't look better. 
Next is a pair of black high tops from Hydrogen-1, which the owner of the company kindly gifted me a couple of years ago. The build quality on these is surprisingly just as good as any of my other sneakers, and they're easily my most comfortable. I also really like this pair of black and white basketball high-tops from Common Projects. They have the look of Nike Dunks, but strip away some of the streetwear connotation. Of course, you can also just get black and white Nike Dunks through Nike IDs program for a fraction of the price, but if you don't mind paying more, I think these CPs are great.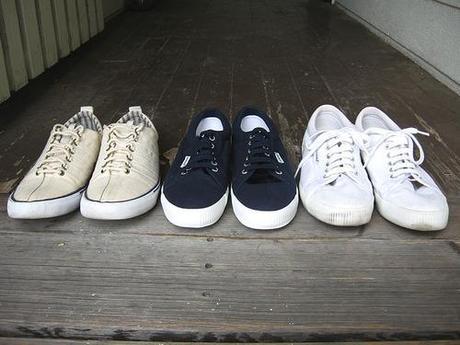 For something more affordable, I like these Billy Reid x K Swiss collaborations. They have a throwback feel that goes really well with jeans and a gray sweatshirt. Supergas are also good for a simple, minimalistic look. Their 2750s are their most popular design, but I like the slightly harder to find, and even more minimalistic 1705s. The navy ones, as you can tell, get a lot less wear than the whites. Again, white simply being just easier to coordinate.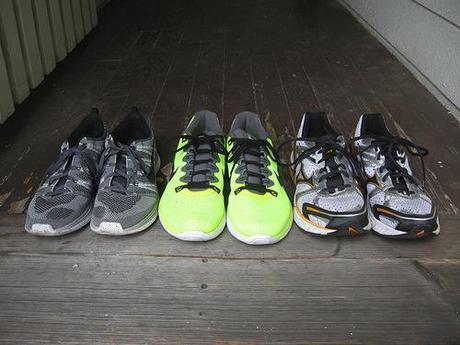 Finally, what sneakers are actually intended for: sport. These are my three running shoes - Nike Flyknit Lunar1+ in Wolf Gray, Nike Flyknits in Volt, and Mizuno Wave Inspires. The Mizunos give me more support, but the Nikes are infinitely lighter in weight. The Volt ones are also a bit more visible at night, which is nice if you're running alongside busy roads. Of course, none of these actually make me perform any better as a runner, so I still plod slowly down the road, while heaving heavily like a half-dying horse. As Michael Jordan said, "it's not about the shoes." Still, much like any of the sneakers above, they're enjoyable to wear, and at the end of the day, that's all that really matters.