My Summer Pasta Salad
…
different people have different addictions
…
mine is carbs (among a few others, but let's not get into that now
!!
)
…
I can't survive without carbs
…
I just cannot
...
I have tried and failed miserably each time
…
my salad meals need to have either bread or pasta or rice in them
…
this is one such meal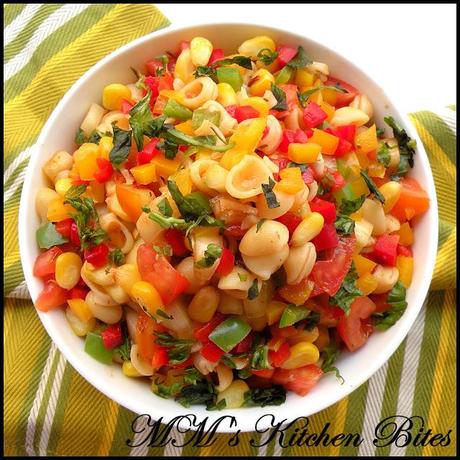 Summer Pasta Salad
Ingredients:
Shell shaped or Wagon wheel Pasta

Tomatoes

Spring onions

Bell peppers, Red, Yellow and Green

Sweet Corn, boiled

Green or Black Olives (optional)
Dressing: 
(Specifying measurements to give an idea of proportion, adjust to taste and quantity) 
Extra Virgin Olive Oil, 4 tbsp

Balsamic Vinegar, 1 tbsp

Lemon Juice, 1 tbsp

Fresh Basil, chopped, 4 tbsp

Fresh Garlic, crushed, 1

Italian seasoning, ¾ tsp

Parmesan cheese, 3 tbsp

Sugar, ¼ tsp (if for dietary requirements you can't use sugar add honey instead)

Red chili flakes, ¼ tsp

Crushed Black pepper, ¼ tsp

Salt, to taste
Instructions:
Boil the pasta, drain and cool.
Wash and chop the veggies of your choice into bite size pieces
Mix all the ingredients from dressing in a small bowl and whisk until well blended.
Pour the dressing over the pasta and toss
Add the veggies and toss again.
Cover and refrigerate for 2-3 hours.
Serve cold.
Notes:
You can add bite size pieces of Mozzarella cheese or cooked chicken as well.
If you want to add salad leaves, add them at the time of serving.