Weather in our neck of woods is very Spring like -- hot one day, sprinkles and chilly the next day. Spring is one of my favorite seasons -- I love the budding trees, blooming flowers and the crisp mornings. Not many might agree with me, which includes my husband and my son, who suffer from Spring allergies. But I still like spring.
Coming back to today's pasta dish, I watched this being made on
America's Test Kitchen
cook show and I really liked how the chef made a fresh tomato sauce using grape tomatoes. Grape tomatoes are consistently good all through the year, so this is a great dish to make any time of the year.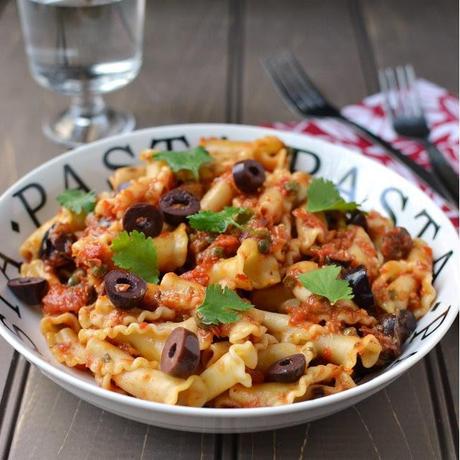 Traditionally
Puttanesca
sauce is made with tomato puree or crushed tomatoes, anchovies and olives. I always thought anchovies are what made the dish and never bothered to try it without them. But after watching the show, I wanted to try and make it vegan without the anchovies. I'm glad I did because this is a very flavorful sauce with briny olives and capers that give the dish the required saltiness. Even my almost 2 year old daughter loved this dish, I was surprised that she liked both capers and olives.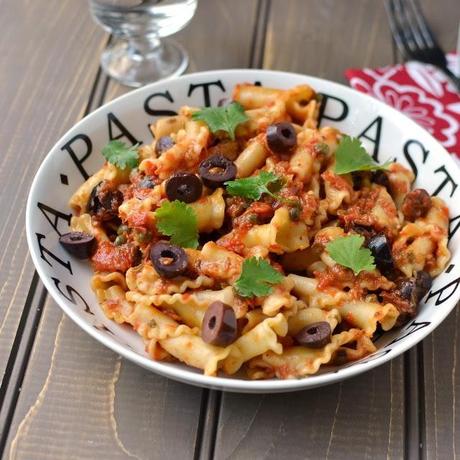 Ingredients
:
Serves 1~2
Campanelle Pasta - 4oz.
Grape or Cherry Tomatoes - 1cup (about 14~16 grape tomatoes)
Garlic cloves - 2, minced
Red chili flakes - a pinch
Dried Oregano - a pinch
Kalamata Olives - 3tbsp, pitted and chopped
Capers - 1tbsp, drained, rinsed and minced
Fresh Parsley - 3tbsp, finely chopped
Salt - to taste
Method
:
Cook pasta according to package directions. Reserve 1cup of cooking water, drain the pasta and return to the pot.
Blend the tomatoes until finely chopped but not pureed, about 15~45 seconds. Transfer to a fine-mesh sieve and let the juice drain for 5 minutes, press with the back of the spoon to extract liquid. Reserve the tomato liquid in the bowl and the pulp in the strainer.
Heat a large skillet on medium heat and add 1tbsp extra virgin olive oil, red chili flakes, dried oregano and garlic, stir frequently and cook until the garlic is fragrant, but not brown, about 2~3 minutes.
Next add the tomato liquid and simmer until the juice is reduced to a thick paste, 2~3 minutes.
Add the tomato pulp, olives and capers; cook until just heated through, about 2~3 minutes. Stir in chopped parsley.
Add the cooked pasta and toss to combine with the sauce. Add reserved cooking water as needed to adjust the consistency. Season with salt to taste. Serve immediately.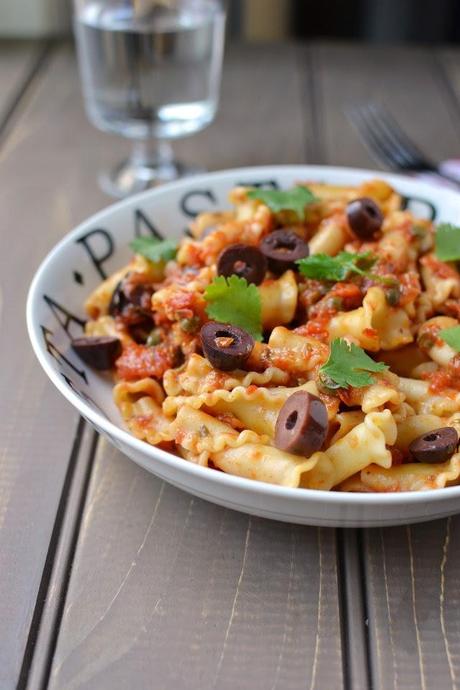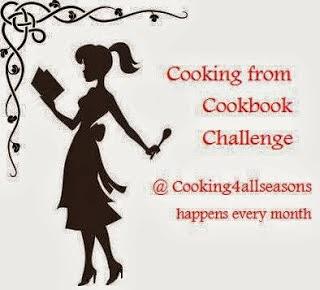 Linking this to Valli's
'Cooking from Cookbook Challenge: May -- Week 3
.'
Also linking it to this week's Fabulous Feast# 15 being hosted by
Usha
and
me
.