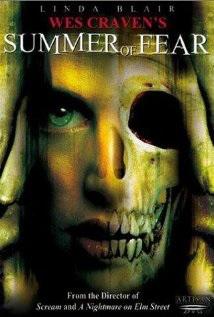 Director: Wes Craven
Writer: Glenn M Benest, Max A Keller (Screenplay) Lois Duncan (Novel)
Starring: Linda Blair, Lee Purcell, Jeremy Slate, Jeff McCracken, Jeff East, Carol Lawrence
Plot: A teenage girl's life is turned upside down after her cousin moves into her house, and as time goes by, she begins to suspect that she may be a practitioner of witchcraft.
There may be spoilers the rest of the review
Verdict: Slow Thriller
Story: Summer of Fear starts when the Bryant family Peter (East), Leslie (Lawrence), Tom (Slate) and Rachel (Blair) taking in Julia (Purcell) a cousin whose family is killed in a car crash. Rachel tries to be open to helping her cousin feel welcome but for unknown reason Rachel's horse has taken a dislike to become a danger towards Julia as we start to see things becoming difficult for Rachel.
Rachel becomes obsessed that Julia is trying to take over her life, with first the horse being moved away and then when her boyfriend starts having a fling with her while she is coincidentally sick at the same time. Rachel believes Julia is using witchcraft to make things go her way and must uncover the truth before it is too late.
Summer of Fear brings us into the world where a perfect little world slow gets bought down by a new member to the family, we have seen this before with the likes of Step-Father. It all unfolds slowly and just doesn't pull you in as much as it should do. You don't really believe most of what is going on and you really don't see any of the powers until the final act which only really disappoints.
Actor Review
Linda Blair: Rachel has the perfect life, boyfriend and champion horse, everything changes when her cousin Julia comes to stay though. Rachel loses her perfect life along with her beloved horse as she becomes the victim of the witchcraft being performed by Julia. Linda disappoints in this role and never really comes off as believable.
Lee Purcell: Julia is the cousin of Rachel whose family got killed in a car crash, she moves in the Bryant family where she starts taking over Rachel's life with her witchcraft. Lee comes off well without really doing too much until the end.
Jeremy Slate: Tom is the brother of Rachel who takes an attraction to his cousin which soon turns into protection as he becomes mesmerized by her spell. Jeremy gives us a solid but basic supporting performance.
Jeff McCracken: Mike is Rachel's boyfriend to start with as well as the horse trainer, when Julia ends up coming into the lives he takes a shine to her getting caught under her spell. Jeff also only gives a basic supporting performance with nothing memorable happening.
Support Cast: Summer of Fear has a basic supporting cast that really doesn't do enough to help the final story.
Director Review: Wes Craven – Wes shows he was going onto bigger things but this isn't one of his highlights.
Horror: Summer of Fear has basic use of horror but not enough for the direction of this film.
Thriller: Summer of Fear tries to keep us guessing to where the film will go but never drags us in enough.
Settings: Summer of Fear uses basic settings with only the driving location being the main highlight.
Special Effects: Summer of Fear uses very basic effects when we finally see them in the final act.
Suggestion: Summer of Fear is one to watch to complete the Craven collection but otherwise it is one that is avoidable. (Craven Fans Watch)
Best Part: Horse scene looks great.
Worst Part: Too slow.
Believability: No
Chances of Tears: No
Chances of Sequel: Left open to one.
Post Credits Scene: No
Similar Too: Step-father
Runtime: 1 Hour 40 Minutes
Tagline: Tonight, the world premiere of a chilling story of witchcraft, demons and the supernatural!
Overall: Slow thriller that forgets to use the horror side of the story
Rating