Summertime dishes at Chez Mal
Summer and sunshine, it feels like it was just a week away!? Chez Mal in Glasgow (and nationwide) recently launched a new summer menu and we were fortunate enough to join them and try out many of the new dishes when it was actually still sunny!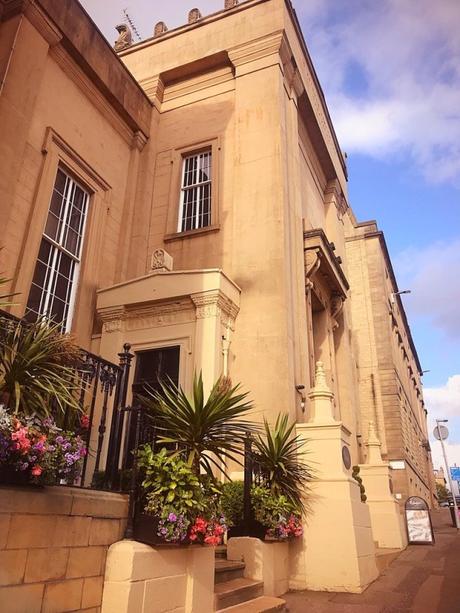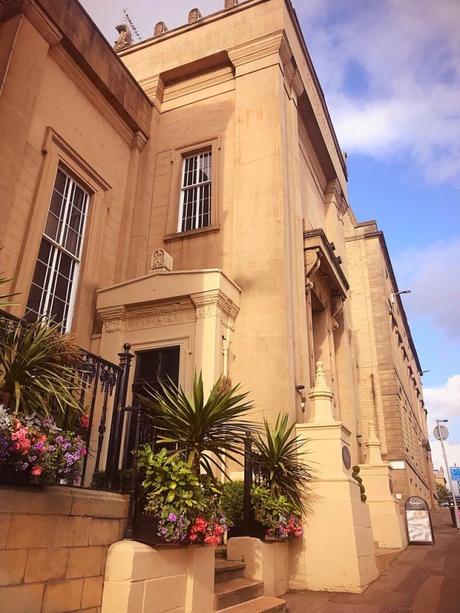 So, to rekindle memories of summer read on!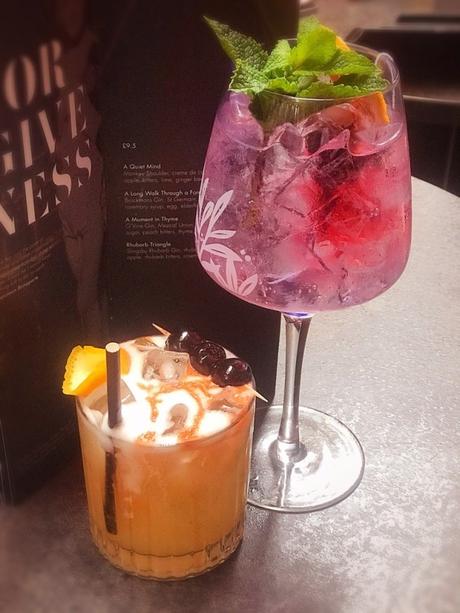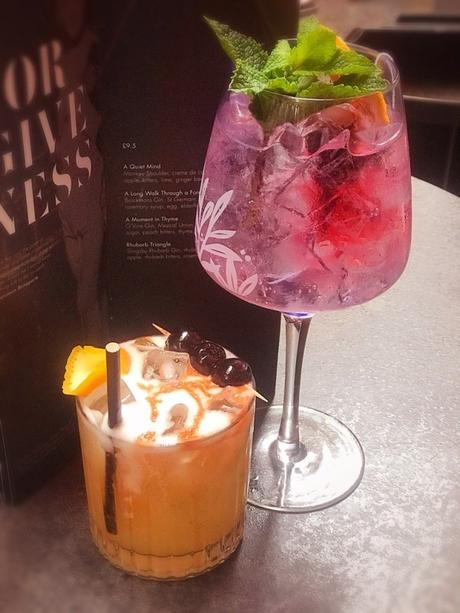 It was cocktail weather so Mrs Foodie picked a Summer G&Tea - Bombay Sapphire English Estate, Fever-Tree Tonic infused with a Rosehip, Apple & Hibiscus Tea Bag. A refreshing take on a traditional G&T. Mr Foodie picked an Amaretto Sour to start the night (which Mrs Foodie also liked after a sip).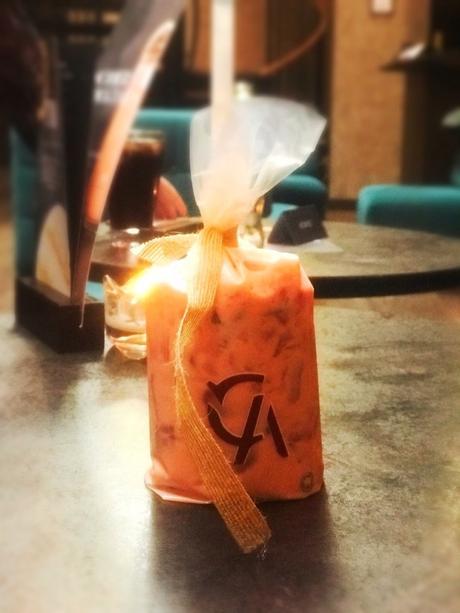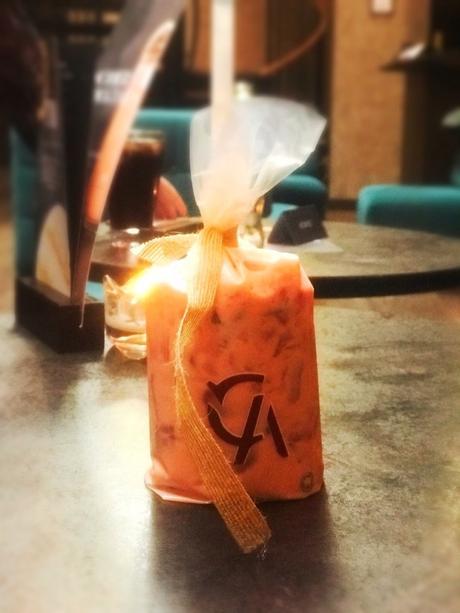 Something a little bit different, they also have a cocktail served in a clear bag...The Veil is Torn:- Capucana Cachaca, condensed milk, lime, strawberry, basil. A sort of alcoholic milkshake but maybe not for everyone!
Menus
Cocktail Menu
A la Carte Menu
Gluten Free Menu
Chez Mal Prix Fixe Menu
Food
Starters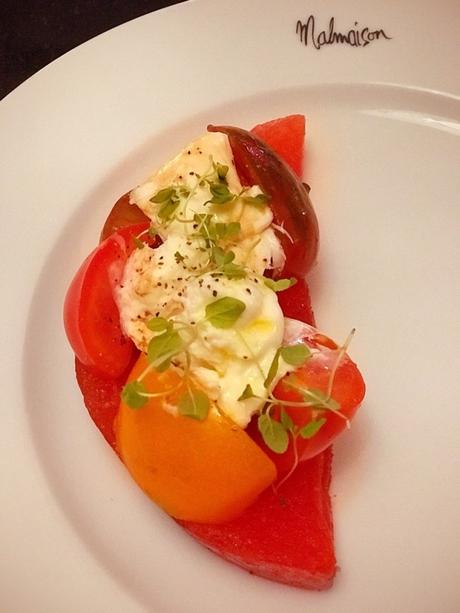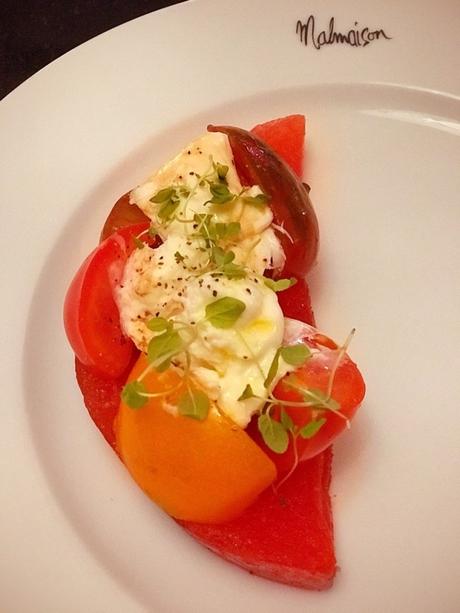 Heritage tomato & buffalo mozzarella and watermelon. Creamy mozzarella and deliciously light watermelon. Perfect for these recent humid days. A refreshing dish, thumbs up.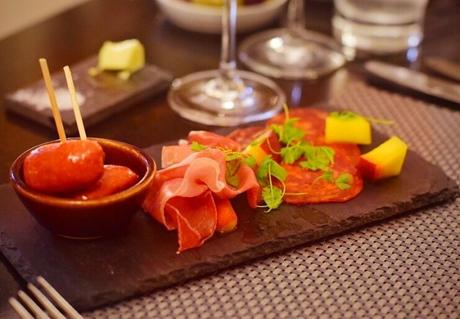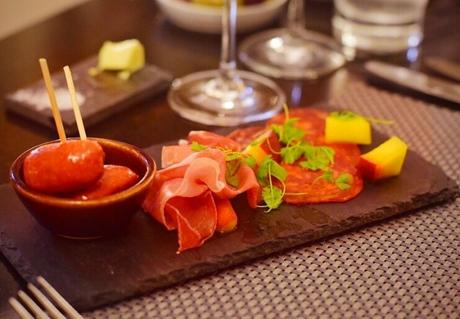 Spanish charcuterie slate with Serrano ham, Salchichón, chorizo, BBQ baby chorizo, fresh peach & aged Manchego cheese. Those baby chorizos were full of juicy flavours and the peach, oh we really can't describe how surprisingly well this goes alongside Serrano ham.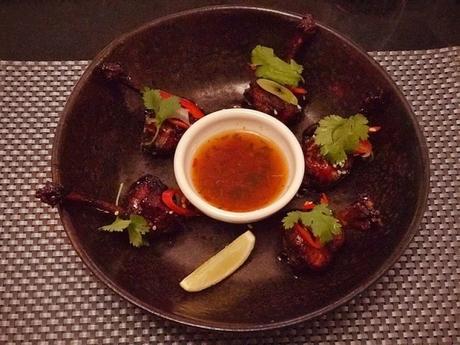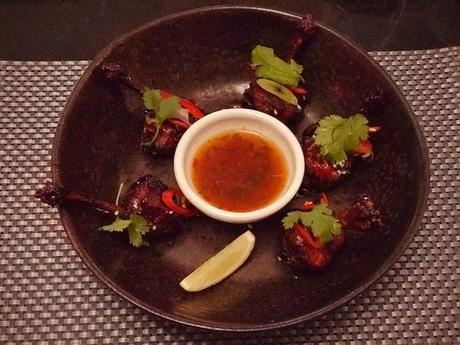 Thai sticky chicken lollipops, chilli & coriander dipping sauce. This was Mr Foodie's favourite. Five sticky little morsels of moreish chicken which demanded to be sooked until each last piece of meat was off!
Mains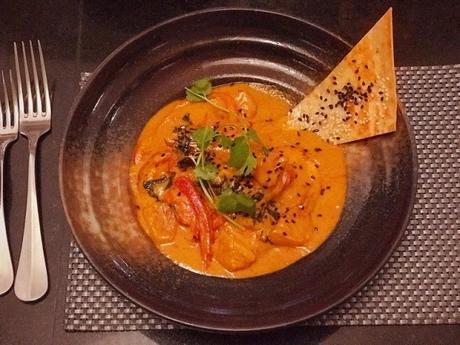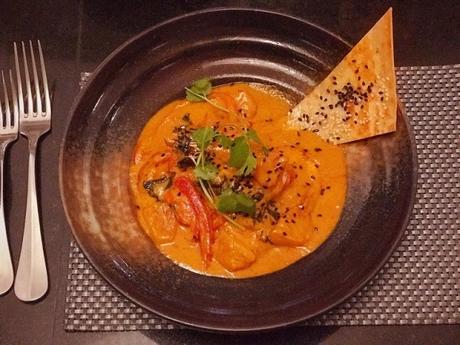 Penang curry, pineapple, red peppers, coconut jasmine rice & grilled flatbread. This curry usually comes with Tiger Prawns. This was a veggie version which still worked extremely well. A good kick at the end of the mouthful but not too much to make the dish overpowering.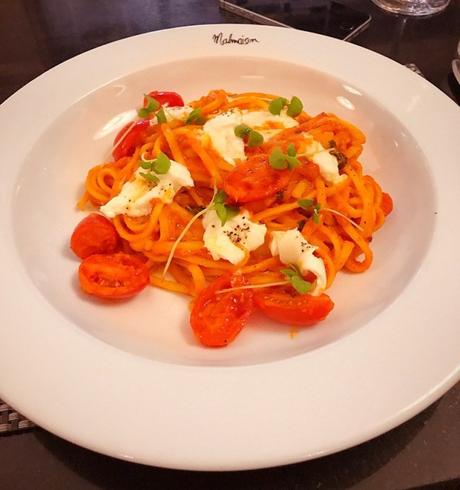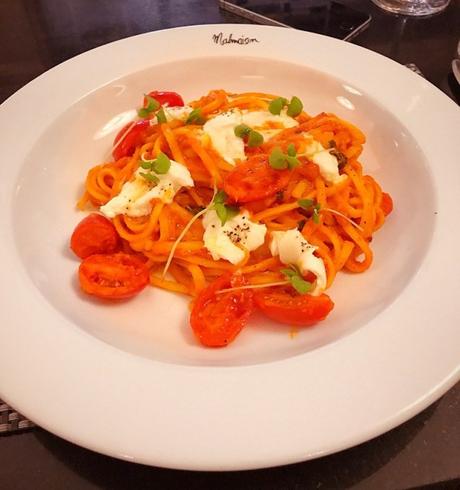 Linguini arrabiata, buffalo mozzarella, baby vine plum tomato, red chilli & basil. Don't panic it isn't a boring plate of Arrabiata. This is a creamy sauce with a spicy tang. Creamy mozzarella and plum tomatoes top off this dish.
At this point, there should be an astounding photograph of the Chez Mal Chicken Kiev. You know when you are just too eager to get stuck into a dish that you forget to take a photo?...er yes...please believe us, meaty and moist chicken covered in a crisp coating filled with a garlic sauce. We are so ordering this one again!
Desserts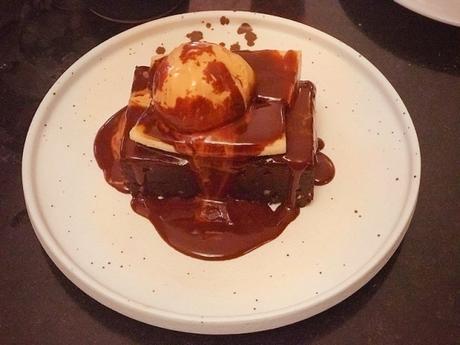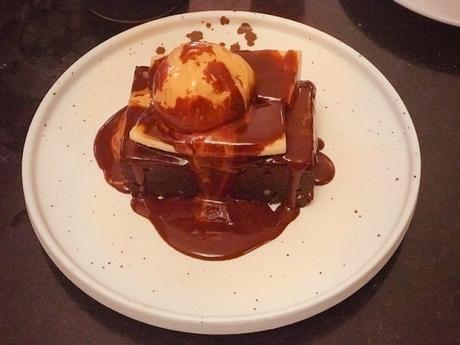 Warm sticky chocolate & hazelnut brownie, caramelised banana & salted caramel ice cream. A dense brownie with one of our favourite dessert combos - chocolate, caramel and banana. What's not to love?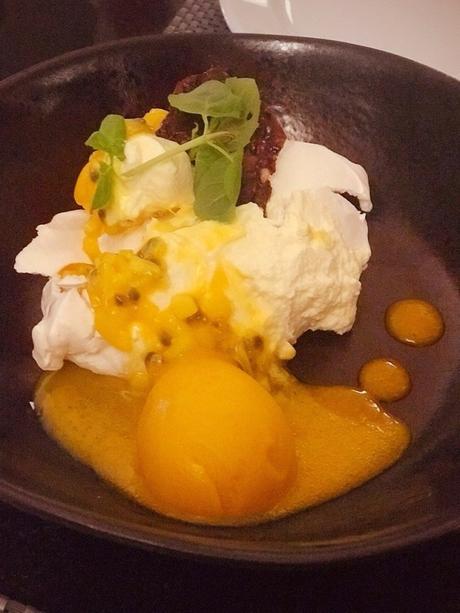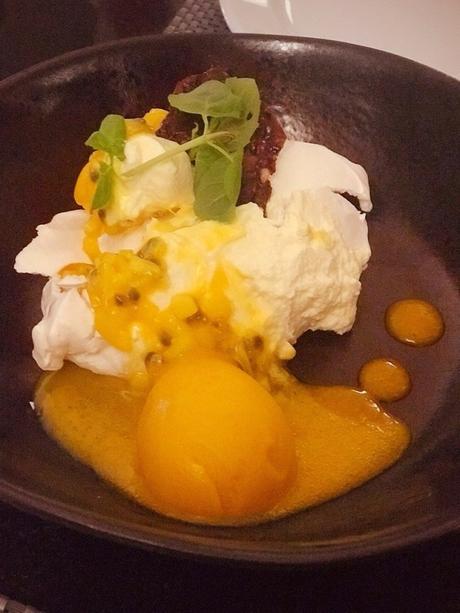 Mango & passion fruit pavlova, mango sorbet, Malibu cream & passion fruit coulis. Can you tell by this point we had a food coma? Still impressed by the food but our photography skills were out the window! A mixture of textures to this pavlova, cream and passion fruit also added some different levels. Cleanse your tastebuds at the end of dinner with this one.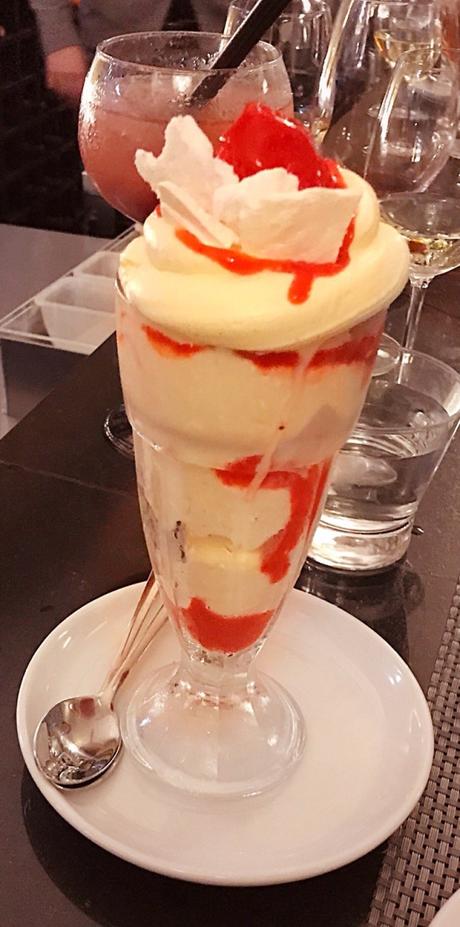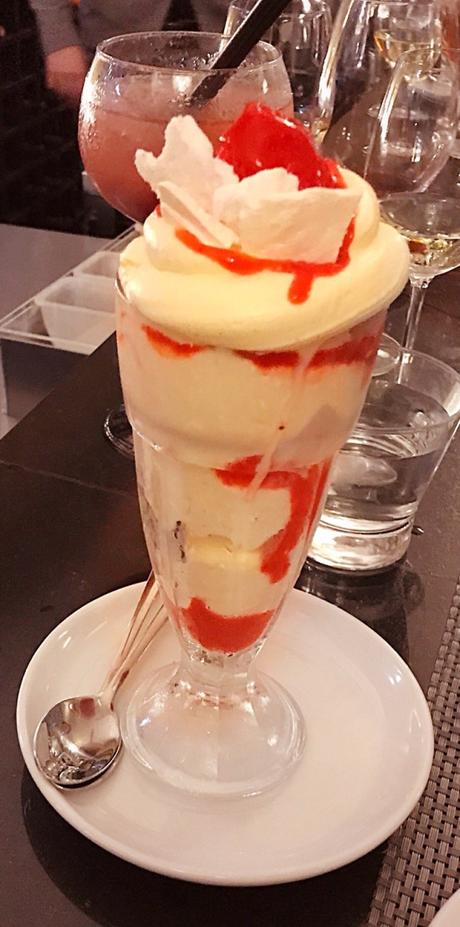 Bruce's Farm strawberry vacherin sundae, fresh strawberries, coulis, ice cream, Chantilly cream & meringue shards. Mmms all round with this dish. Cream, cream and more cream with lots of sauce and sugar and some more cream?!
Verdict
Once again the new dishes are impressive and tasty The menu covers a selection of choices to cater to all tastebuds. From a light watermelon salad to chicken lollipops. For those of a vegan persuasion or gluten-intolerant, there are separate menus. Burgers and steaks are of course still on the menu but have a try at the Chicken Kiev or the Penang curry. Just be sure to leave room for dessert!
Where
We dined at:
Malmaison Glasgow
278 West George Street
Glasgow
G2 4LL
The menu is also available at Malmaison Aberdeen, Belfast, Birmingham, Brighton, Cheltenham, Dundee, Edinburgh, Leeds, Liverpool, London, Manchester, Newcastle, Oxford and Reading.
Reservations
Book a table at any Chez Mal Restaurant at Malmaison by clicking here - Malmaison
Join our Facebook Group Glasgow Foodies and share your reviews, tips of where to eat and drink, new places and old places you 💕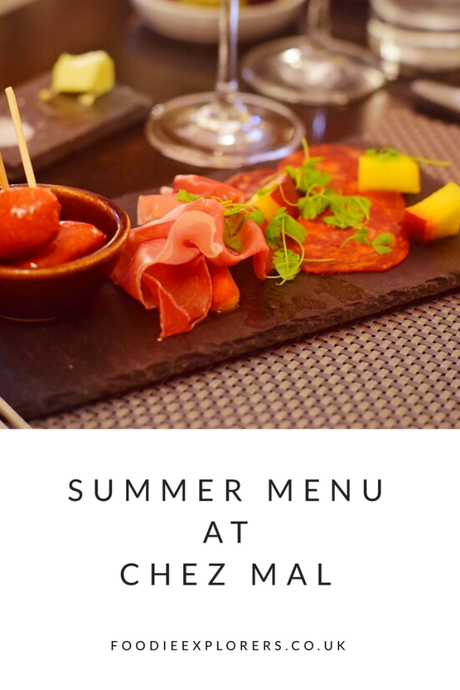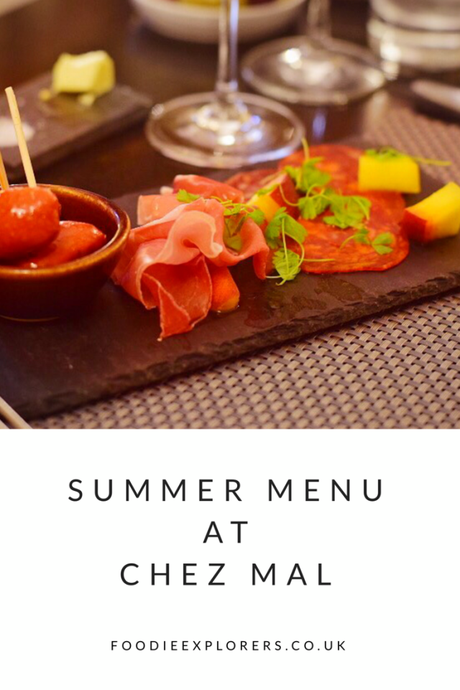 Disclaimer: Fred knows we got complimentary food but sez we still good guys who tell no lies.