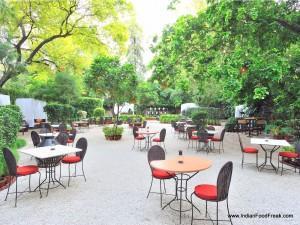 Outside seating
Lodi – The Garden Restaurant was established in 2001. There is no other restaurant in Delhi NCR that is situated in such lush surroundings that too in the center of Delhi. Situated right inside Lodi Gardens, the restaurant is a natural extension of the densely woody Lodi Gardens. It is my favorite haunt during the winters, where I have spent many hours basking in the sun in the company of friends. So when Rushali Kandelwal from Lodi restaurant invites me to taste their summer menu, I am more than happy to land up there in the sweltering 44 degrees summer sun.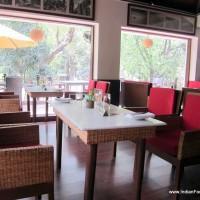 Interiors
As I walk through the pebbled walkways to reach the shelter of the cool glass house that is the indoor part of the restaurant, I am greeted by Rushali and the GM of the restaurant, Virender Singh Negi. As we settle into the cool comfortable environs, I look at the menu, which is an eclectic mix of European cuisine with Asian and Middle Eastern influences. I ask Virender about the summer menu. "True to our belief in serving fresh farm-grown food made of unadulterated, home grown produce, the menu features a number of innovative recipes created by Chef Elam Singh for a perfect summer meal", says he.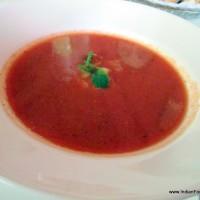 Melon and tomato gazpacho
And nothing can capture the summertime better than the first dish that arrives. Melon and tomato gazpacho (Rs 365) is cool, tangy, refreshing and enjoyable. The marinated tuna salad with runner beans, olives and hard boiled egg in a tangy lemon dressing (Rs 495) is full of fresh, crunchy vegetables, but the dressing is conspicuous by its absence. The Appetizer is an exciting and addictive stuffed jalapeño with creamy goat cheese mousse (Rs 395), which takes me back to Denver, USA where I had this Tex-Mex favorite for the first time.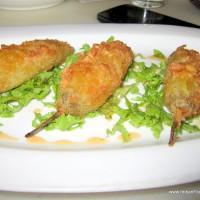 Stuffed jalopeno with goat cheese mousse
I now choose a popular order at Lodi restaurant, the non veg mezze platter (Rs 795) which has perfectly cooked chicken shish taouk, delicious sumac lamb kebab with competently made hummus, tzatziki, babaganoush, tabouleh , tabouleh, pita and homemade pickles. I can now understand what makes it so popular.  The hand crafted pumpkin ravioli in burnt butter and sage (Rs 595) is a tasty vegetarian dish, albeit a trifle over salted.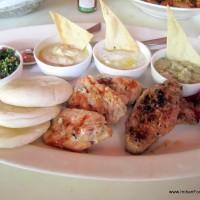 Non veg mezze platter
As the mains are being prepared, I pause to take a look around the nature's bounty surrounding the restaurant. It is a picture of calm serenity, which is both relaxing and energising.
First to be served is the vegetarian main course of saffron paella made with short grain rice, seasonal veggies and sweet peas (Rs 725). This would have been a memorable dish if the paella rice had a creamy texture, and had the dish not been so dry.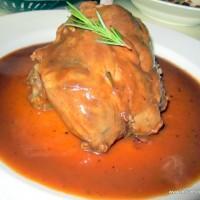 Braised baby mutton shoulder with rosemary jus
The non veg starter, on the other hand, is a meaty treat. Moroccan style braised baby mutton shoulder with rosemary jus (Rs 795) has melt-in-mouth mutton in a restrained, understated jus. The accompanying side of steamed quinoa (Rs 295) is expertly cooked, and gives me a happy illusion of eating healthy. I end the meal with a dessert one can't go wrong with – Banoffee pie (Rs 365), which is a great combo of creamy banana and sinfully gooey toffee pudding.
So if you want a belly full of good food, and your soul refreshed in the lap of nature, you know where to head!
Restaurant Ratings (out of 5):
Food: 3.5 | Ambience: 4.5 | Service: 4.0 | Overall: 4.0
Meal for two: Rs. 1200 | Alcohol: Yes | Credit Card: Yes | Home Delivery: No | Address: Opposite Mausam Bhawan, Near Gate No 1, Lodhi Road, New Delhi | Meal for two: Rs 2,200 |Telephone: 011 33036325