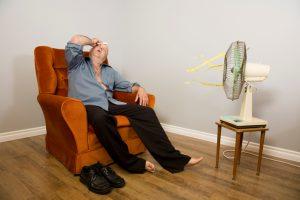 No sweat! Just shop for long term, fixed rate plans now to shield your family from this summer's heat and spiking Texas electricity rates!
How High Will Texas Electricity Rates Be this Summer?
ERCOT announced on April 30 that while Summer 2018 would be one the highest for demand, it has sufficient electric generation reserves to meet it. Even though it expects a demand peak of 72,756 MW, ERCOT said it had enough capacity and added, "total generation resource capacity has increased by more than 500 MW due to units returning from mothball status and extended outage status, as well as a planned gas-fired resource becoming available earlier than initially expected."
So, the reserve margin has been turned up to 11…percent, that is.
Okay, kidding aside, this is serious stuff that will effect your Texas electricity rates.
It's not a total surprise that ERCOT will go into summer with less generation capacity in reserve than in previous years. This was a known possibility when ERCOT allowed Luminant to close its financially troubled three coal burning plants (with a combined capacity of 4.2 GW) in in fall 2017. The past years, the North American Electric Reliability Corporation (NERC) recommended ERCOT achieve a Reference Margin Level of around 15%. In both 2016 and 2017, ERCOT's reserve margins were safely more than 15% over anticipated summer peaks. But with Luminant's big coal plants closing, NERC recommended that ERCOT meet a 13.75% reserve margin for summer 2018. At that time in mid-winter, ERCOT couldn't know exactly what kind of summer that 2018 would be.
Above Normal Heat Spurs Electric Demand and Rates
Presently, NOAA's Climate Prediction Center is predicting that there's a 60% chance for much of the country to face "above normal temperatures" through August. Texas summer temperatures will likely be hotter than normal but not in the extreme. Electricity customers in Dallas is predicted to experience temperature only 1 to 2 degrees above normal. Folks paying Houston electricity rates will probably face similar conditions, temperatures leaning towards a degree or two above average. The real hot spot, however, will probably be along the Rio Grande where it could get 2 to 3 degrees above normal.
So, while summer temperatures will not be apocalyptically hot, it will be enough to raise demand for air conditioning above normal. And because anticipated utility-scale natural gas, wind, and solar projects have been slow to go on-line, the amount of additional electric generation capacity held in reserve will be uncomfortably thin.
This raises the possibility of a summer full of power conservation alerts, brownouts, rolling blackouts, and service interruptions. ERCOT has requested that everyone in the Texas Electricity market to "maximize their performance" to avoid operational problems that can cause outages. All the same, the REAL danger many Texas electricity customers will face is a summer of skyrocketing electricity rates'. ERCOT caps wholesales electric prices at a whopping $9,000 per MWH. Given that some generation companies may withhold producing electricity until the price per mWh gets real high, there's a good chance that some Texas electricity suppliers (especially those who face huge debts from this past winter's 'Bomb Cyclone') will be passing painful prices onto their customers. For a consumer used to paying 10¢/ kWh, a really hot August day could see their rate triple, even quadruple — or even soar as high as $9/kWh!
How do I avoid a high summer electric bill this summer?
Folks facing the highest summer electricity bills are variable rate electricity customers as well as prepaid electricity customers. These are usually no contract, month-to-month plans where the rate follows the wholesale price of electricity. When electricity demand is high from hot Texas weather, the wholesale rate will rise. When that happens, the rates for variable rate electricity plans increases. Prepaid customers face the problem of surging electricity prices gobbling up their prepaid amount faster. At that point, their electricity would get shut off.
The easiest way is to use your power to choose a long term fixed rate plan. By locking in a low, affordable rate right NOW for 12 month or even longer, your family will be shielded from spiking electricity rates. The best place to shop for fixed rate electricity in Houston or Dallas is right at https://www.texaselectricityratings.com/electricity-rates. Here, you can compare reviews, rates, plan types, plan reward programs, and even electricity supplier incentives at your convenience all in one place for free. Once you find a plan you that fits your family's need you can sign up right away.
Summer is coming! Start shopping now!