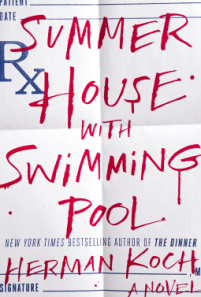 Contemporary Fiction
4*'s
To avoid spoiling this book for anyone who hasn't read I am unable to tell you very much about the plot at all as this is one of those books which needs to be discovered page by page.
Dr. Marc Schlosser, a GP is the narrator, our main protagonist and at the very beginning of the book we find out that he is about to face the Board of Medical Examiners. We know this is connected to the death of Ralph Meier, a famous actor and his wife is accusing the doctor of murder. The only thing we know what connects these two men is that the root of this death went back to a consultation by the doctor eighteen months previously.
The structure of the book takes us back from the present and builds up to a vacation taken at a Summer House with Swimming Pool then moves up the arc the other side back to the present. This works incredibly well, giving a feeling that Herman Koch is inviting the reader to make a judgment on the characters. The characters in this book are not as inherently as dislikeable as those in The Dinner but their actions are just as questionable, not least, our narrator Dr. Marc Shlosser whose thoughts on his patients alone made me wince (and make me wonder about my own doctor). However when we see Marc in a domestic setting, a different side of him shines through.
Herman Koch is exceptionally good at managing the pace in this book. I really needed to keep reading, I had to know what had happened to lead Marc to the Board of Medical Examiners and I desperately wanted to know what the outcome would be; but ultimately, this is a book about morality. What you as a reader find sympathy with and what you find abhorrent will potentially be different to my views. In my opinion this is one of the reasons why I liked reading this book, despite the feeling that this was almost a train crash in slow motion. I love the darkness to the writing, Marc's views are imposed on the reader and these range from his patients, the arts, certain types of people and virtually anything that makes his life uncomfortable are astute if at times almost intolerably objectionable.
Like The Dinner it is hard for me to state I enjoyed this book, for the same types of reasons at times I had to squint at the page because as much I needed to know what happened next, I almost didn't want to get drawn any further into the murky depths of horror, so much more repulsive for what wasn't said.
I found myself thinking about Marc at odd times long after I'd left the book. If that isn't the sign of a book that makes you think, question where you stand on the line of morality, I don't know what is.
I'd like to thank the publishers Crown Publishing for a copy of this book prior to the publication date of 3 June 2014 in return for this honest review.