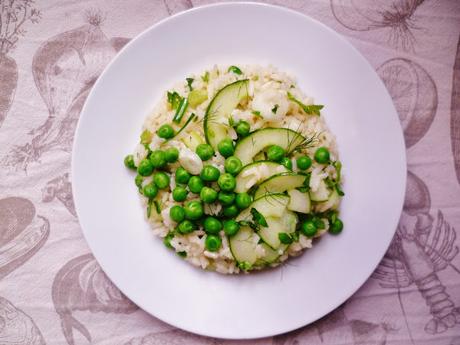 summer garden rice salad with preserved lemon dressing
I have to confess that I approach rice salads with caution. I think it is because they remind me of school or office canteen salads where the cooks have a load of leftover rice and vegtables and a lack of imagination. They bung a load of gloopy vinaigrette over the sticky over-cooked mess and serve it up. Yuk!

But if the rice has been cooked properly so that you can still discern the individual grains, if you add some fresh crunchy vegetables and make a light dressing with lots of herbs, I am definitely converted.
I love this lemony dressing not only with rice salad, but over beans, couscous, pasta or roasted vegetables. If you don't have any preserved lemons, then use about 1 teaspoon of finely grated lemon zest. Preserved lemons are much milder and softer than their fresh versions and give a lovely delicate vibrancy to any dish.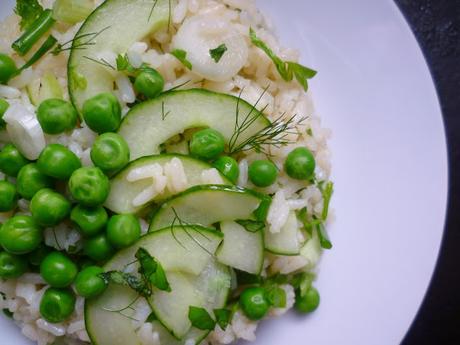 upclose to the summer gardken rice salad!

Serves 4
Skill level: Easy
ingredients:
cooked long-grain rice, chilled
1 small cucumber, deseeded and sliced
fresh peas, lightly cooked (I like mine with a bit of "bite")
4 spring onions, sliced (including green parts)
a handful of chopped fresh herbs (I used mainly parsley, with a little fresh thyme, coriander, fennel and basil)
salad dressing
½ a preserved lemon (or more to taste)
6 tbsp olive oil
2 tbsp fresh lemon juice (replace some of the fresh lemon juice with some of the juice from the jar of preserved lemons. Be careful as it may be very salty)
salt to taste
freshly ground black pepper
1 tsp sugar
directions:
Scrape out the flesh from the preserved lemon and throw it away. Finely chop the lemon skin and then mix with the rest of the dressing ingredients. Season to taste.

Stir the dressing through the cooked rice.

Add the sliced cucumber, peas, and chopped herbs.