I love buying clothes for my girls. Don't get me wrong, I love my little boy just as much but I find, for some reason, that there is much more choice and variety when it comes to girls clothes. The summer weather has begun, how long it will last is another matter. Summer weather means my girls get to wear there pretty Summer dresses.
When shopping for clothes I tend to look at several shops and online stores to see who sells what. My budget is fairly limited but I still like to make sure my children look nice.
I found M&Co about a year ago through a friend who shopped with them. I find there items to be very low cost and good quality.
Izebella now has this beautiful matching dress and hat set from the baby dress range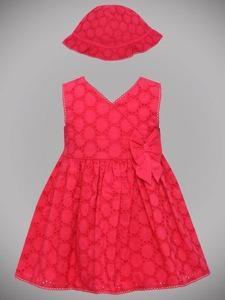 This eye catching dress is a broderie anglaise design which features a picot trim to the neckline, hem and sleeves.
There is a pretty bow at the front and the dress fastens via buttons at the back.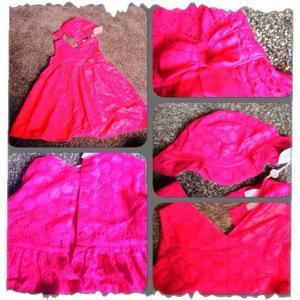 The colour of the dress is stated as bright pink. In my opinion it is more red colour than pink.
I chose a size 2-3 years given that Izebella is almost 19 months. I have purchased dresses recently (from other stores) in size 18 month and found many of them too small or tight. I hope that doesn't mean Izebella is chubby but I prefer to go for the next size up so she gets the most wear from it. I found the 2-3 years a good generous size. Perhaps a touch long for her at the moment but she is still more than able to wear it.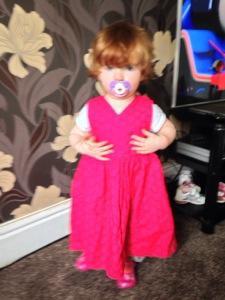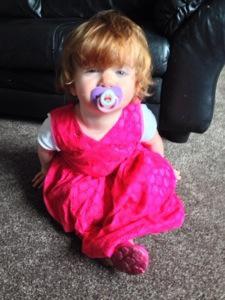 The matching hat fits her big head fine too. It makes the whole outfit complete and even more adorable and girly.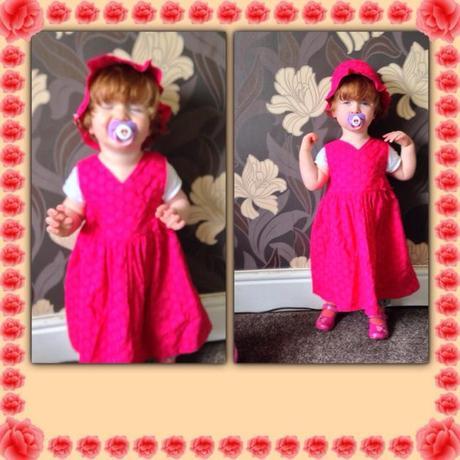 My problem now being trying to get her to keep it on. Oh and unfortunately she refused to pose and look at the camera without the dreaded dummy (incase your wondering).
This dress looks gorgeous on. It's the sort of outfit that makes others look and say "aaw isn't she adorable" yes she is! The old folk especially seem to comment on it.
It is an adorable bright summers day dress which could also be worn for parties, weddings or anywhere else. The sizes range from 0-3 years and it starts at just £14. A small price to pay for looking so gorgeous.