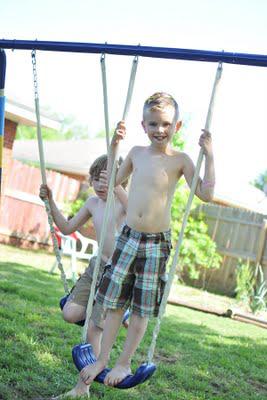 Jayden & Ian (His cousin & best friend)
    It's a strange difference, the way I looked at summer as a kid and how I look at summer now. As a kid there are absolutely no down sides at all to the whole thing BUT as an adult that's another story! I'll admit, at first thought I'm just like the kids. 'SUMMER! Lets go camping, swimming, & road tips! About week two you realize that as a grown up you don't get to take a summer off from work & after week three I realize while my kids are my best friends I did have a best friend in elementary school who I may or may not have shot with a BB gun because....well it was summer break & we were together to much, boys fight! I love my kids but WOW, stay at home moms how do you do it!?!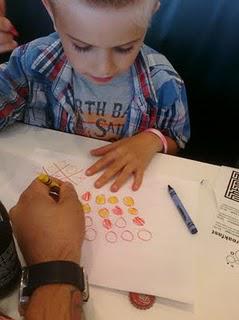 Playing games because 'Brothers Cheat"
   The big battle we have been having so far this summer is Jayden's attitude. He is still a pretty cool cucumber but he has been getting seemingly more easily agitated. I'm not sure if it's having to spend so much time with his brothers or what but everything from sitting in 'His Spot' on the couch to just talking to him when he doesn't feel like talking warrants a snide comment or groan from him. We have 13 more days until we head out for our Chicago vacation so I'm really trying to be cool and do our best to defuse problems as they come up because I'm not going to lie, I'm still just a bit nervous about the drive to & from Chicago(12 hours) Granted we are going to stop on the way as to break it up but on the way back its just go, go, go!  We will see how it goes. Thanks for reading & check back soon! I'll be posting a pre-father's day blog & info about a GIVE-A-WAY!! P.S. You should 'Follow' Me, on the blog...not in real life...that would just be creepy. The Follow Me link is over on the side bar -------->