I mean seriously #BakamatsuRock think of the children watching this show pic.twitter.com/9VSS0fklIh

— Justin (@Kami_nomi) July 2, 2014
Justin: Clearly, this will most likely be the lulz-worthy show of the season.
Bakamatsu Rock takes place in an era where samurai don't actually use swords: they sing instead. They sing to impress the raving fangirls who wouldn't mind one of the Shinsengumi to arrest them or blow their paltry wages just to get money. The issue is that only Heaven's Door songs are the only songs people will sing, and you can't use guitars for some dumb reason.
Ryoma, however, is a rocker at heart! He has a passion that singing generic J-pop songs won't fulfill! So he tries his hand at playing the guitar, but gets pissed on by dogs and rocks hurled at him since no one knows what the hell he's actually doing, until he meets a mysterious (and handsome) boy who loves his passion, loves his energy, and soon enough, he meets two other people who like to rock too! This gets him in trouble with the Shinsengumi, who are designated guitar takers. How will Ryoma and the crew manage to spread the message that rock is awesome and you can be allowed to sing what you want to sing?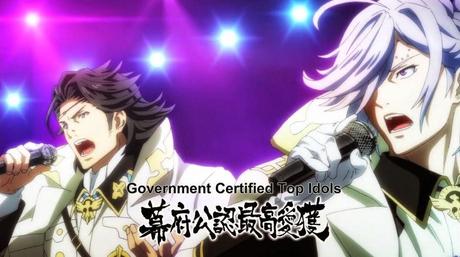 This show is hilarious. It unfortunately falls into the trap of talking entirely too much to create a sense of normalcy, but things need to happen for this show to work on a week to week basis. I think it can get away with it at some points, but not often enough since the highlight will be Ryoma, Shinsaku, and Katsura – and possibly more – singing some epic rock song that will make the girls melt and the guys needing to hold each other back while pissing off the remnants of the Shinsengumi who then flock to their side.
I don't think the story is all that smart, but it's not pretending to be. The animation is ok, but the goofy looking characters help keep it fresh in a world where somehow you can sing with a mic and you can eat fresh pizza.
Fresh pizza? In samurai country???
I'm all signed up for my weekly lulz Bakamatsu Rock.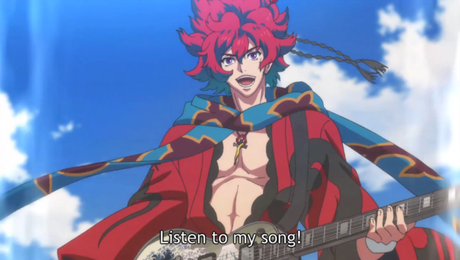 Muse: Did someone ask for an anime that combines AKB0048 with Hakuoki? No? Well, Bakumatsu Rock is here anyway, and it doesn't care about your opinion!
As far as I can tell so far, the show's plotline is about a redheaded guy named Ryouma Sakamoto with big dreams for everyone to listen to his music someday. However, the government only sanctions performances of what's called "Heaven's Song," which is apparently J-Pop. Ryouma decides that he doesn't care and tries to get people to listen to his music anyway, which he finds out from two other color-coordinated bishounen character is called "rock." Don't worry about timelines here, because the show clearly operates in a universe where the space-time continuum doesn't exist. Anyway, there's some stuff towards the end about a Peace Soul, but the general thrust of the show seems to be about sticking it to the man with rock! Yeah!
If that synopsis didn't make it clear, this show is completely and utterly ridiculous. It's set in the Tokugawa Period, yet there's modern idol culture (where did those microphones come from?), electric guitars, and even pizza! The Shinsengumi patrol the streets to keep the peace, yet they also function as an idol group! the main character spends most of the episode running around yelling "listen to my song!" It even goes in an UtaPri direction where the climatic moment of the show has the character's shirts literally exploding off of them from the power of music! You can't make this stuff up!
This is the exact definition of a popcorn show. Sheer turn-off-your-brain dumb entertainment. And I'm completely on board for that. This is a show with very little internal logic and even less sense, but it embraces that and runs with it. And truth be told, that's its biggest selling point right now. The animation isn't anything to write home about (Studio Deen is obviously having fun with this, but they're still Deen), and the music is forgettable J-Rock (which is shame for a show about music). However, the entertainment factor alone is enough to make up for those things. I loved every minute of this, and couldn't wait to see how it would top itself in the next scene. This is a show worth taking a look at just to see for yourself how ridiculous it is.
The following two tabs change content below.





Comes with free megane mode.





Latest posts by confusedmuse
(see all)
Summer Anime 2014: Bakamatsu Rock Impressions

- July 2, 2014

Subdued Figures: Nendoroid Eren Jaeger Review

- June 28, 2014

Subdued Figures: Figma Eren Jaeger Review

- May 31, 2014

Subdued Figures: Figma Mikasa Ackerman Review

- April 26, 2014

Spring Anime 2014 Impressions: Atelier Escha and Logy, The Comic Artist and His Assistants

- April 14, 2014