On July 15, 2015 the annual ESPY Awards was held at the Microsoft Theater in Los Angeles.  It was a ground-breaking ceremony with Caitlyn Jenner being one of the big recipients of the evening. On the red carpet, there were sports stars from all the different realms of the sporting world, as well as the family and friends who came to celebrate their excellence.  There were some outfits that definitely stood out among the crowd.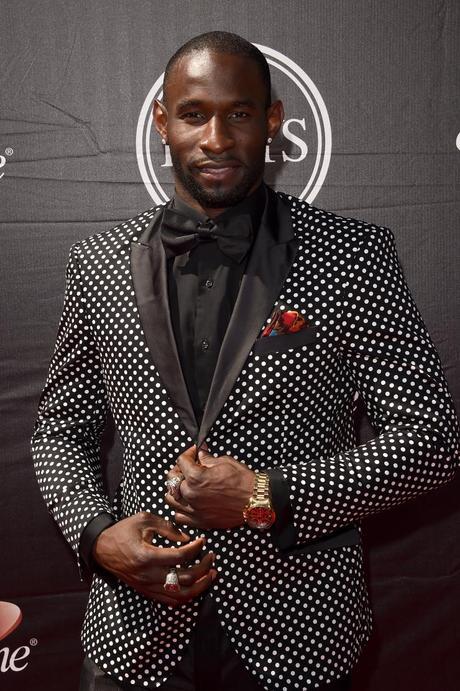 In the "flashy" category is NFL player Ricardo Lockette who arrived on the red carpet is this very trendy black and white polka dot sports coat with solid black lapels, black button-down shirt and matching bow tie.  The size of the dots makes it a bold fashion statement and the contrasting orange/red pocket square and watch face definitely adds a colorful interest and breaks up the repetitive color and pattern of the polka dots. It is a great way to stand out in a crowd.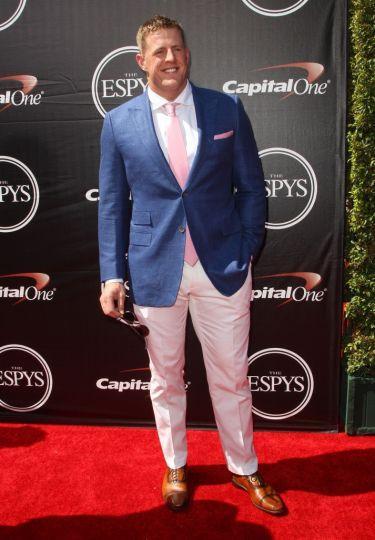 Another NFL player who was in touch with his "preppy" self at the 23rd annual ESPY Awards was J. J. Watt.  He looks summery in his white trousers and white dress shirt and he adds some nice color with his light navy, two-button sports jacket and pink tie with pocket square.  The only part of J. J.'s outfit that I am not too fond of is his brown leather oxfords.  I think I would have liked to have seen the navy color repeated in his shoes too, in order to tie his look all together.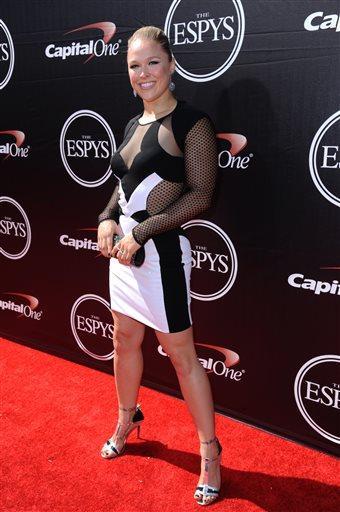 One of two ladies who made quite the "flashy" entrances was mixed martial artist Ronda Rousey, who showed off her athletic stature in this sheer-panel, cut-out dress in color-blocked black and white.  Ronda's choice of t-strap sandals with the spiky heel and ankle strap in a matching black and white pattern is a great accompaniment to her dress.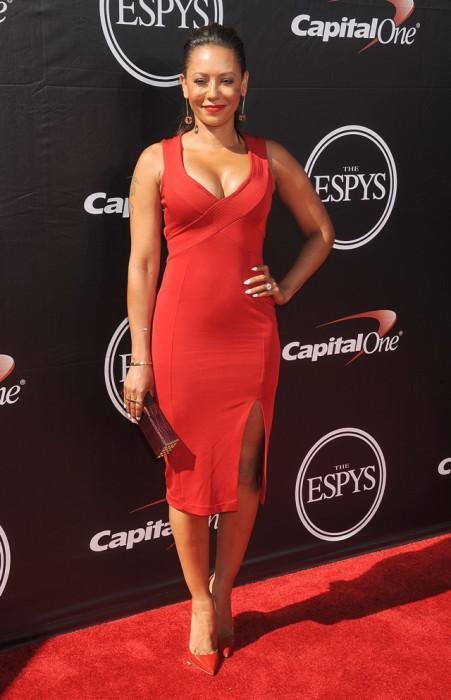 The other woman who definitely turned heads at the ESPY Awards was former "Spice Girl" Melanie Brown, who arrived on the red carpet in this fantastically-fitting red dress with a cross-over bodice, simple lines down to a hemline below the knees, and a sexy side slit.  Mel B's color coordinated pointy-toed pumps are the right choice to pull her look all together, as well as her matching dangle earrings.