On February 18th Charles Michael Walker, Jr., 15 years old, was murdered during a  robbery attempt while he walked with a pair of newly purchased shoes intended for his girlfriend.  Tuesday February 19th Aaron Kidd, 18-year-old freshman at Suitland High School, shot and killed; another 18-year-old in company of the victim was also shot but survived.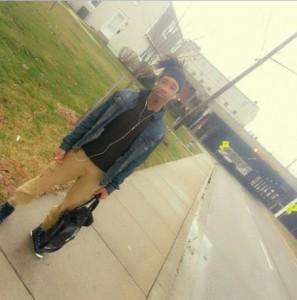 Charles Michael Walker Jr.
The most recent shooting occurred in the 3700 block of Donnell Drive, which I believe is the Penn Mar Apartments in Forestville.  Police officers found two adults shot in a parking lot.  Aaron Kidd was taken to a local hospital where he was pronounced dead.  He was a 9th grade student at Suitland High School.  A second 18 year-old who was also at the scene is in grave condition.  The mother of Aaron Kidd told WJLA news that Kidd was to become a father next month.  Even at this very young age, he had been in trouble with the law and had stood trial criminal burglary charges and trespassing in his recent past.  There was a lot going wrong in this situation and now, now he's dead.  
Aaron Kidd
By all reported accounts, it seems that the two shooting are not related and that is just as disturbing.  That there would be all these random killings of high school age children in Prince George's County is just frightening.  The death count for this school year of children 18 years old and younger stands at 6. 
Details are still developing in the case of Charles Michael Walker Jr. but the gist of if is this, someone robbed a 15-year-old who was carrying a newly purchased pair of shoes for his girlfriend.  What a complete loser.  Seriously.  Chief Mark Magaw said he thinks the case "will be closed quickly."  The Police Department is developing leads on the idiots that did this crime. 
Briant K. Coleman, a spokesman for Prince George's County Public Schools, issued this statement on behalf of the school system:
"We are horrified to learn that tragedy struck another one of our students within a 24-hour time-span. Our hearts are broken again and we extend our deepest sympathy and condolences to the family.  We cannot go another day without addressing these unspeakable acts of violence against our students. We are asking for the community's support as our students, teachers and employees cope with these incidents."
State's Attorney Alsobrooks called the murders of these children a "social  issue/problem" and not some wild crime spree.  Something has to be done about "the children perpetrating these crimes."  It's a sad summation but all truth.  These are young adults, children to most of us, being killed by other young adults who mostly are the products of bad situations.