With the warm weather on the rise, it's time to do some spring cleaning at home and at the office! So ditch the chunky sweaters and black pencil skirts for some sunny springtime 9 to 5 looks! Today I bring you one of the biggest spring trends of 2013: The Short Suit! Not only is it oh-so perfect for the office, it transitions splendidly for a night out with the girls without a worry! Here are some tips to keep you looking fresh!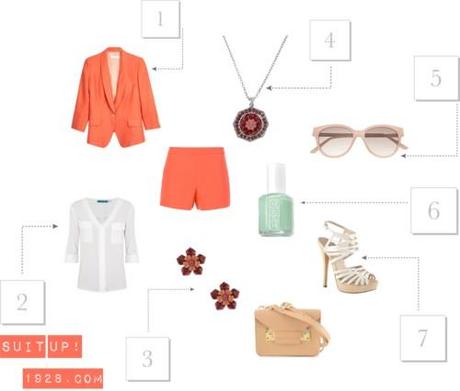 1. To make a springtime statement, try for a tailored, structured fabric in a bold color or print. Shown above is a punchy version of Nectarine, one of Pantones colors for spring 2013!
2. Opt for a breezy V-Neck to ensure your ensemble looks young and modern. It also leaves you the perfect place for a killer accessory!
3. Add some flower power with these darling floral button earrings. Just the right amount of color, without overpowering the suit!
4. Add a pop of color with a bright and brilliant pendant necklace! It will showcase perfectly with your V-Neck blouse and open blazer and add some feminine flair with the floral motif!
5. Let your vibrant suit take center stage by choosing more muted toned sunglasses and handbags.
6. Nailed it! Try a contrasting tone on your nails for a little extra boost of style power!
7. Believe it or not, white heels are so on-trend for this spring! And why not, everything goes with white! Opt for a shoe that shows some some skin, like a peep toe or sandal to keep it casual!