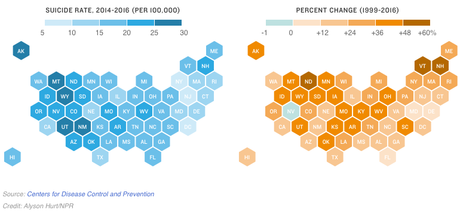 The charts above (from National Public Radio) show the United States has a problem with suicide. The rate of suicides per 100,000 people is too high, and it is growing. Between 1999 and 2016, the suicide rate grew in 49 of our 50 states (with Nevada being the exception). The smallest increase was in Delaware with a 5.9% increase. The largest was in North Dakota, which had a 57.6% increase. More than half of all the states had at least a 30% increase.
This is unacceptable, and it requires some action to solve this growing problem.
The thing that most people want to blame for the increase in the rate of suicides is mental illness. It is undeniable that we should be doing a better job in helping those with a mental illness. Unfortunately, since the Republicans have taken power, we have seen money to help the mentally ill being cut (to help pay for new tax cuts for the rich). That needs to be reversed. We can't do a better job in treating the mentally ill by reducing the money available for those treatments.
But treating the mentally ill will not completely solve the problem. A majority (54%) of those who commit suicide had no history of any kind of mental illness. A lot of these people make a fairly quick choice to end their lives without family, friends, or co-workers ever knowing the trouble was there. I think a lot of them find themselves in a difficult and stressful situation, and can't see a way out of it.
It's harder to know how to prevent these suicides, but I have to believe many of them could be prevented by making life easier for ordinary Americans. Increased wages (especially the minimum wage), more affordable housing, less expensive college/trade schools, and making sure everyone has decent, adequate health care for all, and providing counseling for those experiencing personal problems could go a long way to reducing the suicide rate.
Unfortunately, the Republicans have also cut funding in those areas, and propose even more cuts. This needs to be stopped. You can't solve problems like suicide by making life more difficult and stressful for ordinary Americans. All people deserve a decent life and the opportunity to better themselves. Just giving more to the rich is not a solution for anything.
If government did a better job is helping its citizens, I believe the suicide rate would be falling instead of rising. Am I wrong?