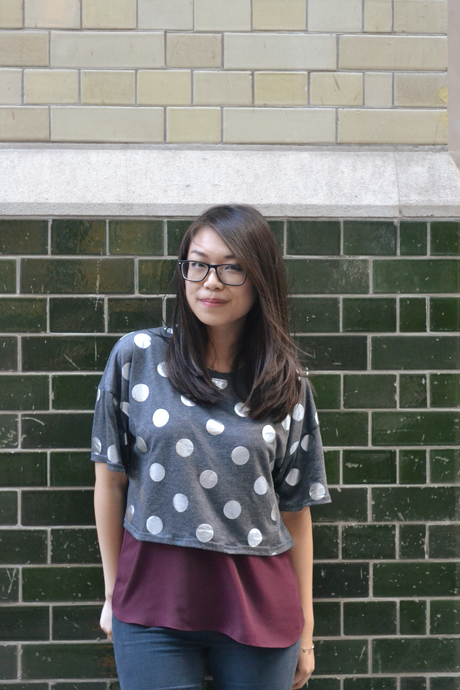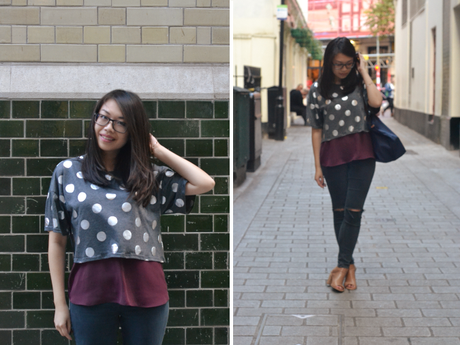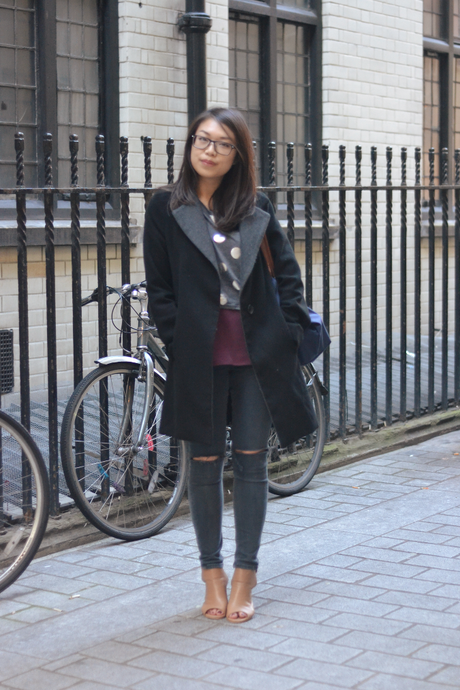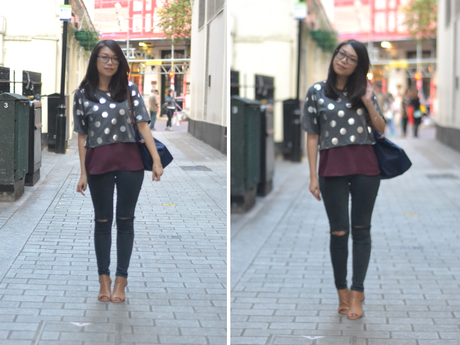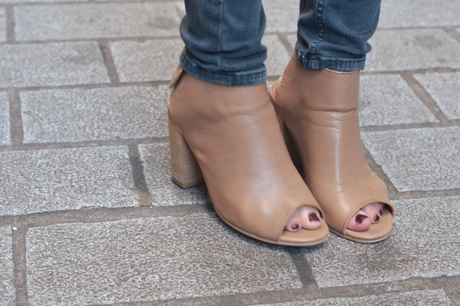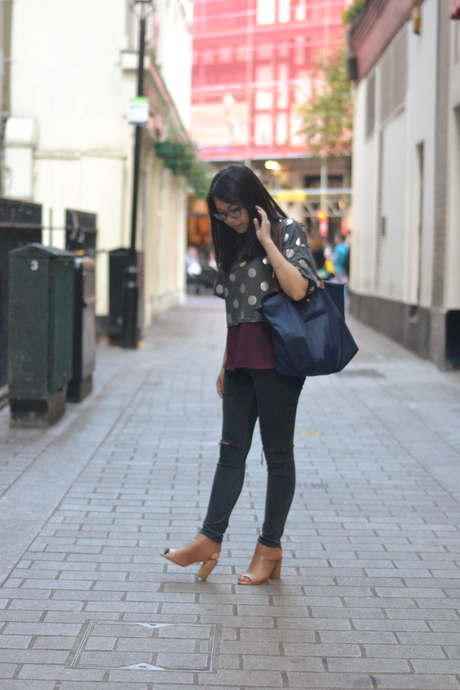 Cropped T-shirt, NOIR at Ă…land; Burgundy strapped camisole, River Island; Topshop Jamie ripped knee jeans; Peeptoe heeled boots, F&F; Coat, JAY.S at YesStyle; Longchamp Le Pliage.
With the British autumn in full swing yet that whole Indian October thing here to play, everyday dressing takes on a new complication lately. It's been an odd sort of season for me so far: packing to move country has finally begun and I've put myself on a strict ban for buying anything knitwear or coat related. So that's fun.
This is one of my favorite outfits at the moment. I wore it about a week ago to work and got SO many compliments on it -- my head was certainly expanding to awkward proportions. It's casual but cute and super practical with weathering the brisk autumn chill that sits against surprisingly warm sun moments. The foiled polka dot T-shirt is from NOIR, a South Korean brand that Ă…land holds. I picked it up on holiday in Hong Kong and immediately fell in love with it, a million thank you's go to
Winnie
for finally introducing me to
that
slice of sartorial heaven. To extend its' wear - who really wears cropped tees in October except from Tumblr girls? - I layered it with a camisole and jeans. I couldn't decide if I needed a coat so I wore to be on the safe side and almost literally sweated it off. ;)
So I finally started the packing process at the weekend. Currently in my suitcase: many leaving cards, photo frames, one set of bedsheets and 4 pillowcases, 3 jackets and wax strips. It's pretty safe to say I'm crap at this! Packing has made me realize just how much unnecessary stuff I possess. Y did no-one stop me?! Yesterday I completely sacked off responsibilities and packing and hopped onto a train to try Sticks'n'Sushi with my girls Zoe and Winnie - so good. Review coming v.soon. Also! I finally caved & read
Gone Girl
and dat ending tho. T_____T"