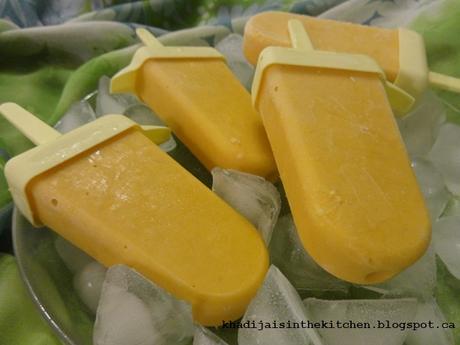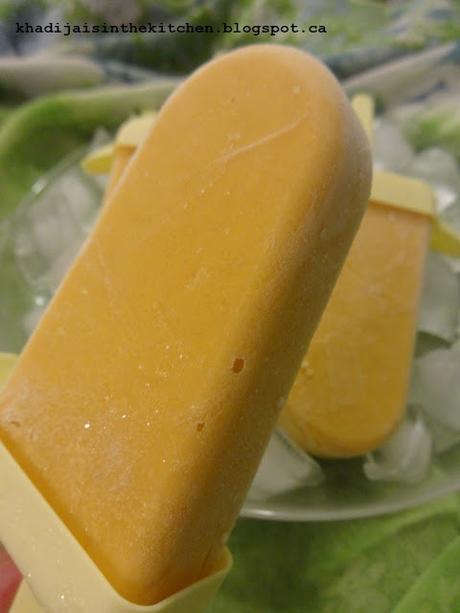 INGÉRDIENTS & MÉTHODE DE PRÉPARATION
2 mangues mûres
150 ml de lait de noix de coco
2 cuillères à soupe de miel
3 cuillères à soupe de yaourt grec
Un citron moyen
1- Dans un mélangeur, réduire en purée les mangues, pelées et coupées en petits morceaux, avec le lait de noix de coco, le miel, le yaourt grec et le jus du citron.
2- Verser le mélange dans les moules à sucettes glacées.
3- Congeler jusqu'à ce que les sucettes glacées deviennent fermes (4 heures et plus). Pour démouler les sucettes glacées, passer rapidement les moules sous l'eau tiède.
**************************
INGREDIENTS & HOW TO
2 ripe mangoes
150 ml coconut milk
2 tablespoons honey
3 tablespoons Greek yogurt
One medium lemon
1- In a blender, puree together the mangoes peeled and cut into small pieces, the coconut milk, the honey, the Greek yogurt and the lemon juice.
2- Pour the mixture into ice pops molds.
3- Freeze until ice pops become firm (4 hours and more). 
To unmold the ice pops, run the molds briefly under lukewarm water.
**************************
INGREDIENTES & ELABORACIÓN
2 mangos maduros
150 ml de leche de coco
2 cucharadas de miel
3 cucharadas de yogur griego
Un limón medio
1- En una licuadora, hacer puré los mangos, pelados y cortados en trozos pequeños, con la leche de coco, la miel, el yogur et el zumo de limón.
2- Verter la mezcla en los moldes de paletas heladas.
3- Congelar hasta que las paletas heladas estén firmes (4 horas y más). Para desmoldar las paletas heladas, remojar brevemente los moldes con agua tibia. 
**************************
المكونات و طريقة التحضير
2 مانجو ناضجة
150 مل حليب جوز الهند
2 ملاعق كبيرة من العسل
3 ملاعق كبيرة من اللبن الزبادي اليوناني
ليمونة متوسطة
1- تقشر حبتا المانجو و تقطع الى اجزاء صغيرة ثم تطحن في الخلاط الكهربائي مع حليب جوز الهند والعسل و اللبن الزبادي اليوناني و عصير الليمون .
2. يصب الخليط في قوالب المصاصات.
3. توضع القوالب في القسم المجمد للثلاجة و تترك الى ان تصبح المصاصات صلبة (4 ساعات و اكثر). لاخراج المصاصات من القوالب تمرر القوالب بسرعة تحت ماء دافئ.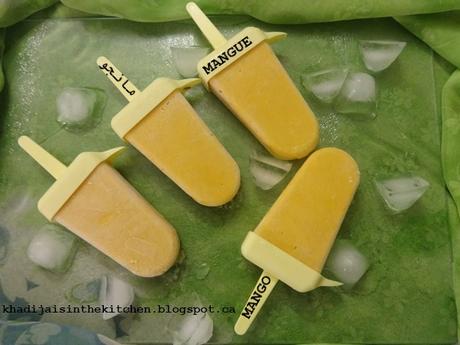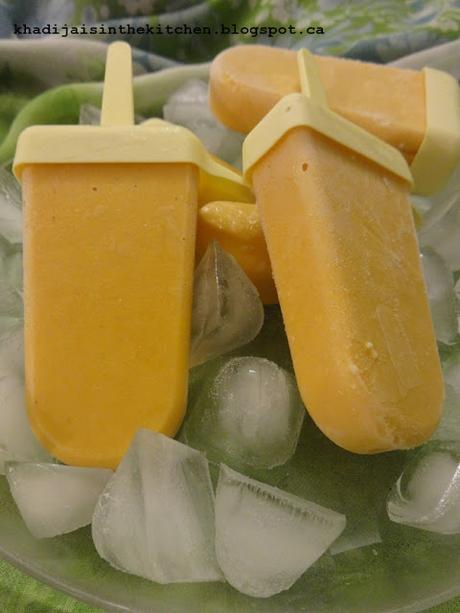 ********************
Hope you'll enjoy!!
********************
Merci de votre visite / Thank you for your visit / Gracias por su visita /
شكرا على زيارتكم