Interview with Entrepreneur and Soy Delites co-owner Christy Bell
Most of Christy Bell's life, burning candles caused splitting headaches that persisted long after the candle burned out. Like most, she assumed her headaches were the result of maleficent scents and a sensitive olfactory system. She simply made up her mind that she's not a candle person. She had also decided she wasn't a restaurant industry person; after years in the business she was looking for a way out. Little did she know her escape lay in the very thing she swore off – candles.  After taking an informal soy candle making class with a friend, she was enthralled when molding and burning the soybean wax didn't give her headaches. As it turned out, the real culprit was paraffin, a wax commonly used in candles that often contains trace amounts of toxins that caused her headaches. Soon after, Christy and her husband launched Soy Delites – a soy candle company dedicated to health-conscious and eco-friendly candle products. The Austin, Texas homepreneur recently talked with CWHighlights to share Soy Delites' story; how a studio art major navigated becoming an entrepreneur, and why health-conscious customers keep coming back for more.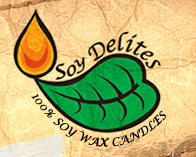 You have a background in studio art and the restaurant industry. What led you to making and selling soy candles?
I had been in the restaurant business for some time and was looking for a way out. I finally found one when I took an informal candle-making class with a girlfriend of mine. I wasn't a big candle-burner up until that point because I have a pretty sensitive system – candles usually give me headaches. Soy candles were pretty new to the market 10 years ago, so prior to the class I had never heard of them. After making them in the class, I simply fell in love and I've been pursuing my passion ever since.
You have a studio art degree from The University of Texas at Austin. How did you learn about the business aspect of being an entrepreneur?
I took a lot of business classes through SCORE, a non-profit association that provides a multitude of services and resources to small business owners and entrepreneurs. I've also used them as a resource to resolve different obstacles Soy Delites has encountered. I would highly recommend SCORE to other entrepreneurs – they have a lot of free services, they can connect you with local mentors, and they offer relatively inexpensive workshops and courses designed for entrepreneurs and small business owners. For instance, I learned the basics of search engine optimization for my website so that I don't have to hire an outside firm to do that for me. Honestly, I wish I had taken more business courses in college when I had more time, but at least SCORE's courses are more cost effective.
Do you and your husband do this full-time or do you have another source of income?
We co-own the business, but I'm the one that does it full time. If he has time, he'll help me out with making deliveries or packing orders, whatever needs to be done. As far as the actual making of the candles and business operations, that's all me.
So you make every candle by hand?
Yes, I hand-pour every single candle and last year I poured about 50,000 candles. I have a few employees that help me out part time because there are so many steps involved in making a candle from start to finish. Though they are not involved in the pouring, they help set wicks and take care of the packaging, that sort of thing. One of my employees also helps me sell at local farmers' markets.
Do you do all of this from home? If so, are there any challenges that stem from that?
It's all based out of my home. I do have an off-site storage unit that I use to house some glassware and odds and ends that aren't temperature sensitive. I've tried to keep growth at a manageable level so that I can still do this out of our home because I have two young kids, 4 and 7. I want to be able to put the kids to bed at 8 o'clock and then get a few hours of work in. If I worked outside of my home, I would not be able to do that.
As far as challenges go, I'd say it's been a challenge lately with my kids having more extracurricular activities and play dates and everything. I try to be more flexible, and of course I make time for my kids, but when you work from home it can be difficult to turn off work. I can be a little bit of a workaholic. But I've learned to use working from home to my advantage – because I am at home I can be there for my kids when they need me even while I'm working. So the balance between work and life just naturally works itself out to some extent.
You've owned this business for about 10 years now. Did you always know that you wanted to own your own business?
I guess I've always had that entrepreneur streak in me. I remember when I was about 11 or 12, friendship bracelets were really popular. I spent a summer with my grandmother, who is artsy too; she really encouraged that in me. This neighbor girl and I sat around and made all these friendship bracelets, went to the college where my grandfather worked and set up a little table and sold those friendship bracelets. So I guess I've always had that in me. Plus I can be a little bit of a type A personality, so I don't necessarily like working for others. I'm just the kind of person that gives 110 percent and I'm always super competitive with myself. When I do something I give it my all and want to keep going, I don't give up easily. I would say that personality type makes it a tad easier to be an entrepreneur.
What kind of challenges do you face in your industry?
When we first started out, we had a lot of local competition. The turning point was the downturn of the economy –a lot of businesses fell by the wayside and we had to reinvent ourselves. About a year and a half ago we totally redid our packaging in order to elevate our brand, and that strategy has proved to be very successful.
One of the biggest challenges with developing a candle-making company is deciding which direction to go. From time to time I look for someone to look up to as far as how to take this business to the next level. We are home-based and small, but I've always thought big – how do we navigate this process, make ourselves bigger, more established, have better brand recognition, etc. That's been the biggest challenges in the last few years. There are also a lot of big name competitors, like Yankee Candles, that have recently launched their own soy candle lines. A lot of candle consumers don't have a lot of brand loyalty, so we've been trying to stick to who we are and what we do best in order to build customer loyalty. We go after customers that only burn Soy Delites candles and try to cultivate loyalty in those that don't (yet) with new scents, quality eco-friendly packaging and products, and a glass recycling program.
Tell me about your glass recycling program.
With that program customers can return their glass containers to us and we'll issue a 50 cent credit per glass returned that can be applied to their next order. The glasses don't need to be cleaned or anything, just intact. Part of why we started this program because returnable, refillable glass containers have the lowest carbon footprint of any packaging material. We've always gone with the glass that can be repurposed as drinking glasses as much as possible and because soybean oil cleans so easily, customers can easily use them as drinking glasses. However, a lot of customers may have no use for another drinking glass, so we designed the program for customers who want another environmentally friendly option.
Your candles are in over 80 stores across Texas, and sporadically throughout North America. Soy Delites candles are also in a fairly diverse range of vendors, from local furniture store Simply Austin to Austin microgrocer in.gredients, and even local ice cream favorite Amy's Ice Cream. How did you get your products into so many retail locations?
I have done a lot of cold-calling in the past, but for the last few years we've been working with a sales representative. She owns her own business and she likes to represent handmade products made by mom-and-pop owned businesses. Since we've partnered with her, our retailers have increased considerably. Most of our sales are through wholesale; about 75 – 80 percent of our business is done through wholesale. We also have our online store and we frequent the local events here in Austin, mostly farmers' markets. I've always looked at the farmers' markets as the voice of the customers; it lets us connect with our customers on a one-to-one basis. Because you're getting that personal connection with the consumer, it's also a great marketing tool and testing ground.
Earlier you said that regular candles give you headaches.   Would you say that's a common problem for many people?
After all the research I've done on the subject, I would say it is, though of course everyone's system differs. Many people associate getting headaches with the fragrances: "Oh, I don't do well with gardenia," that sort of thing. What the problem turns out to be most of the time is that traditional candles are made of paraffin wax, which is a petroleum by-product. Currently the Environmental Protection Agency has designated at least eleven toxins in that wax. It could be as many as 18 or 20, depending on how it's processed. Basically, paraffin is the last thing that's left over from refined crude oil. So when you think about it like that, it's a little scary, but it explains why so many people can have problems with traditional candles.
Soy wax is hydrogenated soy bean oil. It has to be hydrogenated so that it will be solid at room temperature, but it's just soy bean oil. It burns clean, doesn't give off all the black soot when burning. It burns at a lower temperature, so the candles last a very long time. They're also not as volatile as traditional candles. Best of all, soy candles clean up easily with water and soap since soy is a biodegradable product. Depending on the surface you spill soy candles on, the worst they'll do is leave an oil stain.
What does the future hold for Soy Delites?
Once my kids get a little older and it's more cost effective, I'd love to see Soy Delites candles go nationwide. We've expanded considerably in Texas, but I'd love to take our product to the rest of the country. Hopefully in the near future, once the kids are old enough, we'll be able to further expand. Ultimately I'd like to expand enough so that all of our sales are done through wholesale. My real passion is being behind the scenes making the candles so I'd like to eventually devote myself to that side of the business more.
Soy Delites will be introducing Texas Pecan to their cache of candles in March, making it their 30th signature scent. CWHighlights looks forward to burning that midnight (soybean) oil and if you'd like to check out more scents, visit Soy Delites' online store!
Are you a successful female entrepreneur in the Austin, TX area? We want to get to know you! Email jennifer@choosewhat.com to inquire about having your story featured in CWHighlights.