Interview with Entrepreneur and Austin Sugar Mama Elayne Crain, Founder of Austin Sugarworks

Anyone with an insatiable passion for sugar can be a doctor's worst nightmare, but for Elayne Crain it's a way of life. Her sweet tooth, aesthetic sensibilities, and dissatisfaction with working for others had long stoked the dream of being an entrepreneur and given her husband reason to groan, "Stop talking about it and just do it already!" In 2010 she finally took action and now, as the founder of Austin Sugarworks, Elayne sculpts sugar cubes into miniature works of art for all to enjoy. Last week, she took a break from making sugar beautiful — one handcrafted all-natural sugar cube at a time — to talk to CWHighlights about her sweet venture. During the interview, Elayne discussed the sugar-sculpting learning curve, the liberation responsibility brings, and why you shouldn't quit your job before starting your own business. We're sure her doctor would approve.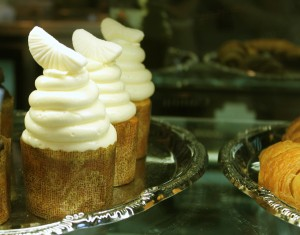 Your background is in business. How did you learn how to make such beautiful handmade sugar sculptures?
Thank you for the kind words! I learned sugar craft through pure trial and error (lots and lots of it)! My business was pretty unusual because there aren't any books about the kind of sugar work I do. I had to reverse engineer some similar European products and it took a lot of guesswork. I'm still not sure I do it the same way that my competitors in France do, but I am finally happy with my process and the results. It's funny you ask, also, because I am currently working on a book that I hope to get out there to help other sugar cube artisans!
One humorous side note: I saved my earlier attempts at sugar work because they were so awful, and it really makes me proud to see (now) how far things have come. They are my deformed muses in so many ways.
Did you start Austin Sugarworks prior to leaving your previous job or did you stop working before becoming an entrepreneur? Would you recommend your strategy to others?
I did a lot of sugar experimentation and day dreaming/strategizing on my off hours, but I left my job before I really did much else. I was very unhappy in my position and I think I was partially looking forward to leaving it, regardless. However looking back, it wasn't the move I'd recommend to others. A paycheck, however how meager, is always a good thing to get and it would have been smart for me to get more of the front-end of the business off the ground before I left my job. For example, after I left, it took me almost two months to get all the permits and commercial kitchen space rentals in order…. a time when I wasn't working yet at my new business and where I wasn't drawing a paycheck from my old job. Not my brightest decision, as it turns out. If I had to do it all over again, I would have dipped my toes in the water for several months longer before just jumping in. I also wish I would've had my paperwork fully in order first!
What is the most challenging aspect of being an entrepreneur?
It's the most thrilling part, too… doing it all yourself! But occasionally, it's really crazy how much you have to stretch yourself. If I'm sick, I can't really afford to take a proper sick day… there are emails to answer, bills to pay, and no one else to cover for me. And if I travel or take any sort of vacation — even over Thanksgiving — that means my business essentially shuts down during that time since I can't be enjoying a turkey in D.C. and shipping orders from Austin simultaneously. So it's been…interesting. On the other hand, any success the business has makes me so proud because I know it's really my success and that is really gratifying.
In an older article about Austin Sugarworks, you said that as an entrepreneur responsibility can actually be liberating. What do you mean by that and do you still find it to be the case?
I had worked for others my whole life so I think what I enjoy most about this business is getting to be the boss, effectively…even if it's just the boss of me at this point. I do think it's really exciting and energizing to know that something is completely up to you. On the other hand, that also means you have to accept facts when it comes to failures, too, and that's never as fun. Regardless, being responsible for every aspect of something, whether it's a project or an entire business, is incredibly stimulating and forces you, as an individual, to be creative with your tools and your time in ways that being a part of a team just doesn't begin to even touch on. It's very sink or swim.
How are you marketing Austin Sugarworks? Do you rely largely on social media platforms and online advertising?
I always feel like I should be doing more, but most of my marketing has come from word of mouth and online PR. I've been fortunate to be on a national blog called Daily Candy and another recently called Pure Wow; I also got a lot of business from interest from the local papers. I really try to keep my marketing dollars off the table as much as possible because I'd rather put that money back into the product and hopefully hiring some production help at some point in time soon. But, it is true that you have to spend a certain amount of money to make money and when I started out, I did pay for professional graphic design for product branding and packaging. It just seemed like I needed someone with skills above my own for that sort of thing. The same thing with photography…I have a really great photographer, Sasha Haagensen, and if I had to rank the ROI of what I'd paid marketing money for, I know her photography would be the #1 return on investment I've gotten from anything. In fact, it was her photography work that caught the eye of a lot of the blogs and so forth that I've been lucky to work with. If you have a visual product, photos really become your story tellers!
Is your largest source of new business through online channels or through other mediums (in-person meetings, cold calling, etc.)?
I haven't done much cold calling, though occasionally, I'll reach out to a retailer if I think they would be an amazing channel for the sugars. I just didn't find my earlier forays that effective, given my limited time, and I was lucky to have people contacting me about my product because of its uniqueness. Most of my new business comes in from word of mouth and through traffic from the national blogs I mentioned earlier. I've been sort of lazy about it because it's been hard to keep up with as it is, and my product is sort of weird to sample so it's not like a lot of food products. People love sugar, but no one wants to sample just a sugar cube by itself and it's almost as much a decorative item as it is a food item – style as much as substance. In my case, photos have been a huge help and I try to make sure that my web site is pulling its SEO weight. Having said that, there is still a lot of work to do and my "I should be doing this" list is always longer than my time available.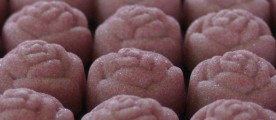 Many entrepreneurs bootstrapping their business rely on credit cards to get started. Did you also rely on credit or did you utilize other means?
No, I've never used credit for anything for the business. I still only have a business debit card for Sugarworks, which is insanely good at keeping me from overspending… because, literally, I can't. I had saved up enough, along with my husband, for this business that I never had to resort to that. That doesn't mean it's been easy, though! The whole thing would have been impossible without our initial investment and copious amounts of my own sweat-equity. I have put off or avoided many purchases that would have been helpful to me just because the timing wasn't right. I've done a lot (oh, soooo much) grunt labor myself to save pennies where I could.
Do you have a favorite online resource for entrepreneurs? If so, what is it and how have you used it?
It seems that I've rotated through a lot of resources, depending on what part of my business I   was focusing on at the time. There are so many! Every industry has its own key sites for keeping up on news (in my case, sugar prices and so forth) so it pays to figure out what those are for each business. I use Google Alerts to keep up with people who are writing about our sugars and even our competitors. I think the key thing has been offline people, though. I know a few very talented food artisan ladies who I will not hesitate to contact if I face a tough decision that I can't wrap my head around. Their perspectives are invaluable and something that I couldn't get from random online people. Having said that though, I often do contact them through Facebook!
Do you have any strategies for balancing your work with family life?
Oh, boy, I love getting to set my own hours…that flexibility is key. I usually work until my son comes home early in the afternoon from school and then I'll put work aside until he goes to bed. On the other hand, it means that my downtime is very weird and I don't go to bed until late. I'm not sure I'm balancing them as much as switching between the two at times that I enjoy much more. I'm a bit worried about the future, though, as I am due with baby #2 in May! A new baby is much harder to balance than my relatively-easy six-year-old son. If any of your readers have suggestions, I'm all ears!
Thank you for taking a break from your busy schedule to share your story with CWHighlights. But before I go, what's next for Austin Sugarworks?
 Thank you so much for sharing our story with people! We are so excited that we should be in a major national retailer during the 2013 holiday season! Stay tuned, because it's a really great partner and I just couldn't be more excited about it. I think our products are really going to be a great fit for the company's large, stylish customer base. I am super proud of our product line so far and looking forward to even more sweetness to come!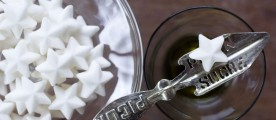 And so do we! I'd like to say thanks again to Elayne for all of her insights into being a woman entrepreneur and into the world of homepreneurship. If you know of anyone with a similar story who'd like to be interviewed as a part of this series, please feel free to email me at [email protected] or add a comment below.