Tips for how to freshen up your kitchen with some stylish tiling choices that don't cost the earth.
When undertaking a kitchen renovation a great deal of thought and care is often taken to decide on the design and functionality of the space.  Bench top material, cabinet design and choice of handles and appliances are normally the top priority.  Floor and wall tiles are usually left until the last decision when the kitchen is almost complete.  Unfortunately this is also the time when most of the renovation budget has been spent so finding a suitable and aesthetically appealing tile that also meets the budget can be a challenging process. Our following tips prove that by choosing the right type of tile you can still make a lasting impression without spending big money.  From bold pops of color to innovative and interesting formats, inexpensive kitchen tiles can take your design to a whole new level.
Subway tiles
Subway tiles have been around since the 1900's and were originally used in train stations hence the term 'subway'.  They have come a long way since then and in recent times have become very popular again resulting in a large array of options available in terms of colour, texture, pattern and sizing making them the perfect splash back tile for kitchens. And the good news, subway tiles remain one of the most economical tiles on the market. There is so much flexibility and potential when using subways. For a classic and simple look use white subways installed in a traditional brick-bond pattern.  This timeless style acts as the perfect backdrop in your kitchen allowing other features and colours in your space to shine.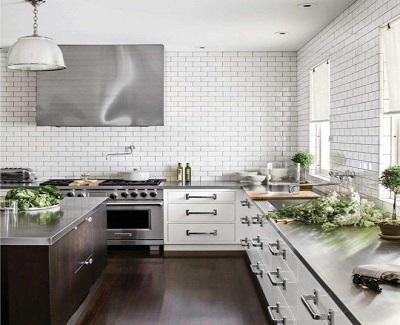 Photo: apartmenttherapy.com
If you're going for a more contemporary look, dress up subways by installing tiles vertically, stacking (one on top of the other) diagonally or in a herringbone pattern. Applying different color grout is another popular technique to accentuate and highlight each individual tile whilst creating a grid like effect on the walls.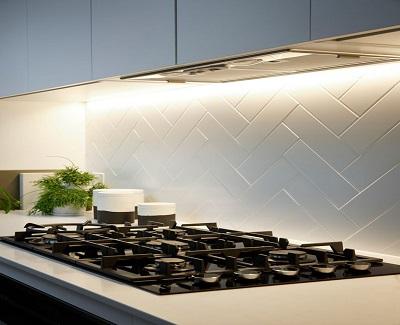 Photo: caesarstone.com.au
Going for a coloured subway can make a bold statement and add stunning visual appeal.  Choose a color that works well with or contrasts other features and colours in your kitchen.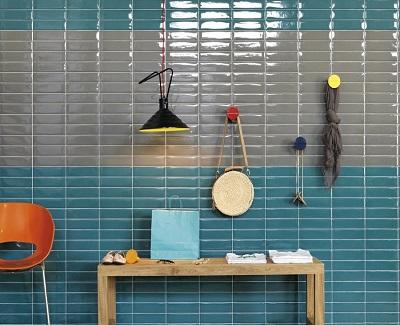 Photo: Perini.com.au
Mosaic Tiles
Using mosaic tiles in your kitchen gives you the opportunity to be adventurous with your tile selection whilst adding style and visual impact.  They also work particularly well if there are tricky or narrow areas on the walls that need to be tiled eliminating the need to cut tiles. When it comes to choosing a colour, mosaic tiles offer a multitude of possibilities.  From bold to subdued and everything in between.  Think carefully about the space you're decorating and choose a color that resonates with the style you're trying to achieve whether it's bold and dramatic or subtle and sophisticated.
In terms of shapes available, these days we are spoilt for choice.  The once popular square mosaic has been overtaken by an extensive array of geometric shapes and sizes that are more adventurous and can make quite the statement.
Hexagon Mosaics
Hexagon mosaics are visually appealing and can perfectly compliment your kitchen's design.  They are simple and understated yet add a sense of elegance making them a popular choice.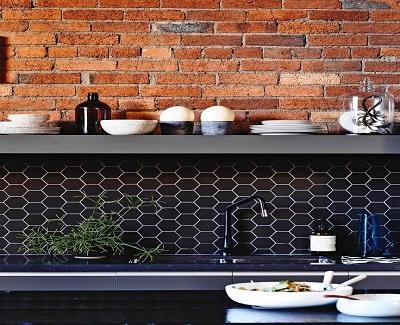 Photo: Perini.com.au
Penny Round Mosaics
Penny round mosaics are also popular due to their low cost and the stunning array of colours available.  It's easy to bring your kitchen to life with this exciting circular format adding not only character but also dimension to your kitchen walls.
3D Mosaics
3D formats have been prevalent lately mainly due to the visual impact these tiles can bring to a space.  Colours are often kept subtle and neutral allowing the size and pattern to be the star of the show.  These tiles are usually available in both porcelain (for floors) and ceramic (for walls).  To minimize costs go for the ceramic version, as they are generally cheaper and perfectly suitable for kitchen walls.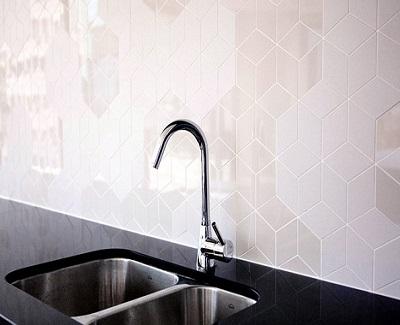 Photo: Perini.com.au
Geometric Tiles
Geometric tiles in simple black and white are extremely effective if you have a modern kitchen in monochromatic colours.  These simple yet graphic patterns are usually found on concrete tiles.  Nowadays ceramic varieties are also available and are more cost effective than their equivalent counterpart. Theses tiles give an opportunity to add some personality to an otherwise simple color palette.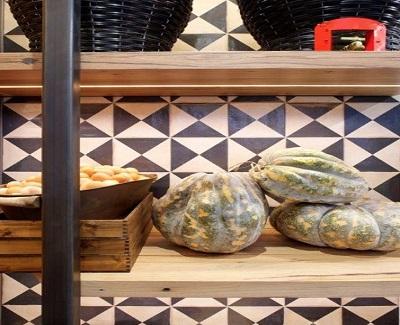 Photo: Perini.com.au
Kitchen Floors
When it comes to selecting floors for your kitchen, opt for a porcelain tile that is low maintenance, easy to clean and most importantly, durable. Porcelain has been on the market for some time now and costs can vary substantially.  There are many good quality varieties on offer that are not only visually appealing but also budget friendly.
To make a subtle impact to your kitchen design, choose a porcelain tile that is neutral in color and that perfectly compliments your wall tiles and kitchen features. If you wanting the floor to be the star of the show, make sure all other features in your kitchen are kept simple.
Technology in manufacturing tiles is so advanced nowadays that replicating natural materials such as timber and stone are an easy feat.  Their authenticity is so realistic that in some circumstances you'd be hard pressed in seeing the difference between the tile product and the real thing.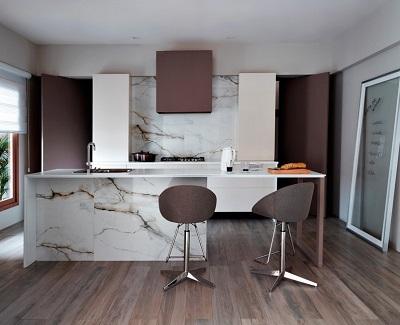 Photo: Perini.com.au
Demand for these nature inspired tiles is at an all time high therefore prices vary drastically and suit all budget types.  The look of timber has been a popular choice for kitchen floors for some time now, but with the introduction of porcelain timber tiles into the market, the attraction has been heightened even more so.   Unlike natural timber planks, timber tiles are extremely hardwearing, non porous and will not mark, dent or scuff against heavy objects.  They don't need to be sealed like real timber and they will retain their color indefinitely.  These qualities make timber tiles are popular choice for kitchen floors.
====================
Author Bio:
Kate Fuller is the Marketing and Communications Coordinator with Perini Tiles, a supplier of beautiful tiles and bathroom and kitchen design consultation, based in Melbourne Australia.
====================