We never really take the time to say thank you to all of you jewelry gals who read our blog on a regular basis. With all of the different blogs, websites and other fashion related media, we are flattered that you squeeze our tips and opinions into your daily dose of all things stylish. We work hard to make our content relevant, helpful and exciting; maybe we are the first place you heard about a new designer collection or maybe we described the theme of a runway show in a totally different light. I personally always get inspired to write about something when I know I will be able to put my own personal twist on that subject. If a topic doesn't speak to me in a way I can add to the conversation or discuss a totally different aspect of it, you won't see it on Jewelry Gal.
That being said, one of my favorite fashion media outlets has to be Harper's Bazaar. This magazine compared to others has a layout and a voice that speaks to me and makes fashion accessible and fantastic all at once. Incredibly fashion forward and deeply rooted in all things artistic, I look forward to the day my Harper's comes in the mailbox.
And one of my favorite segments of this magazine is their Buy, Keep, Store article that gives suggestions on everything from pant silhouettes to makeup effects and how to transition from one season to the next. They call it "the guide to know what's hot, what's not, and what's always a classic." The idea is simple really, but the advice given is priceless. Just because two trends are losing the spotlight to a new style doesn't mean both have to disappear completely. Designers don't drastically move from say a punk vibe to a country style from one season to the next, and your personal style shouldn't either. Let's look at the key pieces we should all buy, keep and store as we head from summer into fall.
The Good Bag and the Ugly

BUY structured clutches- KEEP luxe quilted purses- STORE mixed prints and patterned bags
While clothing trends are moving away from minimal, our bags are doing the opposite. Industrial-esque little bags and clutches are becoming much more chic than a boho carry all. Take on the same cues as color block looks, tailored suits and fashion week street style cuties and get a graphic print clutch for the upcoming season. Need more space than a mini clutch? You can still be stylish with your quilted bag; and if it has a long strap it works for both day and night looks.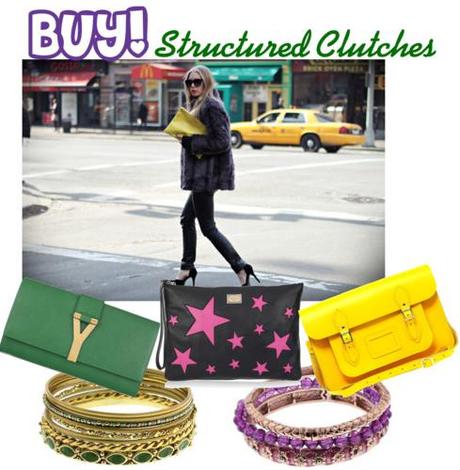 Stick to Slick and Shiny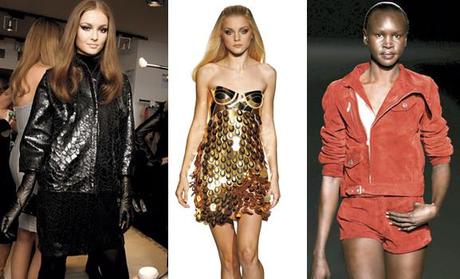 BUY glossy black- KEEP metallics- STORE matte suede
If the fashion industry ever finds "the new black," I would be shocked. The truth is, black is never and will never go anywhere as the chicest, easiest, most flattering color a woman can wear. Since it is a hot color paired with tailored white pieces this fall, give it an update with a glossy, shiny finish. Metallics are still OK, but this is the new way of blending a classic color with a look that is on its last leg. What we shouldn't see anymore of? Suede; it may be winter soon, but we prefer edgy slick looks over anything soft and loose.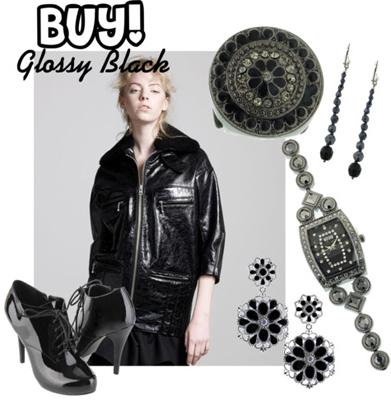 Pants from the Past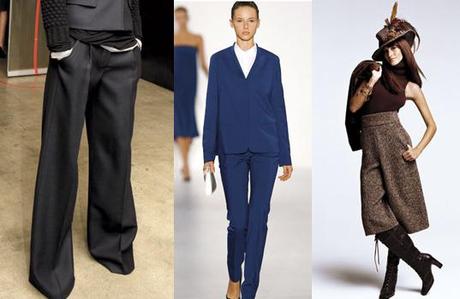 BUY- wide leg pants- KEEP skinny jeans- STORE anything not full length
Channeling the 70's all the way, this upcoming season we can expect to see plenty of flared and wide leg fits in everything from our denim to our pant suits. A loose fit like this might feel off or unflattering compared to the skinny leg cut we have all grown so accustomed to, but remember that once felt foreign too. The key is to get these wide leg trousers to fit snug in the rear and drape effortlessly to past your ankle. Because skinnies are so flattering, you can keep those around, but store any awkward length pants like gauchos or capris. When you wear wide pants, keep the jewelry minimal yet match their volume with some bold statement earrings.