I don't always know what to wear for casual but I still always want to remain fashionable.  It's a constant struggle because for something like the Clothes Show Live, when I know I will be walking a lot and of course shopping a lot, comfort is going to be top of my list... 
But what happens when you want comfort and still to be fashionable?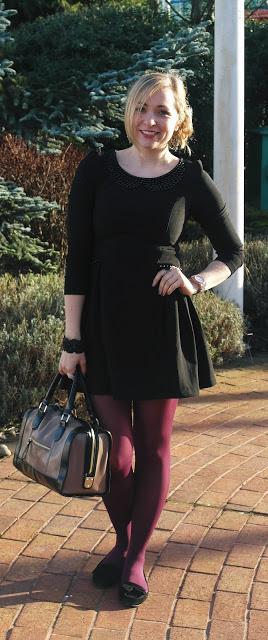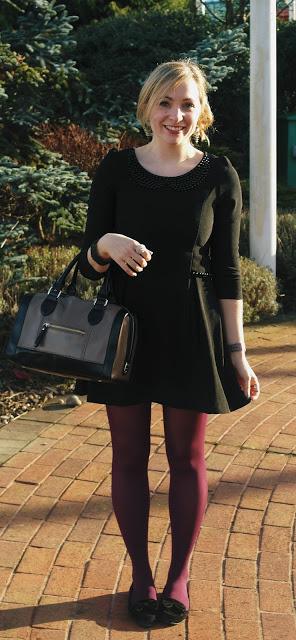 For this particular look I decided to opt for a simple black dress from Atelier 61 with a peter pan beaded collar.  This gorgeous dress is a comfortable fit and is ideal for popping over some fun or colourful tights, it's only £35.00 from Fuse Fashion.  I did initially think about adding some woolen ones in, but decided against it because the dress is quite textured itself and might look too much. Instead I added these gorgeous purple coloured tights from Next.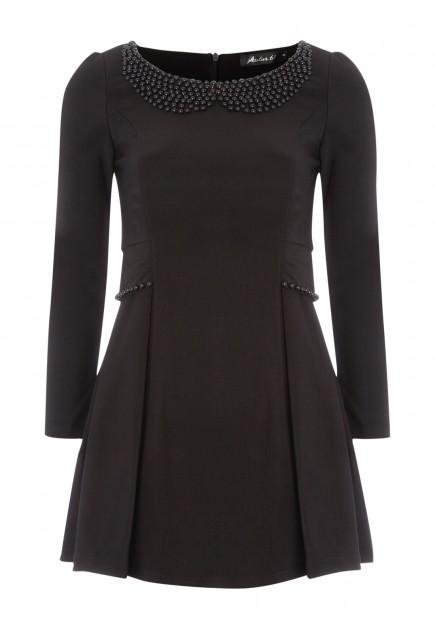 Atelier 61 - Beaded Collar Dress - £35.00
I immediately liked the cut of this dress and how there is bead work to emphasis the waist line.  Having some detail near the waist is always something that is flattering and can help create the womanly curve we crave.  The only downside to the dress (and could be something personal) is that the sleeves were a bit too short for my arms in their length.  I simply pinned them so they were 3/4 length and to be honest I felt much better like this.  
The bead work along the collar and the waist were all very delicate but gave a taste of some simple detail to the dress - making me love it all the more!  
Throughout my day of shopping I found the dress (which was also featured in Closer magazine) extremely comfortable so it does get a huge thumbs up... but as it's only £35.00 I think it really should get two big thumbs up! What do you think?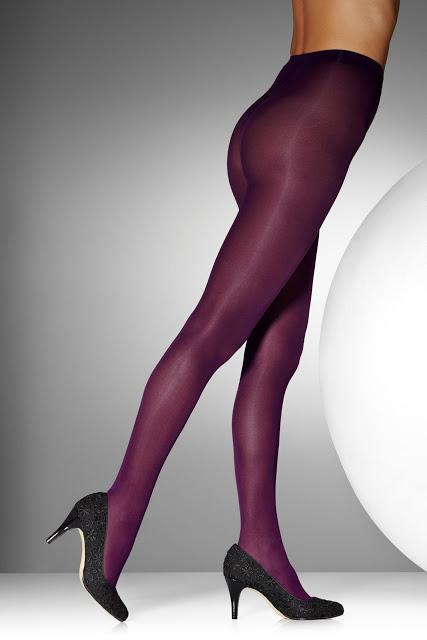 I always would fear wearing tights that were vibrant or anything other than black, nude or gray ones... so me wearing purple tights was a new step for me.  I have previously worn patterned ones but I felt like I wanted some simple colourful warmth for this particular look, and decided to go for Next Purple 60 Denier Opaque Tights.  These were gorgeous to slide on and felt really high quality, which was great because you actually can get 2 pairs for £6.00!
With regards to my shoes I am wearing my favorite loafers from F&F - I loved them so much I purchased two pairs!  I am sorry to say they don't sell them anymore, but I've posted some similar ones for you to get the idea...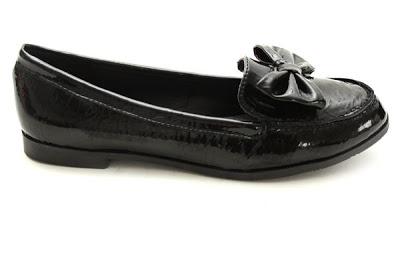 Mr Shoes - Lumen Patent Bow Flat Loafers - £19.99
These are in a patent finish rather than my ones which are in suede but they are still just as cute.  These ones I've found are from Mr Shoes and are £19.99.   Or you can go for the suede LK Bennett options that were originally £150.00 but are now down to £110.00.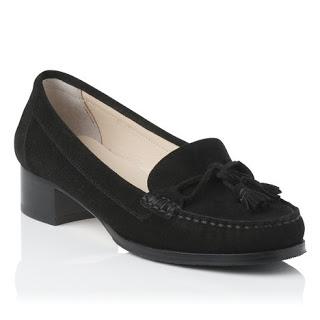 LK Bennett Ethel Suede Tassel Loafer Black - £110.00
As you may have noticed I am wearing a purple watch with my outfit, usually I will wear my classic little black watch but I have recently got into wearing watches to match certain outfits.  I absolutely adore the company ToyWatch, who have a variety fun watches for men and women.  I couldn't find the exact match as my watch, but I've chosen two of my purple favourites below. Personally I love the Icon Amethyst and Mop watch, purely because it cheekily provides the color whilst being utterly stylish and classic.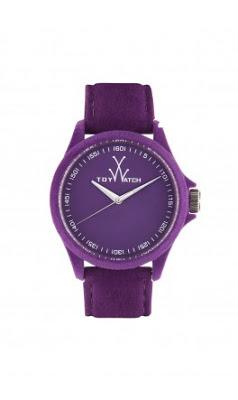 THE SARTORIAL VIOLET - £120.00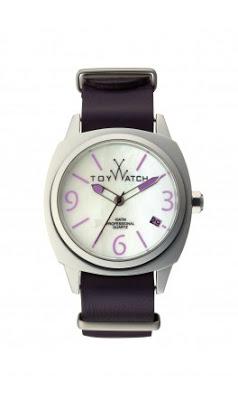 ICON AMETHYST AND MOP - £185.00
As for my hair style... I wish I could take credit but unfortunately it's not my doing, it was the talent of my good friend! She simply side french plaited my hair then took the other half and popped it into a messy side bun.  The look felt effortless yet still quite stylish!  My hair had been washed with Label.m before hand and we're simply used some Lee Stafford hair spray and some blonde kirby grips!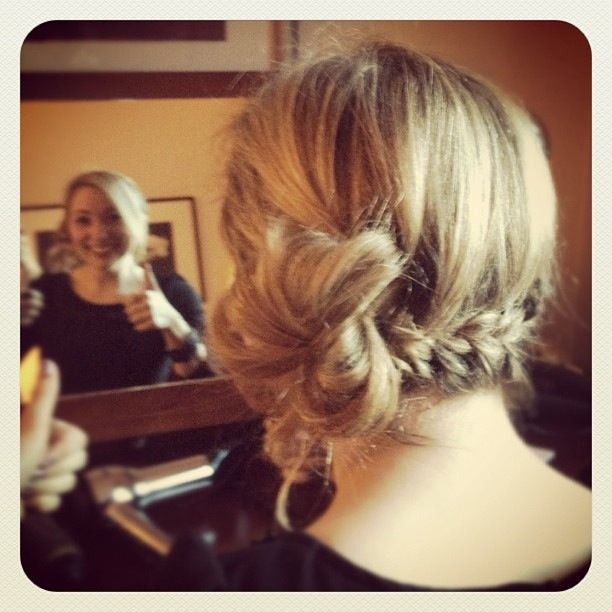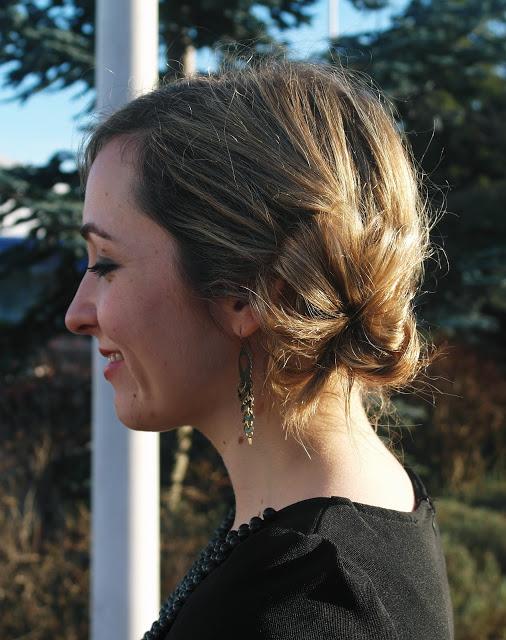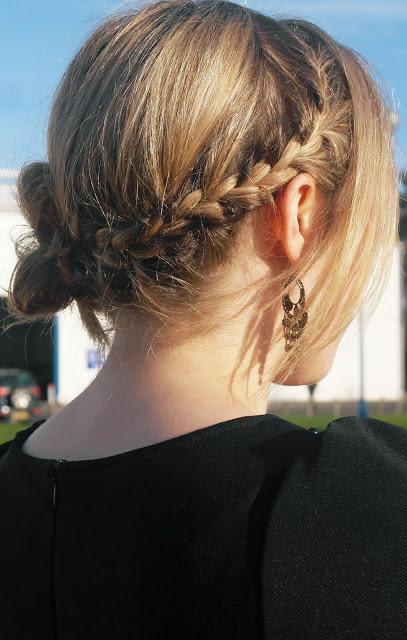 There you have my look for the Clothes Show Live 2012!  The entire look felt quite effortless but still interesting and an ensemble I could shop happily in!  Exactly what I needed for this event!
If you decide you want to purchase my dress or fancy something else on
fusefashion.com then get a cheeky 10% off
during Clothes Show between 7 – 14 December with the code CSHOW10

 xoxo
""""