I don't know about you, but in the lead up to Christmas I have an impossible task - saving money for presents and Christmassy fun, but at the same time seeing so many gorgeous bits in the shops! I am convinced Christmas is every shopping addict's nemesis.
I have to admit, when it comes to shopping, Topshop is my first point of call. I'm not entirely sure why - I always see so many gorgeous things on their website, but when I'm actually in store things either don't fit properly, are overpriced or just not as nice as I first thought. Sigh. Despite this, I keep going back and always find myself lusting over a whole list of things.
I've started to notice recently however, that H&M is doing a pretty good job at making more affordable and equally gorgeous pieces. Check it out...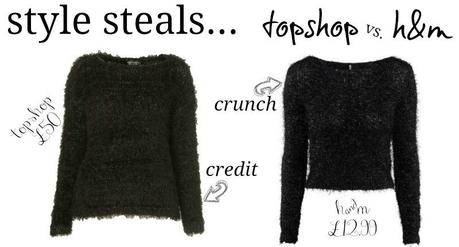 Fluffy Jumper - Topshop / H&M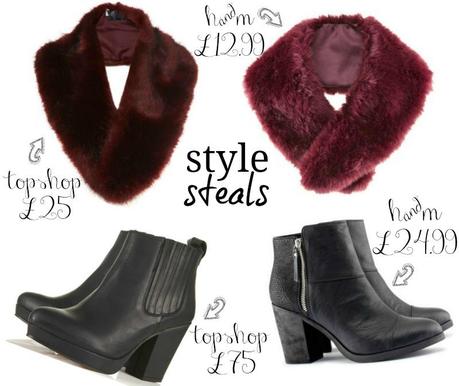 Red Fur Scarf - Topshop / H&M, Black Ankle Boots - Topshop / H&M

Silver Statement Earrings - Topshop / H&M, Neon Statement Earrings - Topshop / H&M
Yes, I know, H&M isn't known for its impeccable quality, but we all know how disposable fashion is becoming. There are some things I will pay more for - things I know I want to last - but there are so many things in my wardrobe that I wear a few times and then lose interest. 
The H&M black ankle boots above I absolutely love and wear them all the time - they feature in lots of outfit posts! Such a bargain and look much more expensive than they actually are.